Online Extra: Danville set to mark Pride Month for 1st time
Monday May 18, 2020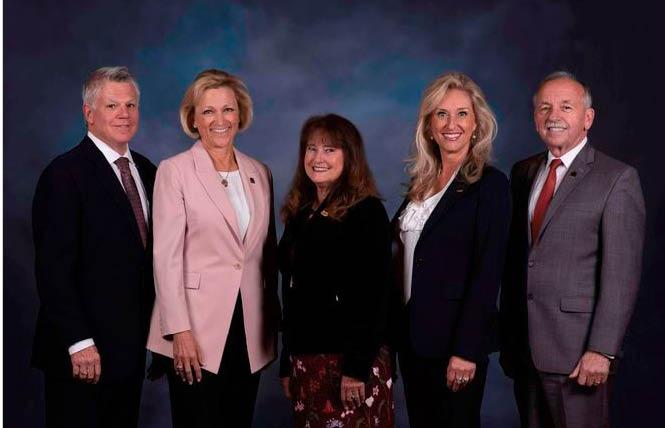 The Danville Town Council is set to issue a Pride Month proclamation for the first time when it meets June 2, the Bay Area Reporter has learned.
Its doing so will achieve a campaign by LGBT leaders in Contra Costa County to see all of the cities and towns in the East Bay jurisdiction celebrate June as Pride Month. As the B.A.R. previously reported, the only two to yet celebrate Pride in some manner have been Clayton and Danville.
Clayton voted last month not only to issue its own Pride proclamation but also to fly the rainbow flag for the first time in its city in honor of its LGBT citizens. For now Danville is set to only issue a Pride proclamation this year.
Longtime Danville Town Councilman Newell Arnerich told the B.A.R. by phone Monday, May 18, that his council must first adopt a flag policy before it can move forward on taking up the request for it to raise the Pride flag in June. Due to the novel coronavirus outbreak wreaking havoc on the town's finances, the council has not had time to hold a study session to work out the details of the flag policy, Arnerich explained.
"We already sort of talked about it, but we didn't have a lot of other policies in place," said Arnerich. "We don't have a policy to do that, so the council gave staff direction to work on doing a flag policy proposal. The policy has not come back to us."
Because the council's top priority at the moment is passing a balanced budget by the summer, Arnerich wasn't certain if it would have a flag policy in place by the end of June so it could raise the rainbow flag.
"I have been doing this a long time and seen one, two, three, this is my fourth economic downturn," said Arnerich, who was first elected to the council in 1995. "This is so bad and so deep in every level of local government."
During his years on the council Arnerich couldn't recall anyone asking it to celebrate Pride Month. After receiving a handful of requests that it do so this year, he said the council agreed to issue the proclamation at its first meeting in June. All five council members will sign it, he told the B.A.R.
"There is no controversy or anything to this. It is just what we are doing," he said.
Told by the B.A.R. about the Danville council's upcoming proclamation, Devin Murphy, the recently elected new president of the Lambda Democratic Club of Contra Costa County, was ecstatic. The LGBT political group has been pushing for a municipal Pride celebration sweep in the county this year.
"Oh, great! No, I had not heard from the council," said Murphy, a gay man who lives in Pinole, which will vote on issuing a Pride proclamation and flying the rainbow flag in June when it meets Tuesday, May 19. "To be honest, we are incredibly excited. We are looking forward to a June Pride Month that will look a lot different than we had thought. This is going to be a highlight of Pride in Contra Costa County."
Armand Domalewski, a straight ally who grew up in Danville and is a member of the Lambda club, had asked the town council to consider celebrating Pride for the first time this year. Now living in San Francisco, he told the B.A.R. he still hears from his LGBT friends in high school about how traumatic it was for them when a gay-straight alliance club started at their school caused controversy.
"The fact Danville is the last place in Contra Costa County not to do it sends a really powerful negative message to all the gay kids and transgender kids growing up there who may not feel safe or might not feel they belong there," said Domalewski, who works on economic analysis for Calbright College, the state's first online community college. "I think it is especially important to not be the last resisting city. It sends the message that Danville is not a place for them and that is not right."
Fifty years since the first Pride parades took place in San Francisco and New York City, it is time for not only all 19 of the cities and towns in Contra Costa County to recognize Pride Month but cities across the state and country to do so as well, said Cesar Zepeda, a founding member and first president of the Lambda club.
"We hope that Contra Costa County is but a ripple in this vast ocean of change and that other counties and cities join us. It is never too late to do the right thing for a better tomorrow," said Zepeda, a gay man who lives in Richmond and serves on the West County Wastewater District board.
At its June 2 meeting the El Cerrito City Council is also set to issue its Pride Month proclamation and instruct staff to raise the rainbow flag, according to gay Councilman Gabriel Quinto.
"We have done this every year since 2013," he noted in a reply to the B.A.R.
Other cities in the county are also expected to officially celebrate June as Pride Month as their councils meet over the coming weeks. And in the adjacent Alameda County, the Dublin City Council is expected to issue its Pride Month proclamation and approve flying the rainbow flag during June at the request of gay Councilman Shawn Kumagai when it meets May 19.
The council's initial rejection of Kumagai's request that it do so last June led to news headlines across the country. Ultimately, the city's mayor and council members who had opposed marking Pride changed their minds and switched their votes.
Kumagai recently told the B.A.R. he expects his request will be far less controversial this year. A recent memo from Dublin City Manager Linda Smith to the council recommended approval of both the Pride proclamation and rainbow flag request.
As the proclamation written by city staff states, "the city of Dublin is strengthened by and thrives upon the rich diversity of ethnic, cultural, racial, gender, and sexual identities of its residents; all of which contribute to the vibrant character of the city."
Editor's note: If you liked this article, help out our freelancers and staff, and keep the B.A.R. going in these tough times. For info, visit our IndieGoGo campaign.
Comments on Facebook