News Briefs: SF Zoo launches online auction
Wednesday Apr 29, 2020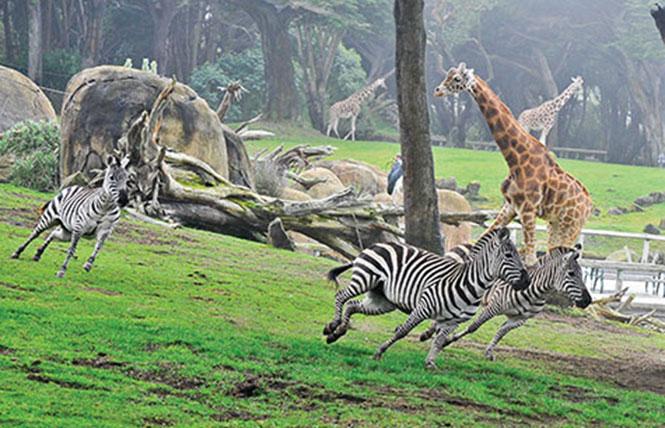 The San Francisco Zoo has postponed its annual ZooFest gala — Zoodio54 — due to the novel coronavirus outbreak, but it has launched the auction that usually accompanies it online.
In an email, Tanya M. Peterson, CEO and executive director of the San Francisco Zoo and Gardens, wrote that the auction will start with special, one-of-a-kind curated items that will be available for a limited time. The full auction will gradually launch over the next week.
All proceeds support the animals.
For more information, visit http://www.sfzoo.org
Book on LGBT history wins preservation prize
The University of Mary Washington Center for Historic Preservation has announced that this year's Book Prize Winner is "Preservation and Place: Historic Preservation by and of LGBTQ Communities in the United States," which includes a chapter on San Francisco written by local preservationists working on LGBT history and a chapter by a local queer public historian.
Shayne Watson and Donna Graves were alerted to the prize by Megan Springate of the National Park Service, a co-editor of the book, along with Katherine Crawford-Lackey.
Graves is a public historian based in Berkeley who co-wrote the historic context statements for both San Francisco's Japantown and LGBTQ community. Watson, a lesbian, is an architectural historian based in San Francisco.
A news release from the university noted that "Preservation and Place" is a groundbreaking volume that starts a new conversation within the historic preservation profession.
"The editors and contributing authors explore various aspects of preservation of historic, cultural, and archaeological sites of LGBTQ communities across the United States," the release stated.
The jury for the Center for Historic Preservation Book Prize recently met over Zoom and selected this year's winner, the release added.
Gerard Koskovich wrote the chapter "The History of Queer History: One Hundred Years of the Search for Shared Heritage." It is a survey of LGBTQ history as a cultural practice in the United States from the 1890s to the 1990s, he wrote in an email.
"San Francisco figures prominently from the 1950s onward, starting with a look at the ways the Mattachine Society and Daughters of Bilitis used history, followed by the creation of the San Francisco Lesbian and Gay History Project in 1978 and the GLBT Historical Society in 1985," he added.
Koskovich wrote that his chapter and the one by Graves and Watson drew extensively on resources from the archives of the GLBT Historical Society, with which Koskovich has long been involved.
To order a copy of "Preservation and Place," go to https://www.berghahnbooks.com/title/Crawford-LackeyPreservation
Wiener, Polis to hold virtual town hall
Gay state Senator Scott Wiener (D-San Francisco) will be joined by gay Colorado Governor Jared Polis (D) and other LGBTQ electeds during a virtual town hall Thursday, April 30, at 3 p.m. Pacific Time to discuss COVID-19 financial and physical impacts on the queer community.
Gay New York state Senator Brad Hoylman (D-Manhattan) will co-host the call with Wiener.
Other out leaders scheduled to speak include Texas state Representative Julie Johnson (D-Dallas), California Assemblywoman Susan Talamantes Eggman (D-Stockton), and Pennsylvania state Representative Malcolm Kenyatta (D-Philadelphia).
The town hall will highlight the specific challenges that COVID-19 poses to the LGBTQ community, and panelists will share relevant resources.
The town hall will be streamed on Zoom. To register, go to https://bit.ly/3f2MY0j
It will also stream from both Wiener and Holyman's Facebook pages.
SOMA group to hold poetry workshop
The South of Market Community Action Network, or SOMCAN, will hold a five-week poetry workshop and provide $500 stipends to participants.
A news release from The Transgender District noted that the workshop, which starts May 2, will be limited to 10 people.
It is intended to provide a safe space for the voices of the LGBTQA people of color immigrant community in the South of Market and Tenderloin. Poet Lourdes Figueroa will lead it.
Titled Paru paru y Colibri (Butterflies and Hummingbirds), the workshop will meet on Saturdays from 12:30 to 3 p.m. through June 14. Each session is confidential and will consist of a writing prompt according to the poem of the day, discussion, and space for sharing fears and dreams, according to the release.
"Overall, we will be sharing in song, with the purpose of healing, building connection, and community," Figueroa stated.
To qualify, applicants need to send their bio and a written statement on why they want to participate in the workshop to lladia@somcan.org
There is no fee or age limit for the workshop. The deadline to apply is Thursday, April 30.
STEM scholarships for LGBT students
The National Organization of Gay and Lesbian Scientists and Technical Professionals has opened its annual call to receive applications for its 2020 Out to Innovate Scholarships.
The scholarships are for undergraduate and graduate students pursuing degrees in science, technology, engineering, or mathematics, or STEM, programs who are LGBTQ or an ally of the queer community.
The organization pointed out in a news release that during the novel coronavirus pandemic, the need to support students is critical.
According to the release, the scholarships are funded at a minimum of $5,000 each and will be awarded for the Fall 2020 academic year. Students at any U.S.-based college or university can apply, based on eligibility criteria.
The scholarships are funded by an Innovation Generation grant from the Motorola Solutions Foundation and private donations.
For eligibility requirements and more information on how to apply, go to https://www.noglstp.org/programs-projects/scholarships/
The deadline for applications and supporting documentation is June 6. Recipients will be notified the first week of August.
Editor's note: If you liked this article, help out our freelancers and staff, and keep the B.A.R. going in these tough times. For info, visit our IndieGoGo campaign.
Comments on Facebook