Obituaries: Jim Campbell
Wednesday Apr 22, 2020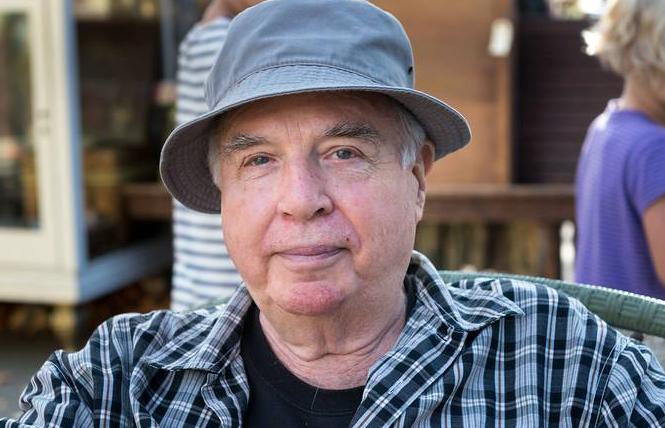 May 13, 1945 — April 4, 2020
Gay liberation activist and artist Jim Campbell died in New York City April 4, 2020 of complications of COVID-19, the illness caused by the novel coronavirus.

Jim was born May 13, 1945 in Palmyra, New York. Jim worked with Lee Mentley, Lynn Segerblom, the late James McNamara, the late Gilbert Baker, and the Eureka/Noe Valley Artist Coalition to create the iconic and emblematic rainbow flags in 1978, Mentley wrote in an obituary. He also was a member of the legendary Cockette family, working with John Flowers to create magical sets of cardboard, paste, and glitter.

Jim attended the University of Rochester and upon graduation moved from New York to San Francisco, where he quickly became an anti-Vietnam war and gay liberation activist. Jim was a founder of the Gay Men's Sketch Group, created posters and art for Castro Street's Hula Palace salons, and was a top floor gallery artist at the 330 Grove Gay Center. Professionally, he served as clerk to California Court of Appeal Justice William Newsom, the late father of Governor Gavin Newsom.

Upon retirement Jim returned to New York to live in Manhattan's Chelsea district, where he was a popular neighborhood figure, holding court at Champignon Cafe. He continued his work in oil, watercolor, pen and ink, and collage and was a member of the Gay Men's Sketch Group at the Leslie-Lohman Museum in Soho.

Jim continued his political activism for gay rights, most recently protesting Donald Trump on Fifth Avenue. Over the final decade of his life he was a member of Cockette Rumi Missabu's theater troupe, performing in "The Last Days of Pompeii" at Lincoln Center, "The Witches of Salem," and "The War" at Judson Memorial Church, and lastly, creating the set for Missabu's "Demon Pond."

Jim was on the steps of San Francisco City Hall the night of the Dan White riot, protesting the lenient sentence for White's assassination of Supervisor Harvey Milk and Mayor George Moscone.

Borrowing words from his dear friend Robert Croonquist, "He would have liked the poetic justice that he died across from Bella Abzug Way, in the shadow of the AIDS memorial [in New York City]. He would have liked that he died in a brilliant gleaming white midcentury modern classic that was originally a hiring hall for the maritime trades. He would have liked that he left this world in a place once filled with sailors. Walt Whitman's 'Leaves of Grass' is written on the stone pavers of the memorial, and chalk tributes to the nurses and doctors who cared for him are written on all the sidewalks surrounding Lenox Health."

Jim is survived by his brothers, Bob and Vic Campbell.

Editor's note: If you liked this article, help out our freelancers and staff, and keep the B.A.R. going in these tough times. For info, visit our IndieGoGo campaign.
Comments on Facebook