Online Extra: LGBTQ Agenda: Gay dad begins fight against ALS as doctors shift focus to COVID-19
Friday Apr 17, 2020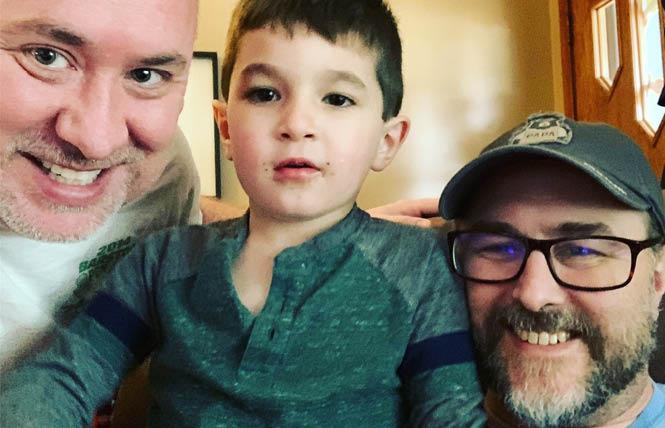 As medical professionals turn their attention to the fight against the novel coronavirus, resources are being taken away from people who are struggling with other fatal diseases.
Friends of a married gay father who is suffering from Lou Gehrig's disease have launched a GoFundMe fundraiser for his medically-related expenses.
Chad McBride, Ph.D., a communications professor at Creighton University in Omaha, Nebraska, was diagnosed with the disease in January. Lou Gehrig's disease, or amyotrophic lateral sclerosis (ALS), attacks the nerve cells responsible for muscle movement. There is no cure and 80% of people diagnosed with ALS die within five years.
"There was a new trial drug they said I'd be a good candidate for," McBride, 44, said in an April 16 phone interview with the Bay Area Reporter. "They said that worst case scenario I could have it by April — but I have heard nothing about it since."
McBride said symptoms began to appear in 2019, such as involuntary muscle twitches and leg movements. These peaked when he "fell in a parking lot for no reason" last fall.
"I spent a lot of the holiday break with a lot of anxiety," McBride said. "I was thinking 'what is going on with me?' ALS was mentioned but I didn't think that was a possibility."
McBride said there is no test for ALS per se, and that it is discovered by "ruling everything else out."
McBride was getting treated for ALS with intravenous drug transfusions of edaravone at a hospital, but this had to stop due to the risk of coronavirus transmission in those locations. He had to go through "layers and layers of insurance approval and all those things" to be treated at home.
McBride's husband, Allen Saunders, also 44, now has to administer these treatments (which can somewhat lengthen the lives of people with ALS); but the first time they tried, there was a mishap and McBride had to go to the emergency room.
"I had to go to the ER and he (Saunders) couldn't come in with me," McBride said.
The couple have a 4-year-old son, Jackson.
McBride said that having an extended time at home is both a blessing and a curse.
"Thankfully, I can work from home and my husband can, too. The blessing is we can spend time together. Time is a valuable commodity to us now," he said. "But COVID [-19] has added a layer of anxiety."
Because he is taking care of McBride and their son, Saunders is doing "three-times of everything," McBride said. Saunders and McBride married in 2015, after it became legal in their state following the U.S. Supreme Court decision in Obergefell v. Hodges, which ruled that same-sex marriage bans nationwide were unconstitutional.
Saunders said he initially met McBride many years ago on an online dating website.
"We lived downtown and we ran into each other at a bar and said 'hey, are you the one I was chatting with?' and we put two and two together and found out we have mutual friends," Saunders said in a phone interview with the B.A.R. April 17.
Saunders said right now "it feels like it's not real."
"I don't think it has really sunk in," Saunders said. "I'm the type of personality that is a fixer; so, it's my nature to step in and help out.
Our son is almost four-and-one-half years old. ... He's a helpful little guy. He helps load the dishwasher and move things around."
Being isolated at home has made McBride realize just how much his house layout makes it difficult for someone with progressing ALS to live in, and the fundraiser will help offset the expenses of moving "the family into a ranch-style ADA compatible home so that Chad's walker and wheelchair can safely maneuver," according to the campaign's description.
"While they love their home of the past 10 years, it is not accessible or safe for Chad, who has already fallen several times," a statement on the fundraiser's webpage states. "Its issues will become more dangerous as his mobility continues to decline."
McBride's friend, Allison Thorson, is a communications professor at the University of San Francisco. They went to graduate school together, he said.
Thorson was instrumental in setting up the GoFundMe. She said that though they live in different regions of the country, they have collaborated professionally for years.
"I'm in the realm of a work spouse of his," Thorson said in an April 16 phone interview with the B.A.R. "Some of us knew he needed accessibility in his house to help him with this."
Thorson said that she was glad McBride's friends who can't physically visit Nebraska to assist him can still find a way to help.
"We've had a lot of fun together. He met my husband; I met his husband," Thorson said. "I have just been so excited that even though we're in the midst of a pandemic he asked if anyone could help and in the first 24 hours we received tens of thousands of dollars. We'd been wanting to help in some way."
The fundraiser had raised $34,355 out of a $60,000 goal as of press time.
"It's been so nice to let him know how much he is loved," Thorson said. "What strikes me most about him is his ability to be vulnerable and let people know what his experience is. He's so authentic."
For his part, all McBride can do is wait. And hope.
"We're still learning about what ALS looks like and how it progresses," McBride said. "Because of everything that's going on, we're not getting the support we'd get otherwise."
LGBTQ Agenda is an online column that appears weekly, usually on Tuesdays. Got a tip on queer news? Contact John Ferrannini at j.ferrannini@ebar.com
Updated, 4/17/20: This article was updated to include comments from Mr. McBride's husband, Allen Saunders.
Editor's note: If you liked this article, help out our freelancers and staff, and keep the B.A.R. going in these tough times. For info, visit our IndieGoGo campaign.
Comments on Facebook