Political Notebook: SF rights commission surveys LGBT needs
Wednesday Apr 15, 2020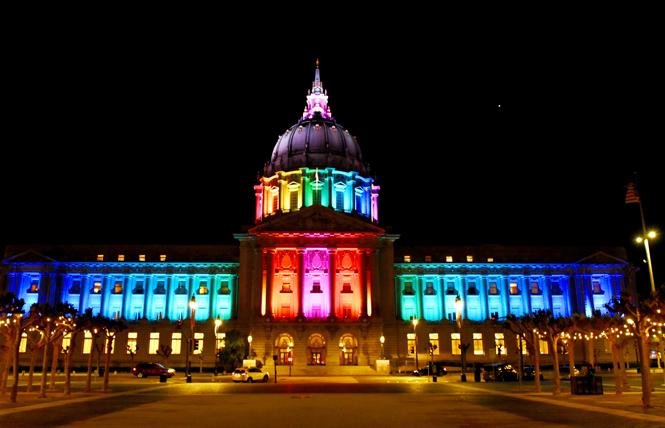 A city agency is surveying the needs of San Francisco's LGBT population stemming from the novel coronavirus outbreak in order to better direct relief efforts in the community. Already, it has directed $80,000 in emergency relief grants to assist those LGBTQ people who have been impacted by the health crisis.
The San Francisco Human Rights Commission has posted a link to the survey on the main page of its website at https://sf-hrc.org/
Responses will be collected through next Thursday, April 23, but the agency is reviewing the answers in real time as it helps develop policies, prioritizes needs, and works to provide additional emergency grants to LGBT community groups and service providers.
"We are making sure we can provide adequate resources," said Tuquan Harrison, the HRC's LGBTQI policy adviser, in an April 13 phone interview with the Bay Area Reporter.
The city also has compiled specific resources for LGBT residents onto one website it launched last week. It is grouped under various headings such as housing, youth, and legal services and lists the contact information for specific agencies and service providers offering assistance under those categories.
"Here are community specific services for you with people who know how to handle your specific issues," said Joseph Sweiss, a queer man who is vice chair of the Human Rights Commission and works on policy and public affairs at the city's Department of the Environment.
The HRC's survey is a series of eight questions geared toward agencies and nonprofits providing services to the LGBT community, but individual community members can also take part in the survey and provide answers relating what issues they are personally experiencing due to the virus outbreak.
"For the HRC to proactively support communities it's been in touch with so long and be able to give them immediate assistance while at the same time finding ways to expand access to city resources for them is pretty remarkable," said Sweiss.
Many industries that have historically hired numerous LGBT people, from the arts, travel, and nightlife sectors to restaurants and retailers, have been severely impacted by the shelter-in-place orders that were implemented in mid-March.
It is "a vital way for us to stay on top of what the concerns are," said Harrison, a queer, cisgender man. "We want to respond quickly and fast."
The needs are numerous and diverse within the LGBT community, he noted. Especially impacted have been sex workers, incarcerated individuals, undocumented immigrants, people of color, and transgender and nonbinary people. The money the HRC has already distributed to community groups, said Harrison, has helped pay for such things as hotel rooms, groceries, and protective gear for LGBT people.
"We want to make sure government resources are accessible to community-based organizations," he said.
Like many of their city colleagues Sweiss and Harrison have been reassigned to assist with the city's emergency response to the pandemic. Sweiss is helping with media outreach while Harrison is working with other HRC staffers and employees from other city departments to ensure the city's plans are equitable and include various minority and underrepresented communities.
"It's been extremely difficult honestly and very challenging. This has been a heavy task and load," said Harrison. "We are working nonstop on these topics and things people need. We are making sure our community is being uplifted and supported."
For decades the city's HRC, currently led by Executive Director Sheryl Evans Davis, has helped funnel city resources and funding toward the needs of the local LGBT community. It traditionally has had an LGBT advisory committee helping to guide those efforts, but as the B.A.R. reported in 2018 that body had been unable to regularly meet due to a lack of a quorum and was put on hiatus.
HRC staff and its commission members have been working on a plan to revamp the advisory body, and dozens of LGBT leaders took part in a roundtable discussion in early March about how to move forward. The already planned meeting coincided with the growing concern about the coronavirus hitting the Bay Area.
One idea discussed at the meeting was the need for an LGBTQ-specific resources page where people could easily get up-to-date information about services; such a one-stop-shop database was included in the draft version of the LGBTQ+ Cultural Heritage Strategy released in 2018 and yet to be officially adopted by the city.
"We want to make sure we are keeping track of LGBTQ resources that the city and community groups are providing," explained Harrison.
And the survey results will help city officials know where the gaps in services are for the LGBT community, noted Sweiss.
"We hope to see patterns and trends of what are the needs," he said. "We can then work with the Department of Emergency Management to help meet those needs."
SF gay Dem chair set to be re-elected
When the body that runs the San Francisco Democratic Party meets virtually next Wednesday, April 22, gay party chair David Campos is expected to be elected to a full four-year term. Campos, a former District 9 supervisor, took over as chair in summer 2017.
In February, the Bay Area Reporter first reported that he would seek to remain in the chairmanship should he win reelection to his seat on the Democratic County Central Committee. Commonly called the D-triple-C, the DCCC's 24 elected seats split between the city's two state Assembly districts were all on the March 3 primary ballot.
Democratic voters in the 17th Assembly District elected 14 DCCC members, while Democratic voters in the 19th Assembly District elected the other 10. Campos was part of a slate of progressive candidates that swept nearly all of the body's elected seats.
Because Campos was elected from AD 17, the party's first vice chair is traditionally given to someone from the other Assembly district. At press time Wednesday, April 15, Campos did not know who would seek the position, nor did he know the candidate for the second vice chair position.
District Attorney Chesa Boudin will virtually swear in the DCCC members. Among them will be the woman he unseated in November, Suzy Loftus, who had been appointed the city's interim D.A. by Mayor London Breed weeks prior to the election but lost to her progressive opponent.
Also taking her oath of office will be Honey Mahogany, the first transgender woman to win election to the Democratic Party's oversight body. Campos had appointed her to a vacant seat two years ago, and her victory in March also marked the first time a drag queen won any type of elected post in San Francisco and the first time a black transgender person won an elected post in California.
People can register to join the DCCC's Zoom meeting, which will begin at 6:30 p.m., here.
Web Extra: For more queer political news, be sure to check http://www.ebar.com Monday mornings for Political Notes, the notebook's online companion. This week's column reported on California's self-count status on the 2020 census.
Keep abreast of the latest LGBT political news by following the Political Notebook on Twitter @ http://twitter.com/politicalnotes
Got a tip on LGBT politics? Call Matthew S. Bajko at (415) 829-8836 or e-mail m.bajko@ebar.com
Editor's note: If you liked this article, help out our freelancers and staff, and keep the B.A.R. going in these tough times. For info, visit our IndieGoGo campaign.
Comments on Facebook