Bay Area shelter-in-place to be extended through May 3
Monday Mar 30, 2020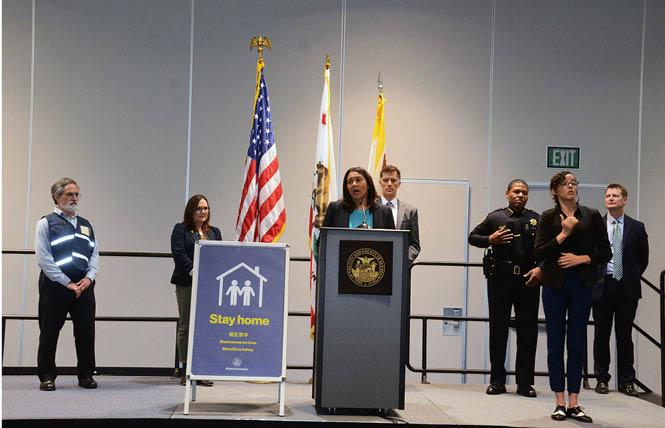 The shelter-in-place orders active in at least seven Bay Area jurisdictions to slow the spread of the novel coronavirus will remain in force until May 3, according to a news release from San Francisco Mayor London Breed and the other counties March 30.
Breed announced the extension in remarks at the city's emergency operations center at Moscone Center around noon Monday and it was officially announced Tuesday.
As the Bay Area Reporter previously reported, the orders had first been declared two weeks ago, effective at midnight March 16, and were set to sunset April 7. However city and county officials throughout the Bay Area had always indicated that the April 7 date was provisional and the orders would be extended or shortened depending on the progress of the fight against the spread of COVID-19 (the disease caused by the novel coronavirus).
The seven Bay Area jurisdictions in question are the six counties subject to the March 16 order — San Francisco, Alameda, Contra Costa, San Mateo, Santa Clara, and Marin — as well as the city of Berkeley (which is nonetheless situated entirely in Alameda County).
The entire state of California has been under a stay-at-home order made by Governor Gavin Newsom March 19. That order has no sunset date and is likely to be extended. Newsom already announced public schools in the state will remain closed until May 1.
Both the Bay Area and California-wide orders demand people stay at home except for essential grocery shopping or business. Walks in public spaces are permitted, as long as people stay at least six feet apart.
While the first weekend after the shelter-in-place order had seen some crowded beaches and public spaces, much to the consternation of city officials, closed parking lots at beaches and an announcement of some enforcement of the order's misdemeanor provisions preceded what Breed said was a more compliant weekend March 28-29.
Mandelman answers constituent questions at virtual town hall
Gay District 8 Supervisor Rafael Mandelman, who represents the Castro district on the San Francisco Board of Supervisors, held a virtual town hall meeting on the Castro Merchants' Facebook page the morning of March 30, just before Breed's office confirmed the continuance of the shelter-in-place order.
As the B.A.R. previously reported, gay state Senator Scott Wiener (D-San Francisco) held a similar event one week earlier. On it Wiener had warned local merchants to prepare for having to remain closed longer than April 7 if they were a non-essential business.
Monday's virtual town hall had about 601 total views. Mandelman said that the next one to two weeks will tell the tale of whether San Francisco's shelter-in-place order will help it avoid the magnitude of the scale that the COVID-19 outbreak has taken in other major municipalities such as New York City.
(For reference, as of the afternoon of March 30, there were 374 reported cases in San Francisco and six deaths. At the same time there were 36,221 cases in New York City with 790 deaths.)
"It's probably too early to tell if it's been working, but it seems as though it is," Mandelman said. "We are experiencing some kind of surge in the next couple weeks, but that it'll be a gentler surge is our hope."
Mandelman said he went to the city's emergency operations center March 27 to see what preparations were underway for the expected surge.
"It makes me proud of our city because we are trying to respond efficiently and effectively," Mandelman said.
Mandelman had been doing some work at City Hall until it was discovered last week a worker there had tested positive for the novel coronavirus.
Mandelman said (before Breed announced that the order would be extended in the coming days) that he expected the order to remain in force through the end of April and then officials would "gradually see what can be loosened."
A University of Washington study released over the weekend predicted that the COVID-19 outbreak would peak in the United States on April 14, with over 2,000 deaths on that day alone. The California peak is predicted to be a few weeks later on April 24.
Mandelman expects a gradual loosening of present restrictions, which would not come as swiftly as the restrictions occurred.
"I would not imagine everything will be lifted all at once," Mandelman said. "I would imagine as we come out of this, it will be (like the restrictions on ever-smaller crowd sizes in March) but in reverse and we'll see what that does to infection rates.
"We're not going to return to 'normal' at least until there are treatments, and that's many, many months away, or until we've established herd immunity," he added.
When asked what the city was doing to help in the creation of antibody tests so that those who have already been infected with the novel coronavirus and have recovered can safely return to work, Mandelman said that the city itself couldn't do much but that biotechnology companies and UCSF were working on this.
City government is going to have hard budget choices to make to pay for the current efforts underway to help individuals and small businesses devastated by the measures being taken to fight the coronavirus, Mandelman said, but he hopes that this will move the ball to reform regulations and red tape in city government on behalf of businesses trying to recover.
"When this is over, keep in mind that the city is going to be poor," Mandelman said. "We'll be looking at regulations, taxes and fees and figuring out how to streamline approval processes and reduce fees (for small businesses)."
Mandelman informed the attendees of the town hall about the limits on evictions and efforts to help local businesses stay afloat. The city has offered to pay five days of sick leave for employees if they have already used all of theirs and the employer agrees to it. When it comes to evictions, which have been severely restricted, Mandelman offered personal help. Many business owners were worried about the looming prospect of paying thousands in back-rent post-outbreak.
"I can call a landlord if you feel that'd be helpful," he said.
Updated, 3/31/20: The order was first reported to be lifted May 1 but officials clarified Tuesday that it is May 3.
Comments on Facebook