News Briefs: Pet owners asked to prepare a plan should they become ill
Friday Mar 27, 2020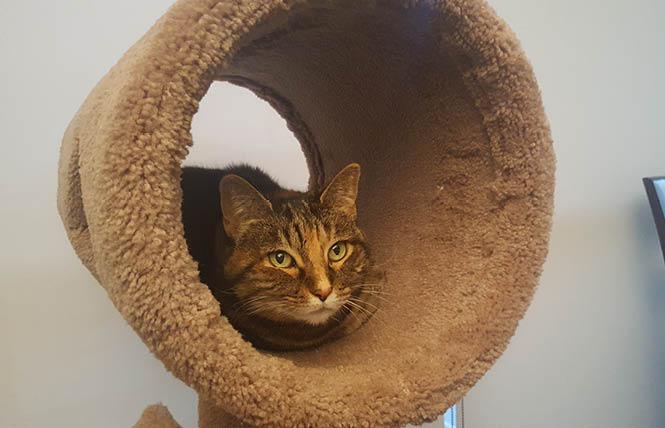 Public animal shelters in Alameda and Contra Costa counties are asking pet owners to prepare a plan for how their companion animals will be cared for should they become ill with the novel coronavirus and need to be hospitalized so that the government-run facilities are not overrun.
The shelters in the two East Bay counties issued an advisory March 27 for how pet owners can devise a plan should their dogs, cats, or other animals need to be cared for while they are unable to do so. People should start with creating an emergency plan for each of their pets.
The document should include the person's name and contact information, including cellphone number, their pet's feeding schedule, any medical conditions and treatment instructions. Also note if your pet is up-to-date on vaccinations, and list the contact information for your veterinarian as well as three family members or friends who can check on your medical status and give the provider updates.
Another key suggestion is for pet owners to compile a bag of animal supplies with food, two weeks worth of medications, and any additional needed supplies, including a travel kennel, for their animals.
Lastly, pet owners should find a temporary caregiver for their pets while they are hospitalized. Ask a neighbor, family member, friends, or pet-sitters if they can pitch in, or contact a boarding facility to make arrangements in the case of an emergency.
Another possibility for finding someone in your area willing to help is via the website https://californiavolunteers.ca.gov/get-involved/covid-19/
It is part of the Neighbor-to-Neighbor campaign Governor Gavin Newsom announced to marshal volunteers to assist older adults and others in their community. It is being overseen by California Volunteers, the state office tasked with engaging Californians in service, volunteering, and civic action.
The animal shelters stressed "the most ideal situation" for people's pets is for them not to be placed in a public shelter.
"Though public shelters can help in emergencies, the system isn't designed to provide long-term care," noted the advisory. "In addition, available space is limited, and shelters may not have the capacity to help all animals in need."
Rental help for people living with HIV
People living with disabling HIV or AIDS who have been San Francisco County residents for at least a year and do not live in subsidized housing can seek a partial rent subsidy from Catholic Charities Assisted Housing and Health program.
Single adults can receive a monthly subsidy of $250, while families can receive $325 monthly. A proof of HIV diagnosis is required, as is residency and a state of California photo identification like a driver's license.
Documentation is also necessary to show the applicant's gross monthly income within the last three years was less than $1,350 and/or monthly income of $1,375 to $1,500 with at least 50% going to pay rent.
Those eligible are urged to schedule an appointment by calling (415) 972-1335. The agency is holding drop-in hours from 2 to 4 p.m. Monday through Friday at 990 Eddy Street. But the agency advises people will have to undergo a verbal health screening before being allowed to meet with someone in person.
SF nonprofit organizes volunteers
The San Francisco-based Shanti Project has teamed with city officials to coordinate volunteers who can assist older and vulnerable adults during the coronavirus outbreak. It is seeking people who can pitch in with such duties as grocery shopping, picking up mail, taking out the garbage, delivering medications, or dog walking.
It has been dubbed the COVID-19 Emergency Response Volunteer program. The city's Department of Disability and Aging Services is handling the screening, training, and management of the volunteers. Those who sign up must be healthy, under the age of 60, and pass a background check.
Those interested in helping out should email helpnow@shanti.org or call (415) 674-4701 and a staff person should respond within 24 hours. For more information, visit http://www.shanti.org/cerv
Online programs launch for LGBT parents
The LGBT-focused nonprofit Our Family Coalition has launched new online resources for parents who are sheltering at home with their children during the coronavirus outbreak. It is using approved platforms to bring people together virtually to offer assistance and a way to connect with other moms and dads until it can resume its normal operations.
Beginning Wednesday, April 1, it is hosting weekly check-ins for parents of school-aged kids, those in elementary school on up, from 7:30 to 9 p.m. And starting Monday, April 6, it will host weekly check-ins for parents whose children are 4 years of age or younger from 11:30 a.m. 1 p.m.
On alternate Tuesdays from 8 to 9:30 p.m. is a check-in for LGBTQ parents and caregivers of teens and tweens. It launches Tuesday, March 31, and will next meet April 14. And on alternating Wednesdays, starting April 8, it will host a special meetup for queer and transgender parents of color. Those sessions will be held from 6 to 8 p.m.
"Please attend any and all virtual events you'd like. We've sorted the groups to enable family members with like concerns to find one another, but we're open to anyone attending who just needs the safe space and a friendly face," noted Cheryl Lala, the agency's family programs director, in an email announcing the new services.
The nonprofit also started a private Facebook group where LGBTQ families can swap lesson plans, resources, and tips for keeping children busy and engaged during the current school shutdown, which for many extends through at least early May when Bay Area school districts now plan to reopen. In order to be added to the group, parents will need to answer a few questions first, meant to protect the safety of those in it.
To do so, visit the agency's main Facebook page at https://www.facebook.com/ourfamilycoalition or email Lala directly at cheryl@ourfamily.org
For information on all of the programs and services Our Family Coalition offers, visits its website at www.ourfamily.org
Local history found online
Another resource for parents with kids stuck at home or anyone looking for a way to spend their time while sheltering at home is a new online resource created by the San Francisco Historical Society. In light of the coronavirus epidemic the archival group has launched a new Digital History Resources section on its website.
The society closed its museum at 608 Commercial Street March 16 and doesn't plan to open it again until at least April 21. It also temporarily suspended all of its public programs, lectures, and walks.
Thus, it is launching its "Don't Stay Home Without Them" campaign to encourage people to take virtual historical walks around the city, discover how San Franciscans overcame previous challenges, or attend online presentations about San Francisco history. The first online presentation in the series is "A Romp Into Gold Rush History," a virtual tour through Yerba Buena during the days of the Gold Rush.
The society plans to post a new digital resource every week. Included will be online presentations, videos, history articles, and mobile history apps all free for city residents to utilize.
To check out the online resources, visit https://sfhistory.org/publications/digital-history-resources/
Comments on Facebook