With New Year's kiss, SF gay couple makes history
Tuesday Jan 7, 2020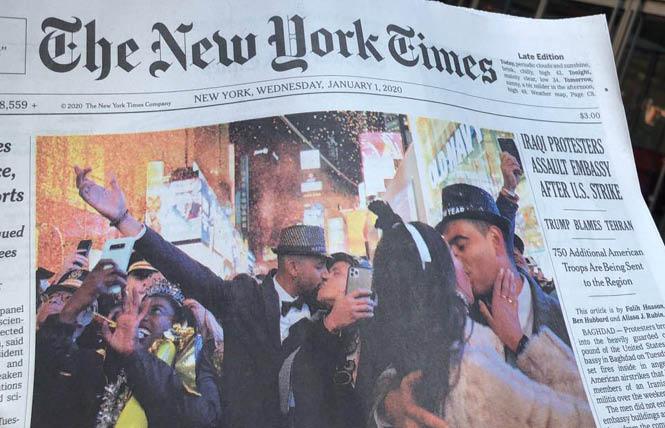 Julian Sanders wanted to ring in 2020 in Las Vegas, but his boyfriend of three years, Jay Morales, insisted they return to Manhattan to celebrate the start of the decade in Times Square like they had done to kickoff 2018. Sanders relented, and the San Francisco couple ended up making journalistic history.
A photographer for the New York Times, Calla Kessler, captured the moment that Sanders and Morales kissed at the stroke of midnight. Within minutes she had transmitted her photo to her editors, who selected it to run on the cover of the newspaper's early January 1 edition.
It is believed to be the first time a photo of a same-sex couple kissing at the yearly celebration has appeared on the front page of the Times, according to the newspaper. Almost every year since 1998 the Times has published a photo of celebrants at Times Square on the cover of its first issue of the new year.
"I had my phone out to do the countdown to midnight. I didn't even know she was taking the photo," Morales told the Bay Area Reporter by phone January 6 a few hours prior to boarding a return flight home.
In the photo taken by Kessler, Morales, 38, can be seen holding up his cellphone while his head is turned to the right in order to kiss Sanders, 30, whose outstretched right arm is extended up into the air. Confetti is falling all around them, while their friends Fran Torres and Santiago Rios are locked in their own kiss in front of them. Also to the right of the two couples is their friend, Sabrina Best, seen looking skyward.
'Joking all night'
"We knew Calla was a photographer with the New York Times, as she showed us her credentials. She was there with us for a while, too, about an hour or so. We were joking all night we are going to be on the cover but didn't actually think we would be on the cover," recalled Sanders, who awoke in the afternoon of January 1 to see Kessler had tagged him on her Instagram post about the couple's picture being chosen for the front page. "She was super excited her photo was chosen for the cover. That was maybe 2 p.m. on New Year's Day, we were still waking up from the night before."
Unfortunately for the couple's friends and family in the Bay Area, the printed editions of the January 1 New York Times delivered to subscribers in California featured a different photo Kessler had taken of New Year's Eve revelers in Times Square. A spokeswoman for the paper told the B.A.R. the one with Morales and Sanders only ran in a select few printed papers available in New York.
"The image was only published in the late New York City print edition. I don't have an exact count but it's not a large run," Danielle Rhoades Ha, vice president of communications for the New York Times Company, wrote in an emailed reply.
Thus, Sanders' mom couldn't find any of the papers featuring her son after trying to buy copies at multiple stores in Austin, Texas. Nor could Sanders locate any of the papers featuring him and Morales after a near two-hour search through Midtown Manhattan late in the afternoon on New Year's Day.
"We were all dumbfounded. It was weird no one could find a paper," said Sanders, who even popped into the offices of the New York Times that Wednesday to try to locate the edition featuring him and his friends.
To his astonishment, none of the newsstands he found that afternoon carried the Times. One newsstand operator told him to check the ones located in the subway stations, but Sanders could only find a local tabloid newspaper at the belowground stands.
"I walked all around Midtown Manhattan and could not find a single New York Times," recalled Sanders. "I got back to the hotel and went to the gym and saw a New York Times there and it was the other photo on the cover."
As it happened, Kessler contacted the couple that day to ask them some questions for a write up about her and her fellow photographer Brittainy Newman's strategy for their assignment in Times Square. She offered to give them copies of the paper if they stopped by the newsroom last Thursday, but Sanders said even she had to scramble to locate the two she was able to scrounge up.
"She had to talk to her editor who talked to the printing hub and even then she was able to only get me two copies," said Sanders, who gave one to Torres, who has been dating Rios for eight months.
Like their female friends, Sanders and Morales are flight attendants for Alaska Airlines and met on the job. Sanders, who grew up in Dallas, has lived in San Francisco for close to 11 years, while Morales grew up in the South Bay and has lived in the city the last 15 years.
Having enjoyed the energy and the people of Times Square when they were first there on December 31, 2017, Morales wanted to return one more time. Sanders wasn't as certain, as that year was freezing cold, and the couple didn't settle on their New Year's plans until just before Christmas.
"Jay was really adamant about going to New York. We went back and forth for a while about it. ... I was really against it, going back to New York. As always, Jay won," joked Sanders.
"I guess it was fate, right," added Morales. "I am really glad we didn't go to Vegas."
Based on the "Inside the Times" feature printed in the paper's January 4 issue, the photographers purposefully wanted to shoot a diverse group of celebrants and looked for positions in the crowd to do so by 10:30 p.m. Morales and Torres are Filipino American, Sanders is African American and Mexican, Rios is Colombian American, and Best is African American.
Plus, they had a hotel room nearby and special late access to the viewing area in Times Square through a friend, so they likely looked fresh in their outfits compared to the people who had arrived earlier in the day, surmised Sanders.
"We were just joking that we look really great and all dressed up. Calla came over and told us, 'You look amazing.' We told her the same thing," said Sanders. "We started talking to her. We had smuggled in some drinks and were having a good time with her."
It also helped they were standing near a group of service members who stood out in the crowd, said Sanders. Kessler recounted in the news feature that she had planned to shoot an updated version of Alfred Eisenstaedt's iconic photo at the end of World War II of a serviceman kissing a woman in Times Square but was thwarted in doing so when she couldn't find the right angle.
"With diversity in mind," noted the article, Kessler turned her camera lens on the same-sex couple as they kissed.
Due to their location, said Sanders, there were reporters all over and an Asian news crew was interviewing people near them. Thus, he didn't really think about having their photo be captured for posterity in the moment it was taken.
"I knew Calla was there and all of a sudden she was just gone," he said. "We were just celebrating the New Year at that time and we thought we would never see her again."
It wasn't until Kessler mentioned to him on the phone the historic nature of the photo she was able to take of the couple that Sanders said he recognized its significance. He plans to order more copies of the printed edition of the paper featuring their photo now that he is back home in San Francisco.
As for Morales, he told the B.A.R., "Definitely one of the most epic New Year's. Just being with my friends and being on the cover of the New York Times; it was surreal."
Comments on Facebook