Sterling Bank wants to move into prominent Castro space, but planners object
Friday Jan 3, 2020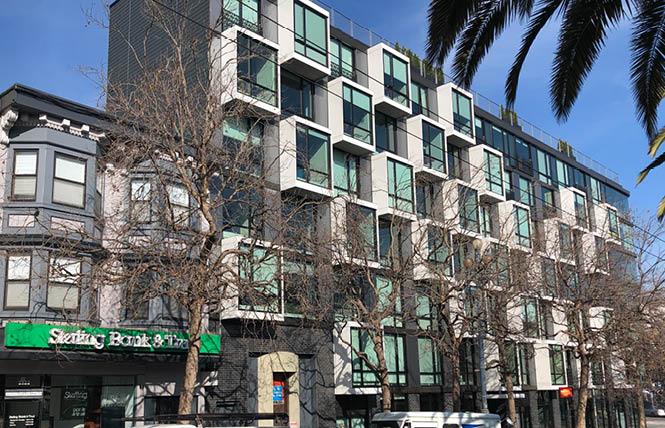 Sterling Bank & Trust wants to relocate its Castro branch into a prominent corner retail space on upper Market Street, but city planners have raised objections to the financial company's plans.
In a particularly harsh analysis of the company's request to move from its current location at 2122 Market Street into a 2,999 square foot storefront in the building next door at 2100 Market Street, planner Jeff Horn wrote that the planning department not only found the relocation to be undesirable but that it would adversely impact the Upper Market commercial corridor.
The department, wrote Horn, considers the project "not to be necessary, desirable, and compatible with the surrounding neighborhood, and to be detrimental to persons or adjacent properties in the vicinity."
It is recommending that the city's planning commission reject Sterling Bank's permit request to move its branch when it takes up the matter at its January 9 meeting. The oversight body could decide to ignore the staff's advice and approve the permits, or if it votes to deny them, then the bank could appeal to the Board of Supervisors within 30 days once the decision becomes effective.
Steve Adams, a senior vice president and managing director at Sterling Bank, did not immediately respond to a request for comment Friday. A gay man and former president of the Castro Merchants neighborhood association, Adams is president of the city's small business commission.
According to the staff report, Sterling Bank's lease for its current Castro branch site "will terminate in the near future."
As the Bay Area Reporter has noted in previous stories, the bank's desire to relocate is opposed by nearby residents and a powerful neighborhood association that prefers to see a merchant that can attract considerably more foot traffic set up shop in such a prominent corner. It is situated at the intersection of Market, Church and 14th streets and lies atop the Muni Metro Church Station.
The mixed-use building, which opened in September, had generated community consternation after it was learned this summer that its local developer, Brian Spiers, had entered into an agreement with the San Francisco-based startup Sonder to lease its 52 market-rate apartments as furnished extended-stay units. The move was seen as favoring businesses that can afford to rent expensive apartments for their employees on a short-term basis rather than providing long-term homes for people who want to become residents of the city's LGBT neighborhood.
Meanwhile, the residents of the eight on-site affordable apartments will be determined by a lottery the city is conducting Tuesday, January 7.
According to its website, Sterling Bank was founded in San Francisco in 1984 and now has 13 neighborhood branches in the city and an additional seven in the Bay Area. The bank also has four branches in Los Angeles, a loan production office in Seattle, and since 2017 has operated a division in New York known as SBT Advantage Bank.
Thus, Sterling Bank is considered a formula retailer by San Francisco since it has more than 11 locations and is required to seek conditional use authorization when opening up a branch in the city. The requirement is triggered even if it means moving an existing branch into a new location such as the case with its Castro branch.
But the bank also ran into even more restrictive zoning aimed at preventing too many chain retailers setting up shop along upper Market Street. The rules were put into place years ago following neighborhood uproars over a planned Starbucks on the commercial corridor that was ultimately rejected by the planning commission, and complaints at seeing Bank of the West move into a prominent corner location at 16th, Market and Noe Streets since it does little to draw foot traffic when it is closed at night and on Sundays.
Under the rules, if a retail applicant brings the formula retail concentration within a 300-foot radius of where it wants to open on upper Market Street to a concentration of 20% or above, the planning department staff is required to recommend disapproval of the application to the Planning Commission. In Sterling Bank's case, it wants to move into a storefront that is near six other formula retailers. Also on the 2100 block of Market Street are a Walgreens pharmacy and store and a 24-Hour Fitness gym, while a Safeway grocery store and an Ace Hardware also front that intersection.
Sterling, noted Horn in his report, "would significantly increase the concentration of total formula retail use frontage within a 300-foot radius of the project" as the radial footprint "currently is over-concentrated with formula retail uses, occupying 20.6% of the total frontages, and the project would result in a net increase of 124 linear feet to the district, resulting in a concentration of 26.6%."
According to the staff report, the planning department has received three letters in support of Sterling Bank's desire to relocate its branch from the Castro Merchants, the Castro/Upper Market Community Benefit District, and the Eureka Valley Neighborhood Association. Meanwhile, nine nearby residents and the Duboce Triangle Neighborhood Association sent in letters of opposition.
The 36-page staff report posted online Friday with the agenda for the planning commission's next meeting did not include copies of any of the letters. Nor was any correspondence from Sterling Bank included in the report.
In its October/November newsletter DTNA explained that it was opposed to seeing Sterling Bank move into the new retail space because when Spiers sought its approval for his development he had promised "that the main corner retail space would be built out and rented as a restaurant, and that the two small retail spaces on 14th Street would be rented to local businesses at reasonable rates, Spiers reversed on that and is now attempting to gain approval to use the entire bottom floor for another corporate client (a bank)."
Comments on Facebook