Guest Opinion: Time to hold PG&E accountable
Monday Dec 30, 2019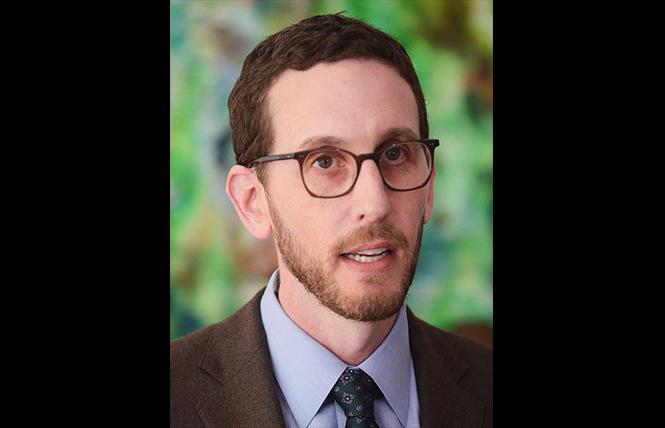 Millions of Californians demonstrated incredible fortitude and resolve this past fall when, in order to minimize its own wildfire liability risk — caused by decades of negligence and mismanagement — Pacific Gas & Electric Co. turned off the power for millions. The consequences of these mass blackouts were devastating. Lifesaving medical equipment failed. Food spoiled, causing significant hardship for low-income residents. Businesses shut down, causing major losses for small business owners and for workers who didn't get paid. Parents had to stay home from work due to school closures. Hospitals, law enforcement agencies, and local governments struggled mightily to deliver life-saving services.
LGBTQ seniors, and those living with HIV/AIDS who rely on electricity-powered medical equipment, are among the populations most severely impacted by the blackouts. We cannot let our most vulnerable communities suffer the brunt of PG&E's mistakes. And we need to ensure that those impacted are able to recover quickly and get back on their feet.
Despite PG&E's protestations that the mass blackouts were unavoidable, there was actually nothing inevitable about them. And while limited, targeted, and well-managed blackouts can be an important tool to avoid high-risk wildfire situations, PG&E has not been targeted in its approach. PG&E has used a sledgehammer, not a scalpel, in approaching blackouts.
Modern utilities have many tools available to prevent wildfires, and PG&E is no exception. Unfortunately, PG&E is unique in its comprehensive rejection of less disruptive alternatives in favor of blackouts. Over the years, the company has neglected to upgrade its aging equipment, continued to build endless power lines in the highest risk fire zones (and then neglect them), and vocally opposed efforts to promote wires-free alternatives such as rooftop solar and storage. Instead, PG&E has chosen to dole out millions in executive bonuses, while neglecting its infrastructure and simply blacking people out during risky conditions.
It's time to reform our energy system here in California and to hold PG&E accountable. Putting aside for the moment the needs for fundamental, structural reform at PG&E — I believe PG&E should be a publicly owned utility, accountable to the people and not to Wall Street — we need to ensure that PG&E stops treating Northern California like a doormat subservient to the company's own needs. That's why I'm authoring Senate Bill 378, which will be the first of various bills I am working on to transform utilities in California.
Under our current system, utilities like PG&E are financially incentivized to shut off power during periods of perceived fire risk, even if the risk may be minimal and created by the utility's own negligence and misconduct. Decades of neglect by PG&E have led to the prevalence of faulty equipment across our state. And why is PG&E inflicting such widespread blackouts? It wants to avoid liability for fires started because of its own defective power lines and other equipment.
PG&E's long-term irresponsibility — putting immediate profits over long-term sustainability — cannot be overlooked. Instead of dealing with the root of the problem, PG&E is shutting off power for millions and risking lives and livelihoods.
SB 378 seeks to balance out PG&E's financial incentives. Currently, PG&E has strong financial incentives to turn off power broadly in order to eliminate any conceivable liability risk. Conversely, it has no incentive to avoid inflicting the huge damages that blackouts cause. SB 378 seeks to re-balance these incentives by requiring PG&E to take into account the harm caused by blackouts. The legislation requires PG&E and other utilities to compensate individuals, public agencies, and businesses impacted financially by the blackouts — for example, business losses, wage losses, spoiled food, spoiled medicine, and so forth.
It's also crucial that we incentivize utilities to make long-term infrastructure upgrades, rather than incentivizing the use of Band-Aid measures like temporary blackouts to avoid liability. That's why SB 378 would level hourly fees on utilities during power shutoffs. It would also ensure that customers will not be charged anything during the shutoffs — yes, currently PG&E can charge customers for service even during intentional blackouts — and that utilities cannot profit off of them.
SB 378 would also mandate better data collection before and after blackouts, certifying that they are indeed necessary, and providing better reporting on the consequences of the outages.
Bay Area mayors — San Francisco's London Breed, San Jose's Sam Liccardo, Oakland's Libby Schaaf, and Berkeley's Jesse Arreguín — all agree and are supporting SB 378. This coalition understands the very real consequences of these blackouts, and together, we are working to hold PG&E accountable and reform this broken utility.
We're just getting started. We need to give the power over our utilities to Californians, not Wall Street investors.
It's time to put our communities first, and that begins with passing SB 378 and other legislation to ensure PG&E no longer puts profits over people.
Scott Wiener represents San Francisco and northern San Mateo County in the California State Senate.
Comments on Facebook