Loftus points to achievements as short DA tenure ends
Monday Dec 30, 2019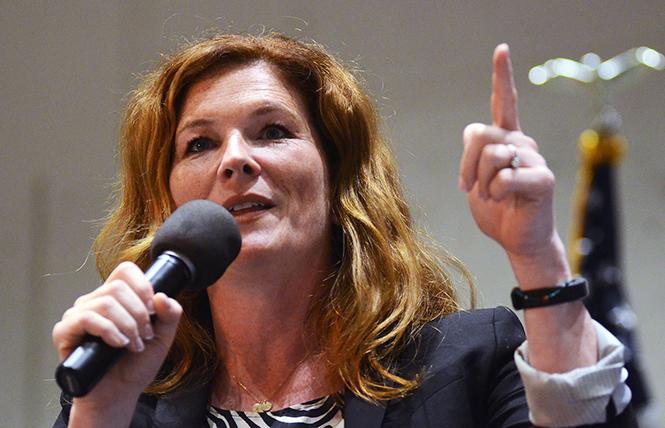 Suzy Loftus spent over a year campaigning to become San Francisco district attorney. She has held the job for a little over two months.
Yet during that time, Loftus announced the creation of an auto burglary task force, the discovery of $2 million in stolen property, and has boosted the morale of a law office that has seen a significant number of attorneys depart in recent years, she said in a wide-ranging interview with the Bay Area Reporter Thursday, December 19.
"Overall, I will say it is a tremendous honor to serve as the chief elected law enforcement officer for San Francisco for as many days as I get to do it," Loftus said.
She will depart the office January 8, when District Attorney-elect Chesa Boudin is sworn in.
Loftus, who had been assistant chief legal counsel for the San Francisco Sheriff's Department, announced her candidacy for district attorney in the summer of 2018 before then-District Attorney George Gascón announced he wasn't seeking re-election.
Loftus framed herself as a progressive prosecutor who could deliver results for victims and reduce recidivism among defendants, cutting through the city's often-labyrinthine criminal justice system.
"The office I inherited was, I would say, really lacking in morale and was in various forms of disarray," Loftus said. "I don't think the district attorney [Gascón] was focused on the office for some time. It's a job that requires a lot of focus and attention."
Reached December 20, a spokesman for Gascón declined to comment on the record.
Throughout the course of the race, Loftus received a who's who of endorsements from prominent politicians: Mayor London Breed, a majority of the Board of Supervisors, California Governor Gavin Newsom, and California Democratic Senators Dianne Feinstein and Kamala Harris. She also received the sole endorsement of the San Francisco Democratic Party. (The Bay Area Reporter also endorsed her.)
Upended election
Loftus, 45, was one of four candidates in the DA's race; her strongest opponent was Boudin, a reform-minded deputy public defender whose parents were part of the radical, left-wing Weather Underground in the 1970s. Boudin had a compelling life story — his parents drove the getaway car in an armed robbery that took three lives. His mother spent 22 years in prison and his father is still incarcerated. Boudin carried endorsements from Democratic presidential candidate Senator Bernie Sanders (I-Vermont) and Black Lives Matter activist Shaun King, as well as numerous progressive leaders and organizations in San Francisco.
Then the race was upended when, on October 3, Gascón abruptly announced his resignation just before absentee ballots were mailed. The next day Mayor London Breed said that she was appointing Loftus to the position of interim district attorney.
Loftus began the post October 19.
Suddenly, for some voters it was, as the Harvey Milk LGBTQ Democratic Club termed it in a San Francisco Examiner opinion piece, "Chesa Boudin vs. The Machine." The first open race for San Francisco district attorney in over a century became a microcosm of the struggle between progressives and moderates.
What was already a powder keg of a race exploded as angry protesters caused the news conference announcing Loftus' appointment to be moved from Chinatown's Portsmouth Square to a nearby dim sum restaurant, in an afternoon replete with confused reporters running up Chinatown streets and an angry youthful demonstrator rushing the stage inside the restaurant and shouting "anybody but Suzy."
"I do believe I was the best person suited to step in and lead the office. I'm not someone who made a political calculation about that," Loftus said, referring to accepting the interim appointment. "I just stepped up to serve. I do think there was a political cost to it. You know, we're in a deeply cynical time overall and a lot of folks were not comfortable with the timing and a lot of my opponents made an issue out of that, somewhat successfully."
The San Francisco Police Officers Association fronted an all-out attack on Boudin's candidacy, putting tens of thousands of dollars into a political action committee to oppose him, and calling him the favored candidate of criminals. The SFPOA did not endorse a candidate in the race.
On Election Day, November 5, Loftus held a slim lead. That disappeared as ranked choice ballots were counted. Four days later, Loftus lost the election in the third round of ranked-choice voting with 49.17% of the vote to Boudin's 50.83%.
Gay state Senator Scott Wiener (D-San Francisco), who backed Loftus, was unsure whether Breed's decision to appoint Loftus before the election hurt her at the polls.
"I don't think we'll ever know," he told the B.A.R. in a recent interview. "There were benefits and detriments. There was a narrative that this was a backroom deal, which is completely false. The mayor had nothing to do with George Gascón's decision to resign, which he did for his own reasons. Her job is to appoint the most qualified person and she had endorsed Suzy. It's what a mayor is supposed to do."
For his part, when asked if he thought the mayor's decision to appoint Loftus hurt her, Boudin wrote in an email to the B.A.R., "the appointment both helped and hurt her campaign."
Boudin will be the newest on a growing list of progressive prosecutors working to reform the criminal justice system, from Philadelphia to San Francisco.
Loftus pointed out that she started the interim DA job before the election and continued afterward.
"A lot of people after the campaign got to go rest or do something else," Loftus said. "The reality of my life is I'm a mother of three anyway; the next day my kids were like 'what's for lunch?'"
Loftus quipped that come January 9, she will be in "an undisclosed location."
Loftus said she hasn't hired any new assistant district attorneys during her tenure, as she wants to give Boudin the chance to shape the office as he sees fit. Both Loftus and Boudin said that the transition is going smoothly.
Fighting car break-ins
But Loftus hasn't been sitting on her hands. Shortly after taking office, she joined officials from multiple law enforcement agencies in announcing the creation of a task force — Operation Tangled Web — to tackle one of the city's biggest criminal justice issues: auto burglaries.
"Law enforcement has to work more effectively together to go after the people who are repeat offenders," Loftus said. "It really is taking a more organized approach to this crime and not just treating it as one-off car break-ins, but recognizing that it's become a marketplace where people are making a lot of money off of stealing from us and we've got to disrupt that."
Loftus said that San Francisco car break-ins are "a much more sophisticated operation than people realize" — a fact substantiated by a 2016 San Francisco Civil Grand Jury report, which stated that 80% of San Francisco car break-ins are the responsibility of gangs, but that police only made arrests in 2% of the cases.
Loftus said that after announcing Operation Tangled Web there was a decline in San Francisco car break-ins but a slight up-tick in neighboring San Mateo County.
"There's some data; it's anecdotal, and it's not a large amount, but there is a decision that gets made about where are [people] going to commit crime, and I think it is important for the district attorney-elect to have a strategy that ultimately prevents crime, right, by effectively partnering with law enforcement," Loftus said.
Loftus has also aggressively been going after fencing — the practice of buying stolen goods to sell them for cash. She said that the intersection of Market and Seventh streets is a fencing epicenter.
"The police chief and I — a couple months into the job he told me that a Salvador Dalí painting was fenced in broad daylight," Loftus said. "It has gotten to a brazen level and we have to continue to address this.
"If we're really going to attack property crime, we have to attack the marketplace, which is all these folks are doing it because they can convert it quickly into cash," Loftus added. "That has to be the future of how we attack property crime. We have to do it at all levels."
As part of the fencing crackdown, 30 search warrants have been executed throughout the Bay Area, but Loftus could not speak further on specifics due to the ongoing nature of the investigation.
On December 12, Loftus and law enforcement officials announced that $2 million in stolen property — including $750,000 in stolen retail clothing alone — had been discovered as the result of a multiple-agency investigation into fishing, which included help from the California and United States departments of justice.
"It was like walking into a Target," Loftus said. "But it was also stuff clearly in someone's backpack or taken out of a car, and we're going to try to get stuff back to folks."
Loftus made a visit to the Castro Merchants meeting November 7, where she and community members discussed their concerns over quality-of-life and street crimes in the neighborhood.
"I think it's really important that the DA's office be a partner with the community to solve problems," Loftus said. "I spent a lot of time with the Castro Merchants and Supervisor [Rafael] Mandelman and I brought the chief assistant from the DA's office and a team of the neighborhood prosecutors because my whole thing is when you get outside of government you see how people are experiencing it."
Mandelman, a gay man who represents District 8 on the Board of Supervisors, which includes the Castro, had endorsed Loftus in the race.
"I am grateful to Suzy for stepping in to the DA position on an interim basis," Mandelman wrote in an email to the B.A.R. "She was available and accessible to my office and community, bringing senior staff to a meeting of the Castro Merchants in November to engage with neighborhood merchants and residents on the many public safety and quality of life challenges in the Castro."
Wiener praised Loftus' campaign.
"Suzy was a fantastic candidate and supremely qualified for the job, but it was a tough field with four strong candidates," he told the B.A.R. "This is perhaps the strongest candidate field I saw in any race in a long time, so it became really unpredictable. Suzy ran a great race. She was a great candidate, she should be proud of the race she ran, and she is a great community leader who isn't going anywhere."
Loftus said that Boudin understands, too, the importance of getting out in the community and drawing from it.
When asked what he approved of from Loftus' tenure, he answered, "I support her focus on community prosecutors."
Optimism
Loftus said she believes she brought stability and optimism to an office that was hemorrhaging during Gascón's tenure. She said she rides a shuttle with the assistant district attorneys to the new, temporary DA's office at 350 Rhode Island Street from the Hall of Justice at 850 Bryant Street.
She said she hopes her successor continues in that spirit of boosting office morale.
"When morale is low victims don't get called back, you know, there's a sense of kind of hopelessness," Loftus said. "I really wish for the office that they get leadership that can inspire them to do what is incredibly important work. You know, there are victims and survivors and people who need this office to function and it is my hope that that would be a priority."
Loftus said she does not have a job lined up for after she leaves the DA's office. She is running for a seat on the San Francisco Democratic Party Central Committee, the elections for which coincide with the statewide primary March 3.
She said she is running for central committee because "history will ask all of us 'what did you do?'" when people look back at the Trump era.
Meanwhile, the Los Angeles County Democratic Party endorsed Gascón for the position of district attorney there in early December. He announced his candidacy for Los Angeles DA shortly after resigning the position in San Francisco.
Breed did not respond to a request for comment for this story as of press time.
Comments on Facebook