News Briefs: Q Foundation to launch HIV rent subsidy program
Wednesday Dec 18, 2019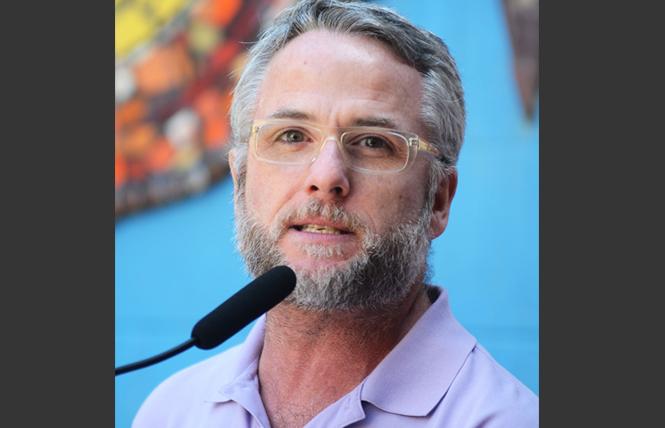 The Q Foundation will officially launch its new HIV/AIDS rental subsidy program Friday, December 20, from 12:30 to 5 p.m. at the Koret Auditorium at the San Francisco Public Library, 100 Larkin Street.
Q Foundation Executive Director Brian Basinger said that Mayor London Breed will be on hand for the launch of HARP, or HIV AIDS Rent Program.
Breed and gay District 8 Supervisor Rafael Mandelman are expected to speak at 1. They will be joined by Joe Hollendoner, CEO of the San Francisco AIDS Foundation, and a subsidy recipient who will share their story.
Following that, there will be a 30-minute orientation to subsidy eligibility and accessibility, as well as a breakout for case managers.
The rest of the afternoon will include timed entries into the main library's computer lab where up to 100 people can begin the online subsidy screener. Q Foundation will also have coordinated entry to assess people living with HIV/AIDS who are homeless or have housing instability.
As the Bay Area Reporter noted in November, the Mayor's Office of Housing and Community Development awarded $1 million this year to the Q Foundation for rental subsidies for people living with HIV.
In a Facebook event listing, Basinger wrote that 2,390 people with HIV in San Francisco are homeless or unstably housed. "We have the 4th highest rate of homeless, along with African Americans, Native Americans, disabled adults, and transgender residents," he added.
For more information and to RSVP, visit https://bit.ly/38GoV49 or http://theqfoundation.org/harp
Christmas dinners offered
For those who don't have a place to go, local organizations are serving dinner on Christmas Day. All events take place Wednesday, December 25.
Tenderloin Tessie will serve up hot meals from 1 to 4 p.m. at the First Unitarian Church, 1187 Franklin Street. Those who are interested in volunteering can go to www.tenderlointessie.com and click on the "Volunteer" button.
Over at Glide church, a celebration and meals will be offered. Breakfast will be served from 7:30 to 9 a.m. in the dining hall at 330 Ellis Street in San Francisco. A worship celebration will be held at 10 in the sanctuary, and a Christmas meal will be served from 11 a.m. to 1 p.m. in the dining hall.
In San Jose, the Billy DeFrank LGBTQ Community Center will hold a potluck from 11 a.m. to 2 p.m. That evening, at 7 p.m., there will be rainbow bingo. Both events take place at the center, located at 938 The Alameda. For more information, visit www.defrankcenter.org
In Oakland, the LGBTQ Community Center will hold its third annual LGBTQ Christmas celebration from 2 to 7 p.m. at 3207 Lakeshore Avenue (entrance on Rand Avenue). Food will be served between 2 and 5. For more information, visit http://www.oaklandlgbtqcenter.org
Census job event
The Glide Foundation will hold a census job fair Friday, December 20, in conjunction with the U.S. Census Bureau and Code Tenderloin. People will get hands-on assistance in completing the online application.
San Francisco census takers will make the top hourly wage in the nation at $30 an hour. At 25 hours a week, that means census takers could make up to $6,000 for working eight weeks, officials noted.
Applicants 18 or older should bring their Social Security number, email address, and a valid driver's license to the event, which takes place from 10 a.m. to noon and 1 to 3 p.m. at the foundation's office at 330 Ellis Street, first floor Freedom Hall. Code Tenderloin will provide laptops for use.
The hourly pay rate for other Bay Area counties will be San Mateo and Santa Clara, $30; Santa Cruz, Napa, and Solano, $21; and Marin, Alameda, and Contra Costa, $25.
If people can't make it to the Glide event, they can fill out the census taker application anytime at https://2020census.gov/en/jobs.html
For more information on the Glide event, contact Nikki Dove at (415) 674-6190 or ndove@glide.org
Comments on Facebook