SF housing bond OK'd
Wednesday Nov 6, 2019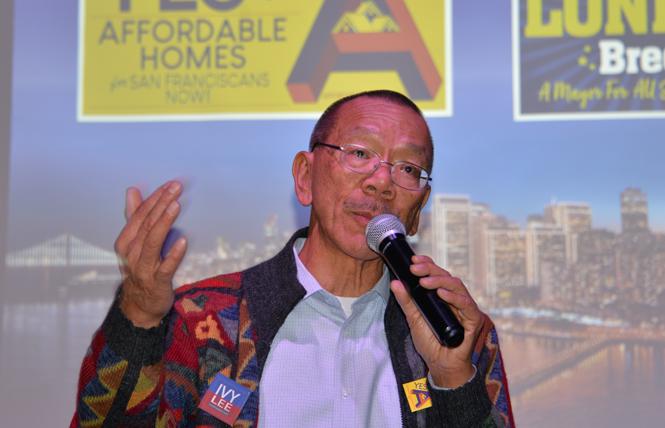 Housing advocates were elated with the passage of Proposition A, the $600 million bond measure for affordable housing. The largest such bond in the city's history, it had 69.34% support based on the unofficial returns Wednesday morning, reaching the two-thirds threshold it needed to pass.
Mayor London Breed and all 11 members of the Board of Supervisors backed the bond, which earmarks money specifically for housing developments for seniors, educators, and low- and middle-income households. She joined forces with the Yes on A campaign to hold her victory party Tuesday night at the Swedish American Hall on upper Market Street in the city's Castro district.
"We know that providing a safe, affordable place to call home is what's going to change the challenges with poverty, homelessness and all the things that we're dealing with. So we got to get that housing built now," said Breed.
The measure, said District 7 Supervisor Norman Yee, president of the board, aims to help the people who are the "backbone of our communities" find housing in the city.
"It's about helping every single person in San Francisco that wants to live here, that cannot afford to live here," said Yee, noting that, "These are our relatives. These are your kids. These are your friends. They want to stay in San Francisco, but have not been able to afford it."
Language in the bond also directs the city to prioritize projects in neighborhoods that have seen few affordable housing developments built. It could benefit District 8, including the city's LGBT Castro district, by allowing the city to purchase smaller properties with rent-controlled units.
"I want to see that happen in the next four to eight years and I think we will," said gay District 8 Supervisor Rafael Mandelman. "We desperately need it."
Todd David, executive director of the San Francisco Housing Action Coalition, told the Bay Area Reporter that most of the money is likely to go to housing projects already in the pipeline. As for District 8, he noted that finding land to build on is the biggest challenge as most of the neighborhoods within it are built out.
"The best option will be to buy existing properties through the small-site acquisition program and make them permanently affordable," said David, who lives with his wife and their children in Noe Valley on the border with the Castro.
For the city as a whole, passage of Prop A "is significant," said David, as "our housing shortage is severe. This will help address the housing market for the lowest income San Franciscans."
In other news, San Francisco voters overwhelmingly rejected Proposition C, which would have overturned the city's ban on e-cigarette sales pending review from the Food and Drug Administration. As of the unofficial results Wednesday, 81.02% of voters voted against Prop C.
The Yes on C campaign had been bankrolled by Juul Labs Inc., but lost steam after a spate of vaping-related illnesses and deaths began to sweep the nation in the late summer (https://www.ebar.com/news/news//282810). Thirty-seven deaths in 24 states and 1,888 cases of lung injury associated with vaping have been reported to the Centers for Disease Control and Prevention as of press time.
On September 30, Juul announced it would no longer fund Yes on C, which subsequently decided "not to continue with the campaign," according to a statement.
The San Francisco-based e-cigarette manufacturer had bigger problems to face — its CEO stepped down in late September and a federal lawsuit alleges that Juul knowingly sold contaminated pods.
City Attorney Dennis Herrera, who won re-election in a race without opposition on Tuesday, issued a statement blasting Juul as the first returns came in.
"Juul spent millions trying to mislead San Franciscans and rewrite the rules to benefit itself before realizing that was a fool's errand," stated Herrera. "It could have put that time and effort into completing the required FDA review.
"If Juul had done that the day Supervisor Shamann Walton and I introduced our e-cigarette legislation back in March, Juul would have had its answer from the FDA by now. Perhaps FDA review is a test that Juul is afraid it can't pass," he added.
Proposition B, which changes the name of the Department of Aging and Adult Services to the Department of Disability and Aging Services, passed overwhelmingly with 76.75% of the vote, according to unofficial returns. Prop B is expected to be formalized by late December and also adds new qualifications for three of the seven seats on the department's commission.
The name change is hoped to be a more accurate descriptor of the department, which could potentially help people seeking services be better able to find them.
The fate of Proposition D is more dicey. It would impose a tax on rideshare fares originating in San Francisco to help pay for public transportation repairs and bicycle safety measures. The tax would be 1.5% on every shared ride with Uber and Lyft and 3.25% on every private ride.
A 2018 study from the San Francisco County Transportation Authority found that Uber and Lyft were responsible for 51% of the increase in extra time spent sitting in traffic between 2010 and 2016 and 47% of the increase in vehicle miles traveled on the city's roads.
Prop D needs 66 and two-thirds percent of the vote to pass, and it had 66.71%, based on unofficial returns.
Proposition E passed with 74.57% of the vote, according to unofficial returns. It would change the rules to allow 100% affordable and educator housing in public zoning districts.
Rounding out the ballot was Proposition F, which passed with 76.36% of the vote and would create new rules on campaign contributions in an attempt to decrease the influence of developers.
Jon Golinger, a co-author of Prop F and the campaign manager for Sunlight on Dark Money Yes on F, said he was "happily surprised" by the margin of victory and hopes it heralds future campaign finance law changes.
"Yet again the voters of San Francisco have shown they're strongly in favor of breaking up a corrupt and big money dominated process in San Francisco politics," Golinger said. "This makes it a little less likely a land use deal will be approved because of a campaign contribution."
Matthew S. Bajko contributed reporting.
Updated, 11/7/19: This article was updated to include new numbers for the props.
Comments on Facebook