News Briefs: Breed kicks off trans awareness month
Wednesday Nov 6, 2019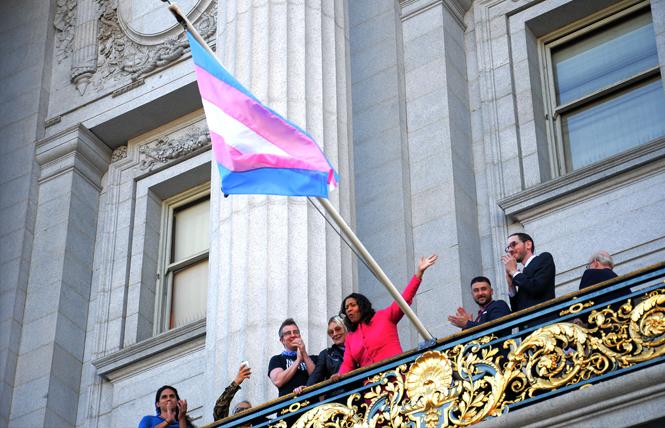 Mayor London Breed raised the trans flag at San Francisco City Hall Friday, marking the beginning of Transgender Awareness Month.
City Hall was lit in the pink, light blue, and white colors of the trans flag Friday evening.
This is the second time the city has declared November as trans awareness month. Last year, in a surprise to attendees at what was then called Transgender Awareness Week, Breed and the Office of Transgender Initiatives said the month would be commemorated as a time for trans and gender-nonconforming people and their allies to come together to celebrate successes and take action on issues of prejudice, discrimination, and violence.
Friday started with the news that the U.S. Department of Health and Human Services announced that it is stripping non-discrimination protections, including protections based on sexual orientation and gender identity, in all HHS grants, which are made up of taxpayer dollars.
The new proposal, the Transgender Law Center said in a news release, will also give HHS the green light to fund recipients who do not treat same-sex marriages as valid.
Breed wasted no time in condemning the administration's latest move.
"The president even today rolled out plans against the trans community that can take away millions of dollars from the community," she said.
"Despite transphobic and bigoted efforts around the country to dismantle the rights of trans people, our trans community will never be erased," Breed said in a news release before the event. "In San Francisco, we celebrate our diversity. We are committed to continuing our investment in the trans community by providing support through the enactment of policies and programs."
Each November, the community comes together to recognize the Transgender Day of Remembrance on November 20.
The Office of Transgender Initiatives is a historic trans-led city government office launched to develop innovative policies and programs that support the transgender, gender-nonconforming, and LGBTQ communities. The office was created by the late mayor Ed Lee and is the first and only municipal office of its kind.
"Here in San Francisco we celebrate Transgender Awareness Month to highlight the way that the community and the city are working together to advance equity for trans and gender-nonconforming communities," said Clair Farley, a trans woman who is director of the office. "This is also a time to ground ourselves in our observance of Transgender Day of Remembrance, a day where we pay respect to the lives of predominately black transgender women we have lost to anti-trans violence.
"As transgender people are under attack across the country San Francisco will not rest until everyone in our community is thriving and has a safe place to call home," she added.
To that end, this year Breed funded the Our Trans Home SF program to provide rental subsidies. Last month, the city awarded $1.15 million for each of the next two fiscal years to two nonprofits to provide direct rental subsidies to help keep transgender and gender-nonconforming people in their homes or find housing.
"Our Trans Home SF will be a game-changer," the mayor said at the event.
As the Bay Area Reporter previously reported, St. James Infirmary and Larkin Street Youth Services were awarded the contracts. The recipients can be of any age; Larkin received the contract for its rental subsidy experience, Farley said at the time.
At the event, Toni Newman, executive director of St. James, said people can begin applying for the subsidies December 1. She has recently hired several people who will be trained on the project this month.
Gay District 8 Supervisor Rafael Mandelman praised the city's budget allocation.
"The trans civil rights movement started in San Francisco at the Compton's Cafeteria riot," he said in the release, referring to the August 1966 uprising that saw transgender patrons of the Tenderloin restaurant stand up against the police, who were called to Compton's to quell a disturbance.
Gay state Senator Scott Wiener (D-San Francisco) named some of the trans people lost to violence this year: Itali Marlowe, who was shot multiple times in Houston last month; Elisha Chanel Stanley, who was found dead in Pittsburgh, Pennsylvania in September; Bailey Reeves, who was shot multiple times in Baltimore in September; and Jordan Cofer, a trans man who was shot in the mass shooting in Dayton, Ohio in August.
Marlowe's death marks the 21st of a trans person this year, according to the Human Rights Campaign.
"As our federal government turns its back on, and attacks, the transgender community, we must recommit to stand with our transgender neighbors," Wiener added.
Under Breed's leadership, the city has also increased its investment in LGBTQ arts and culture programs, including the Transgender Film Festival (November 7-10) and the Compton's Transgender Cultural District.
The Bob Ross Foundation, named in honor of the B.A.R.'s founding publisher, sponsored the Friday reception.
UCSF building campaign to reduce HIV stigma
UCSF, in conjunction with the city's Getting to Zero campaign to dramatically reduce HIV transmission and the San Francisco Department of Public Health, is seeking participants for its SF Loves campaign.
The goal of the campaign is to celebrate the progressive heritage of San Francisco and expand the conversation about HIV within the city's stigmatized communities. SF Love is a dialogue that integrates a celebration of love and connection and what it takes to live a full and courageous live.
Participants are needed during the week of November 11. The deadline is Friday, November 8. Those selected will receive a stipend of $100 for their participation. Interested people should contact recruiting@510media.com
Veterans Day parades
San Jose and San Francisco will hold parades next week to honor veterans.
In San Francisco, the parade will take place Sunday, November 10, from 11 a.m. to 1 p.m. The parade will start on the Embarcadero at North Point Street, traveling north-west on the Embarcadero to Jefferson Street, then west on Jefferson Street past the review stand near Leavenworth Street.
In San Jose, the Billy DeFrank LGBTQ Community Center will have a contingent in the parade, which takes place Monday, November 11, beginning at noon. The parade is near the SAP Center, 525 West Santa Clara Street in San Jose. The DeFrank center is entry 64 and will be staging on Delmas Avenue, west side parking lot, beginning at 11:15.
People are asked to support trans people in the military and can bring trans flags and friends, organizers said.
Lavender Seniors marks 25 years
Lavender Seniors of the East Bay will mark 25 years with a celebration and fundraiser Saturday, November 9, from 11:30 a.m. to 3:30 p.m. at Eve's Waterfront Restaurant, 15 Embarcadero West in Oakland.
Longtime LGBTQ community activist Peggy Moore will serve as host. Entertainment includes the Oakland Gay Men's Chorus, VOICES Lesbian A Cappella for Justice, and Mothertongue Feminist Readers Theater.
There will be a no host bar.
Tickets are $25 and are available through the organization's website at www.lavenderseniors.org/25years
Tickets will not be available at the door.
Hormel center fellowship applications open
The James C. Hormel LGBTQIA Center at the main San Francisco Public Library is now accepting applications for its second social media fellow.
In an announcement on its website, the center noted that its first fellow, Mason J., will finish their term at the end of November.
The right candidate will work to dramatically expand awareness and use of the community collection of LGBTQIA history and culture.
For more information and to download the application, go to https://www.friendssfpl.org/hormel.html
The deadline is December 2.
Oakland mayor starts holiday toy drive
Oakland Mayor Libby Schaaf has announced the start of donations for the 41st annual Mayor's Community Toy Drive. It distributes an estimated 16,000 toys, books, gift cards, and sports equipment to low-income families each year.
In a news release, the mayor's office noted that demand exceeds the number of toys collected each year, especially for older kids. When people are out shopping, they can pick up something extra for a child in need and drop off a new, unwrapped toy at one of many collection sites that will be open until December 9.
People can also make a secure monetary donation online.
For a list of drop-off locations or to contribute, visit https://www.oaklandca.gov/topics/city-of-oakland-community-toy-drive
AIDS grove names scholarship winners
The Pedro Zamora Young Leaders Scholarship, a program of the National AIDS Memorial Grove, has announced that it has awarded 10 undergraduate students a total of $50,000 in financial scholarships for the 2019-2020 school year.
Named in honor of the late AIDS educator and reality TV pioneer, the scholarship provides financial support for young leaders who carry the torch of activists like Zamora and mitigate the impact of the HIV/AIDS epidemic in its current form — in ways inspired by their own passions, insights, originality, and conviction.
The students, attending universities in 10 states, will each receive $5,000 to support their educational goals. They will be honored on World AIDS Day at a ceremony at the AIDS grove in San Francisco.
The scholarship recipients are: Makayla Dawkins, a freshman at the University of Connecticut, who is majoring in public health and helped create the first gay-straight alliance at her high school; Gray Gautereaux, a senior at Willamette University in Oregon, who is the first three-time recipient of the scholarship and will graduate as an HIV/AIDS community health educator and plans to work covering LGBT issues for the Reno News and Review; Bailey Holmes-Spencer, a senior at Spelman College in Atlanta, who is studying sociology and is dedicated to the health and well-being of African American women in her community; and Bo Hwang, a post-baccalaureate student at UCLA, who hopes to use scientific research to uplift communities of color affected by HIV/AIDS.
Other awardees are: D'Andre Manlove, a freshman at Xavier University in New Orleans, who did a yearlong research project on AIDS and the negative stigmas surrounding getting tested; Ariel Sabillon, a senior at Florida State University, who is focusing on HIV anti-criminalization activism; Jennifer Salazar, a junior at the University of Utah, who co-founded a queer transgender people of color sexual health organization; Ervin Simmons, a senior at Syracuse University, who aspires to earn a Ph.D. in clinical psychology, specializing in HIV-related risk behavior; Jariatu Sta'Llone, a sophomore at the University of Pittsburgh-Bradford, who is pursuing a career in medical journalism; and Cindy Won, a junior at Brown University, who is an emerging infectious diseases scholar working to further her studies on HIV/AIDS.
John Cunningham, executive director of the AIDS grove, said that major funding for this year's scholarships comes from Gilead Sciences and Wells Fargo.
Comments on Facebook