News Briefs: Crawford, Miss Major receive Acey Awards
Wednesday Oct 23, 2019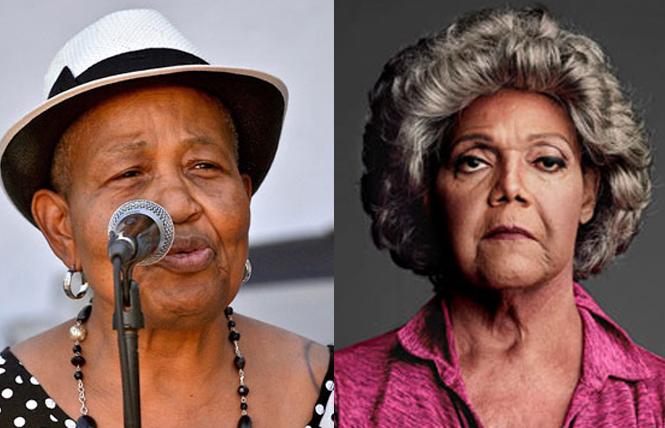 A Bay Area lesbian and a trans former resident have received awards from the Astraea Lesbian Foundation for Justice.
Brenda Joyce Crawford, a former leader of the East Bay Stonewall Democratic Club when it was called the East Bay Lesbian/Gay Democratic Club, and Miss Major Griffin-Gracy are two of the four recipients of this year's Acey Awards.
The Acey Social Justice Award was launched in 2017 as a way for Astraea to honor the lesbian, queer, and trans elders over the age of 62 whose activism and contributions to their communities pave the way for new generations of organizers working across the U.S., according to a news release from the foundation.
Crawford, 73, was recognized for her social justice work. She now lives in Vallejo and does work on cannabis justice with the Senior-Cann organization. Last year she and other local activists became involved after Tanzania cracked down on LGBTs. Vallejo is a sister city with the port city of Bagamoyo in the African country.
"I am honored to get this award and humbled by the recognition," Crawford wrote in a Facebook message to the Bay Area Reporter. "As I have gotten older I sometimes think that my advocacy is not as effective and my opinions not valued or my voice not heard because of my age. Agism coupled with racism is a lethal combination for many African Americans. When you throw in homophobia on top of all this it causes many black lesbians to retreat and become isolated.
"This award says that my work over all these decades for social justice and full inclusion, and now my work with seniors has made a difference," she added.
Griffin-Gracy, a trans woman and a veteran of the Stonewall riots and a survivor of Attica State Prison, was honored for her work with her community, particularly trans women of color who have survived police brutality and incarceration in men's jails and prisons. She is the former executive director of the Transgender Gender-Variant Intersex Justice Project in San Francisco, which advocates for trans women of color in and outside of prison.
Griffin-Gracy is also the subject of a documentary, "Major!"
The two other recipients of the Acey Award are Julia Bennett, a healer based in Brooklyn, New York; and Norma Timbang, a lifelong queer activist whose work is known in the Pacific Northwest, where she is from.
The award is named for Katherine Acey, who led Astraea for 23 years.
For more information, visit https://www.astraeafoundation.org
LGBT anti-blackness conversation
Representatives from the Compton's Transgender Cultural District and Color Bloq will discuss anti-blackness in the LGBT community Friday, October 25, from 6 to 8 p.m. at the Commonwealth Club of California, 110 The Embarcadero in San Francisco.
"When POC is Not Enough: Anti-Blackness in LGBT Communities" will feature Kin Folkz, Aria Sa'id, Socorro Moreland, Tuquan Harrison, and more, according to a news release. The program is in partnership with Michelle Meow of "The Michelle Meow Show," which has her program through the Commonwealth Club.
The program's goal is to add more context and understanding from the voices of black queer community stakeholders in San Francisco.
According to the release, the conversation comes in an era where numerous research reports conclude that San Francisco's black and African American population is less than 3% of the city's residential population — a tremendous drop compared to the 1980s, when African Americans made up about 25% of the city's population.
"I think we have an amazing opportunity to share both our pride as black queer and transgender people — and also analyze the ways in which non-black communities have created spaces without intention of including us," Sa'id, a black trans woman who is executive director of the Compton's cultural district, said in the release.
The Compton's district is the world's first legally recognized transgender district that is based in the city's Tenderloin neighborhood.
"I realize 'anti-blackness' can turn folks off but I think audiences have a rare opportunity to hear us dig deeper in what being black, transgender or queer, and men or women means in San Francisco in 2019, and gain enhanced awareness on how to be activated to address this experience in their own communities and friend groups," Sa'id added.
Folkz is CEO of Spectrum Queer Media; Harrison is an LGBT policy adviser for the San Francisco Human Rights Commission; Moreland is a trans activist and founder of #brotherhood. Other speakers include Corey Baker, a librarian and performing artist and Nia Ibu, a licensed clinical social worker and therapist.
The conversation will be livestreamed on social media and YouTube in addition to the live in-person audience.
Tickets are free for Commonwealth Club members, and $5 for non-members and students with valid ID. For more information, visit http://www.commonwealthclub.org and click on "Events."
SF Night Ministry benefit
The San Francisco Night Ministry will hold its Fall Harvest fundraiser Saturday, October 26, beginning at 5 p.m. at Ginger's 86 Hardie Place, in the city's Financial District.
Drag queen Olivia Hart and night minister Valerie McEntee will co-host the party, which includes drag performances, appetizers, silent and live auctions, and raffle prizes.
The night ministry provides compassionate spiritual and emotional care, counseling, referrals, and crisis intervention to anyone, in any kind of distress, every night of the year between the hours of 10 p.m. and 4 a.m.
Tickets are $10 at the door. For more information and to preview auction items, visit https://cbo.io/bidapp/index.php?slug=sfnm
The night ministry's crisis line is 415-441-0123. For more information, visit https://www.sfnightministry.org/
'5B' film screening in San Jose
The San Jose State University Pride Center and the BAYMEC Community Foundation will have a screening of the film, "5B" Tuesday, October 29, at 6 p.m. at the SJSU Student Union Theater, 211 South Ninth Street in San Jose.
The film tells the story of Ward 5B at San Francisco General Hospital, which in the mid-1980s became the first ward designed specifically to deal with AIDS patients. The story of the ward is told through first-person accounts from the nurses who built it, their patients, loved ones, and the hospital staff who volunteered, resulting in a bittersweet and moving monument to a pivotal moment in American epidemiology, San Francisco history, and a celebration of quiet heroes.
"5B," directed by Oscar nominee Dan Krauss, won the Entertainment Lions Grand Prix at this year's Cannes Film Festival.
Next week's event kicks off with a brief reception, followed by the film. General admission tickets are $10. SJSU students, faculty, and staff can attend free with ID.
For tickets and more information, visit https://bit.ly/2VUo4H7
Halloween bingo at DeFrank center
There will be a special Halloween-themed bingo night at the Billy DeFrank LGBTQ Community Center Wednesday, October 30, at 7 p.m. at 938 The Alameda in San Jose.
Guest bingo caller will be Frank La. There is a $15 buy-in. People get an extra bingo sheet for free if they come in costume. There will also be a costume contest.
For more information, visit www.defrankcenter.org
Youth Halloween party in San Mateo
The San Mateo County Pride Center will hold a Halloween party for youth (ages 10-18) Thursday, October 31, from 5 to 8 p.m. at 1021 South El Camino Real in San Mateo.
The event will include a scavenger hunt, face painting, arts and crafts, snacks, a hangout space, and movies. There will also be a thrifty costume design contest. People are welcome to stop by before or after trick-or-treating.
The Pride center is a program of StarVista in collaboration with Daly City Partnership, Outlet Adolescent Counseling Services, and Peninsula Family Service.
For more information, visit http://www.sanmateopride.org
DPH says get your flu shot
The San Francisco Department of Public Health urges everyone age 6 months and older to get their yearly flu vaccine during this flu season. Officials said that the vaccine protects everyone's health — it prevents individuals from getting sick, limits the spread of influenza from person to person, and reduces the chance of hospitalization.
"The flu vaccine is the best form of prevention against the influenza virus," Dr. Juliet Stoltey, DPH communicable disease control and prevention director, said in a news release. "Getting vaccinated every year will help you, your family, and your community stay healthy."
Flu symptoms include fever, chills, fatigue, headache, body aches, cough, and sore throat. Many people with flu also have a runny or stuffy nose, but with flu, people feel sicker than with the common cold. Health officials said that people with symptoms should stay home for at least 24 hours after their fever goes away to prevent spreading the infection to others. A person with the flu may be contagious and infect others before they even feel sick.
For a list of San Francisco locations that offer free or low-cost flu vaccinations, visit www.sfcdcp.org/immunizations/where-to-get-immunized
In Alameda County, people can check the Public Health Department's website at https://bit.ly/33JGWeF for information on where to get a flu shot.
Comments on Facebook