SF Pride names interim ED
Wednesday Jul 17, 2019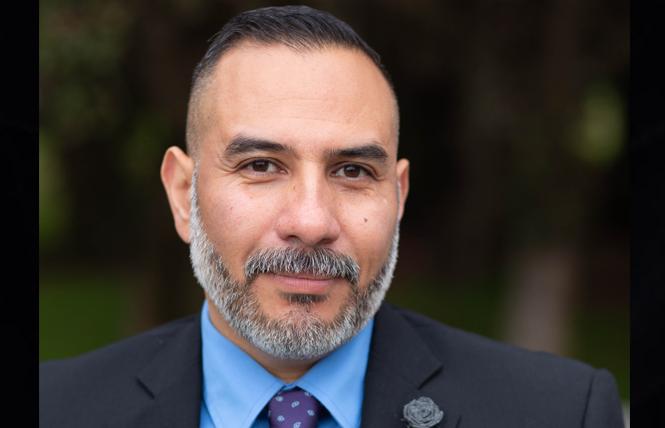 Fred Lopez, who has worked for the organization that oversees San Francisco Pride for the last several years, was tapped by the board to be its interim executive director.
The July 12 announcement follows the departure of former executive director George Ridgely, who left after the June 30 parade and celebration.
Most recently, Lopez served as the communications manager and contractor for the San Francisco LGBT Pride Celebration Committee. He has primarily worked in LGBTQ and HIV/AIDS nonprofits and is a former executive director of the Castro Street Fair.
Last month, Lopez responded to protesters asking SF Pride to remove Google from the event following its inaction when its subsidiary YouTube allowed a creator to use homophobic slurs against a journalist with impunity. Lopez and SF Pride decided to take no action in the fight over Google.
Lopez, a 43-year-old gay man, communicated with the Bay Area Reporter by email about his plans, focusing on the importance of finding a new permanent executive director.
"My intent is to be a considerate caretaker of the organization as the interim director," he wrote. "I know the search for the permanent director will start very soon, and for now I am excited to continue working alongside the talented team we have at Pride."
In a news release from the organization, Lopez remarked that the Pride "movement is rapidly evolving worldwide." The B.A.R. asked him to expand on that.
"In communities around the world, Pride commemorations are growing and changing with the involvement of more and more generations of LGBTQ+ folks and allies," he wrote. "Recognition and visibility that may once have seemed impossible are now matter-of-fact. Pride organizations are being asked how best to acknowledge our progress, while understanding that there is still much work to do to gain equity for our communities."
Lopez's comment may refer to connections between the San Francisco event and those in nations where homosexuality is still criminalized and Pride celebrations are embattled and dangerous events, such as Uganda. LINK https://www.ebar.com/news/news//257179. Even as recently as this year, Pride events were canceled in Cuba over safety concerns and ongoing public scrutiny over LGBTQ events.
When asked to comment on this year's Google controversy, Lopez was reticent to engage with the issue in any specific way.
"We continue to face challenges together and celebrate victories together. But Pride is not monolithic. We have great opportunities to share with each other the many meanings of Pride as we move into the next 50 years of our movement," Lopez wrote, referring to next year being the 50th anniversary of the first San Francisco Pride.
The inaugural 1970 event was referred to as a "gay-in," consisting of a march down Polk Street and a gathering in Golden Gate Park that commemorated the 1969 Stonewall riots and kicked off the tradition of gay Pride events as an annual city tradition. In SF Pride's news release, Lopez referred to the upcoming 2020 event as a "landmark anniversary."
Jacquelene Bishop, president of the SF Pride board of directors, commented in the release, stating, "We are delighted to welcome Fred Lopez into the interim executive director role. He has been a valuable member of the team and will make us proud serving us through this transition. The board is embarking on a larger search to fill the role permanently."
Neither Lopez nor board members contacted, including Bishop, responded to questions asking whether Lopez is in consideration for the permanent role of executive director. Ridgley's five-year tenure was mostly smooth, but marked by controversy surrounding the Black Lives Matter Movement a couple of years ago. Lopez declined to share his salary information. According to SF Pride's 2016 IRS Form 990, Ridgely was compensated at $126,472 in salary and benefits.
Ridgely's predecessor, Earl Plante, left after the wrangling over naming and then rescinding community grand marshal honors for trans former Army private Chelsea Manning, who at the time was in the midst of a court-martial for leaking documents to WikiLeaks.
Prior to that, SF Pride saw the short tenure of Executive Director Amy Andre, who quit the job as the organization's finances crumbled in 2010.
More information about the executive director position will soon be available at http://www.sfpride.org.
Comments on Facebook