East Bay programs go on hiatus
Wednesday Jul 17, 2019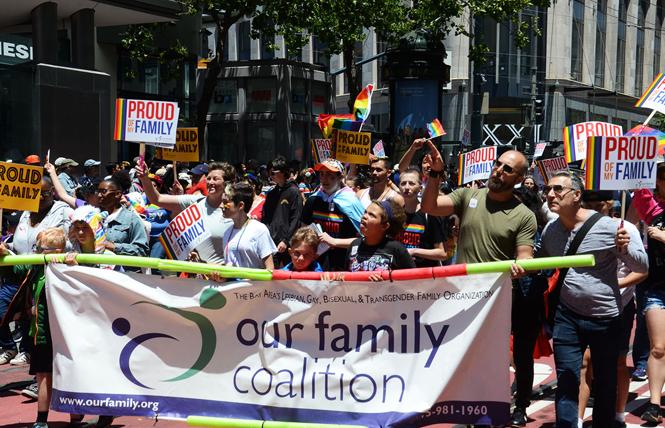 Sam Ames has now taken over as interim executive director at Our Family Coalition, and with East Bay programming on hiatus for the summer, they are working to familiarize themselves with the LGBT family agency and gear up for the fall.

The organization serves people primarily in San Francisco, Oakland, and Berkeley.

OFC's website states, "In late spring, we were surprised to hear that our longtime funding for East Bay programs would not be renewed by the city of Oakland. Following much advocacy, on our part, and on the part of allies, community members, and Oakland City Council President Rebecca Kaplan, the City Council unanimously voted to restore funding enabling us to continue our support of LGBTQ families in the East Bay.

"We'll take the summer to regroup. And we'll be excited to return on September 8 with our not-to-be-missed Oakland LGBTQ Festival Family Garden," the statement reads, referring to Oakland Pride, which is that day.

Ames clarified the specifics of that regrouping period via email to the Bay Area Reporter.

"The funding cut is what affected our East Bay programs, which are planned several months in advance," they wrote. "As a result, we put our weekly playgroup, monthly support groups, and a few parent education workshops on hiatus for the summer. These are generally our lightest in terms of both programming and family attendance, and several of the programs were already scheduled to take their annual breaks during those months. We used this time to restart our planning process, and programming will resume as normal when the school year does."

In an interview Sunday, June 30, at the Alice B. Toklas LGBT Democratic Club Pride breakfast, Oakland Mayor Libby Schaaf weighed in on OFC's funding and said a recent B.A.R. editorial was inaccurate. Specifically, the editorial stated that Schaaf had "cut" OFC funding from her proposed budget, which she disputed.

"The grant that funded Our Family Coalition was a competitive one. The council or the mayor had no influence," Schaaf said. Therefore, she believes it was inaccurate that the B.A.R's editorial called her out for "cutting" funds, since those funds ultimately came from a grant, rather than the general fund.

"OFC didn't score high enough in the latest round," Schaaf said, adding that the city "didn't add funding for anything" in the new two-year budget, "and stuck to revenue projections."

Ames confirmed Schaaf's comments. OFC did get $200,000 from the new "Oakland Together" two-year $3.2 billion budget that was approved last month.

Ames, who started July 8, most recently served as interim executive director at Trans Lifeline, a peer-supported nonprofit hotline run by transgender people and based in Oakland. Ames also worked as a staff attorney and policy fellow for the National Center for Lesbian Rights from 2011 to 2016, and founded and coordinated its #BornPerfect campaign to protect LGBTQ children and youth by outlawing conversion therapy, which is still legal in 32 states.

Former OFC Executive Director Renata Moreira announced her departure in May, citing a desire to spend more time with her family and following the death of her sister, 43-year-old Isabel de Lima Garcez Moreira in Brazil. She officially departed at the end of June, leaving Ames temporarily at the wheel.

In an email interview, Moreira offered sentiments of both concern and confidence for Ames and OFC.

"This is an exceptional time for our community: we're facing unprecedented challenges immediately following historic wins," she wrote. "Some of us are well-protected, others more exposed and at-risk than ever before. And the funding landscape for non-profits is equally paradoxical and rapidly-changing."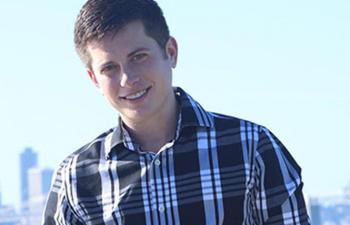 Ames, 32, identifies as a nonbinary queer person and uses they/them pronouns. They spoke to the B.A.R. by phone, expressing their eagerness to help guide the organization through what they described as a "period of transition" for OFC and other LGBT groups.

"This work couldn't be more critical in light of the successes and challenges of the last few years," Ames said. "The needs of these organizations are very different now from what they were 20 years ago when we were just getting started. It's time to reexamine priorities. This is the time for next steps, now that we have some protections and we're making sure people get them in the light of these new attacks."

When asked about the specific challenges and attacks that worried them most, Ames cited the recent fight over religious exemption legislation.

"At the state and federal level under current leadership, we want to ensure that families remain protected from the effects of this legislation. We want to protect families of faith, as well. Our constitutional right is to protect the people that we serve, more than it is to deprive them of care," Ames said.

They went on to explain that OFC can do critical work in this state, since California is kind of a laboratory for the rest of the nation.

"I was born here and raised in the California public school system," Ames said. "I know what a difference it would have made to have programs like ours in place. We do programs all over the Bay Area for queer families considering raising kids, considering configurations that aren't written in stone in the way that traditional families are. We look specifically to serve POC and low-income, and offer child care while they're going on."

Ames told the B.A.R. that their position is interim-only. They are contractually excluded from becoming the permanent executive director, and expect the search for a long-term replacement to take six to nine months. Ames said their salary is confidential with the board, and would not share it with the B.A.R.

According to OFC's 2018 IRS Form 990, Moreira's salary was $104,867.

OFC's budget is about $1.2 million, according to its 2015 annual report, the most recent on its website.

OFC's stated mission is pursuing equity for LGBT families with children. As recent controversial moves made by the State Department have sought to deprive children of LGBT parents conceived through surrogacy outside the United States of U.S. citizenship LINK https://www.nbcnews.com/feature/nbc-out/u-s-appeals-ruling-granted-gay-couple-s-son-citizenship-n1002916, OFC and organizations like it have unusual and difficult work ahead of them.

While OFC's East Bay programming is on break until school resumes in the fall, its calendar offers ongoing events throughout the summer.

To learn more about OFC, visit https://www.ourfamily.org/. Cynthia Laird contributed reporting.
Comments on Facebook