News Briefs: SFO to hold open house for new Milk terminal
Wednesday Jul 17, 2019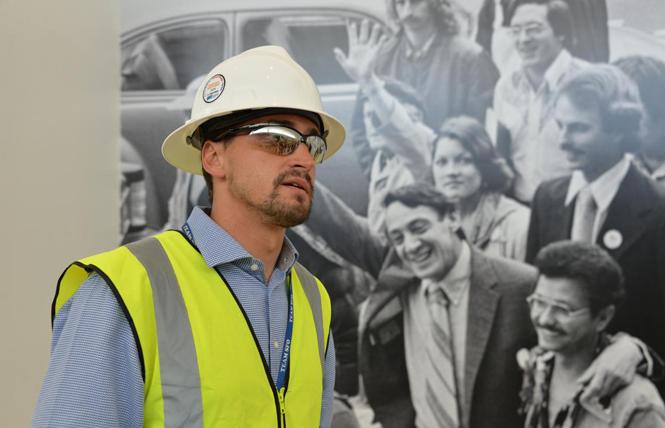 San Francisco International Airport will hold a free community day Saturday, July 20, to offer the public a sneak preview of the new Harvey Milk Terminal 1 and a look at the upcoming Grand Hyatt at SFO.

The event, which runs from 12:30 to 5 p.m., will include remarks from Mayor London Breed and other officials, including airport director Ivar Satero and District 9 Supervisor Hillary Ronen, who led the legislative fight to force the airport to prominently feature Milk's name in the signs for the terminal. Gay San Francisco Arts Commission Director of Cultural Affairs Tom DeCaigny will also speak.



What a great way to start the day: Seeing the huge sign at the airport - which will be seen by millions from around the world - announcing "Harvey Milk Terminal 1." It took years to make this happen. Congrats @DavidCamposSF @HillaryRonen @flySFO & everyone who made it a reality. pic.twitter.com/dqaomgZ0oy— Scott Wiener (@Scott_Wiener) July 18, 2019
In addition to the speeches, there will be songs performed by the cast of "Beach Blanket Babylon" (1:50 p.m.) and the Glide Ensemble (1:55).
There will also be games, prizes, and other activities.
The new terminal is the first airport facility in the world named after an LGBT leader, as Milk was the first gay person to win a political office in San Francisco and California with his 1977 election to a seat on the Board of Supervisors. Tragically, disgruntled former supervisor Dan White killed Milk and then-mayor George Moscone inside City Hall the morning of November 27, 1978.
As previously reported in the Bay Area Reporter, Harvey Milk Terminal 1 will open to the public July 23 when the first nine-gate section becomes operational for Southwest and JetBlue flights.

The Grand Hyatt will open September 30 and there will be a model hotel room at the open house.

Visitors to the community day will also be able to see the mammoth Milk installation curated by the SFO Museum, which includes photos, campaign ephemera, newspaper clippings, and other items.

Gay former supervisor David Campos, now chair of the San Francisco Democratic Party, first proposed in 2013 naming all of SFO after Milk. When that idea didn't fly with much of the public, Campos and the late mayor Ed Lee compromised on naming one of SFO's four terminals after the beloved gay leader.

Ronen, who had worked for Campos as a City Hall aide, pushed to ensure that happened after joining the board in 2017.

The event takes place at Terminal 1, departure level. The entrance is next to the security checkpoint for Gates 20-28.

Milk club dinner to honor Kim
Former San Francisco Supervisor Jane Kim will be among those honored by the Harvey Milk LGBTQ Democratic Club at its 43rd annual Gayla Monday, July 29, from 6 to 9 p.m. in the Green Room at the San Francisco War Memorial, 401 Van Ness Avenue.

Kim will receive the club's Community Ally Award, president Kevin Bard told the Bay Area Reporter. She now serves as the Bay Area regional campaign director for Democratic presidential candidate Senator Bernie Sanders (I-Vermont).

In a shift this year, Bard said that the club would only present three awards. He wrote in a Facebook message that the change was made to both keep the program from going too long and to shine a brighter spotlight and give more time to the awardees.

The other honorees will be Aria Sa'id, executive director of the Compton's Transgender Cultural District, who will receive the Jazzie Collins Community Leadership Award, and Our Trans Home SF, which will receive the Bill Kraus Leadership Award.

General admission dinner tickets are $75 and can be purchased at https://bit.ly/2XXptQF.

For more information, visit http://www.milkclub.org.

BofA awards $1.85M in grants
Bank of America announced that in its first grant cycle of the year, it has awarded $1.85 million to San Francisco and East Bay nonprofits.

Of that amount, $200,000 went to organizations that provide services to the LGBT community, Liz Minick, managing director, San Francisco-East Bay Market Executive at Bank of America, said in a July 12 phone interview.

The grants will aid the nonprofits in advancing economic mobility for individuals and families and put them on a path toward financial stability, according to a news release.

Minick said that Larkin Street Youth Services received $50,000. The organization provides homeless and at-risk young people in San Francisco — including LGBTQs — with health care, housing, employment, and education services.

"The Bank of America grant will help us sustain our programs and move toward our overall goal of ending youth homelessness," Sherilyn Adams, Larkin Street executive director, said in the release.

She added, "Homelessness is not a choice, and at Larkin Street we strive to offer a continuum of care for San Francisco's young adults who find themselves without shelter, schooling, or jobs."

Other nonprofits that serve LGBTs that received grants included the Lavender Youth Recreation and Information Center, or LYRIC ($10,000); Project Open Hand ($10,000); San Francisco AIDS Foundation ($25,000); and the San Francisco LGBT Community Center ($10,000). Meals on Wheels San Francisco, which also serves many LGBT clients, received a grant of $25,000.

In all, more than 70 nonprofits were awarded funding, ranging from food banks to veterans organizations to museums and cultural institutions.

Minick explained that BofA has two grant cycles per year; the second one will be in the fall. Nonprofits apply through a request for proposal, and those are reviewed by bank officials and a local committee.

"BofA has been here for 115 years and was founded in San Francisco," Minick said. "We are connected to the community."

She added that the LGBT community "is a huge part of who we are."

The bank was the first financial institution to institute domestic partner benefits for its gay and lesbian employees more than 20 years ago. More than 10 years ago, the bank extended its health insurance benefits to cover medically necessary procedures for its employees who transition. Bank of America's health insurance has always included coverage for trans employees. Today, Minick said, BofA has an in-house concierge to help with transitions for trans workers.

"San Francisco and the East Bay are two urban areas where there is a tremendous financial disparity among various populations," Gioia McCarthy, BofA's San Francisco-East Bay market president, said in the release.

Last year's grants for LGBT nonprofits totaled $385,000, Minick said.

Yoga charity event
CorePower Yoga San Francisco will hold a Yoga for the Brain charity event Saturday, July 27, from 11 a.m. to 1 p.m. at 100 Church Street, Suite A.

The yoga studio is teaming up with mindbodygreen to extol the benefits of practicing yoga, focusing on how it is a great way to support brain health.

Attendees will hear tips from neuroscientist and wellness expert Leigh Winters, followed by CorePower's signature Sculpt class. Post-yoga snacks and a swag bag will also be distributed.

Tickets are $20, with all proceeds benefiting Yoga Foster, which provides school teachers with training, lesson plans, and tools they need to practice with their students.

For tickets, go to https://bit.ly/2LpkmTl.

Breed announces consumer rights legal clinic
San Francisco Mayor London Breed has announced a new free monthly consumer rights legal clinic that will begin Thursday, July 25.

The clinic is in partnership with the San Francisco Law Library and is co-sponsored by Bay Area Legal Aid, the Mayor's Office of Housing and Community Development, and the San Francisco Treasurer's Office of Financial Empowerment.

The clinic is made possible through a grant from MOHCD. It will provide people the opportunity to speak with an attorney about a broad range of consumer legal issues, such as bankruptcy, student loan debt, credit card debt, debt collection lawsuits, harassment by debt collectors, errors in credit reports, judgments for unpaid debt, foreclosure, and garnished wages.

"Every San Franciscan should have the opportunity to get sound legal advice, regardless of their ability to pay," Breed said in a statement. "The new clinic will empower people to make informed decisions about their finances and provide a legal safety net for people who otherwise wouldn't be able to talk to a lawyer."

The clinic will run in two sessions, one at 9:30 a.m. and another at 1 p.m. on the fourth Thursday of every month in the law library, located at 1145 Market Street, fourth floor. An RSVP is required and people can call (415) 982-1300 to secure a spot.

Updated, 7/18/19: The item about Bank of America has been updated to include an increase in the total grant amount and to clarify its health insurance coverage for trans employees.
Comments on Facebook