Online Extra: Q Agenda: LGBT groups join SAG-AFTRA in IMDb fight
Monday Jul 15, 2019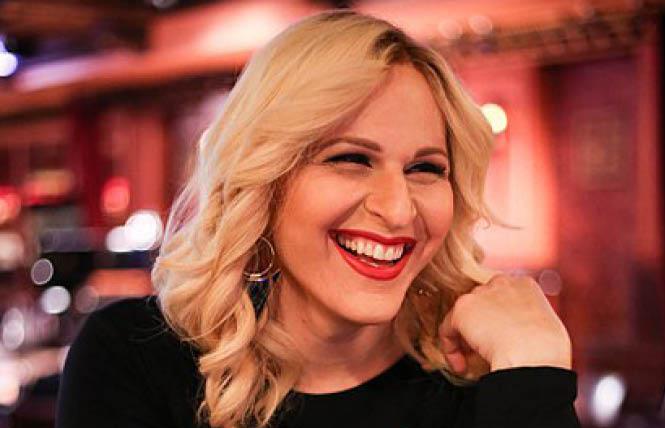 Editor's note: This marks the revival of the Bay Area Reporter's weekly online column covering mostly national LGBTQ news, now with a new name.
LGBT organizations have joined the Screen Actor's Guild-American Federation of Television and Radio Artists union in its fight for member privacy against the Internet Movie Database, or IMDb.
SAG-AFTRA has been fighting for enforcement of California's anti-age discrimination law, known as AB 1687, which requires subscription-based entertainment casting databases such as IMDbPro and IMDb.com to remove paid subscribers' date of birth information upon request.
Last month, the National LGBTQ Task Force, GLAAD, the Transgender Law Center, the Transgender Legal Defense and Education Fund, Transcend Legal Inc., and Equality Federation signed on to support SAG-AFTRA.
In February 2018, a judge stopped enforcement of AB 1687.
Since then, SAG-AFTRA and its allies have worked to appeal that ruling on the basis that actors are routinely discriminated against for their age, despite their ability to play a role. This ruling on personal detail privacy also carries implications for transgender actors who want to keep their deadname out of their IMDb information.
Duncan Crabtree-Ireland, chief operating officer and general counsel for SAG-AFTRA, spoke with the Bay Area Reporter about the wide-ranging consequences of this case.
"What's mystifying about it is that IMDb has no sympathy for the real harm that they're causing," he said in a phone interview. "We tried to come up with a way for IMDb to voluntarily address the impact, but they're completely uninterested in that. On the age side, we see that info is presented up-front in both the professional and consumer versions of the site; casting people can't avoid it."
On the issue of transgender people's names, Crabtree-Ireland, a gay man with a transgender child, had very specific concerns.
"With respect to trans birth names: if it's up front and center that your original name was Michael Jacob Jones and now you're Tammy Longstocking, it can prompt a discriminatory response. With that information on the consumer site, someone could be outed to the general public. The least IMDb can do is offer an option to opt-out. Ideally, that information would [be] opt-in. If this causes [actors] harm, they should be able to throw the switch."
Crabtree-Ireland told the B.A.R. that all the pleadings have been filed with the 9th U.S. Circuit Court of Appeals already, but oral arguments in the case have not yet been scheduled.
Shakina Nayfack, a transgender actress and SAG-AFTRA member, corresponded with the B.A.R. via email on how this decision could impact actresses like her.
"It's no secret that women are disproportionately affected by ageism in Hollywood," Shakina Nayfack, who stars in the Hulu series "Difficult People," wrote, allowing that IMDb is only a part of a larger problem.
"I think [a decision against IMDb] could have an impact, but the systematic change should be that we have more women writing, directing, and producing," she added. "Then I don't think we'd be seeing that dearth."
Nayfack concluded that it's "only fair" for IMDb to let paying users have some control over their own data.
SAG-AFTRA President Gabrielle Carteris said that the case is about the human rights of all performers.
"I want to thank these groups for signing on and showcasing how damaging the unregulated publication of performers' personal data can be," she said in a news release, referring to the LGBT organizations.
In a statement, the groups said they are "gravely concerned" with IMDb's continued publication of the birth names of trans performers in the entertainment industry without their consent.
"As has recently been reported, plaintiff-appellee IMDb.com has been recalcitrant when it comes to the issue of publicizing the birth names of transgender individuals in the entertainment industry without their consent," the groups said in a statement.
IMDb did not respond to a request for comment.
HIV-positive wrestler released in Missouri
A gay black HIV-positive wrestler whose trial for reckless exposure and transmission of HIV to men he had sex with made headlines in 2013, was released from a Missouri prison last week.
Collegiate wrestler Michael Johnson, 27, secured an early release Tuesday, July 9.
Originally sentenced to 30 years, Johnson's conviction was overturned in 2016 by a state appeals court. To avoid anther trial, Johnson entered a no contest "Alford" plea in 2018, leading to his parole last week.
The notoriety of the case itself stemmed from several factors. HIV exposure and transmission laws were fairly new at the time; 33 states had created laws to prosecute the act, many of them classifying it as a felony. Johnson himself is a large, athletic black man whose sexual history, videos, and nude photographs were displayed to a majority-white jury, according to reporting from BuzzFeed News .
In California, then-governor Jerry Brown signed a bill in 2017 that reduced knowingly exposing someone to HIV to a misdemeanor. The victim would also have to test positive for the virus under the law, which was authored by gay state Senator Scott Wiener (D-San Francisco) and gay Assemblyman Todd Gloria (D-San Diego).
The prosecutor in Johnson's case used the jury's noted distaste for gay people and imbalanced racial makeup to sensationalize the black, gay HIV-positive body, referring to Johnson as his screen name, "Tiger Mandingo," a racist epithet that overshadowed ongoing coverage of the trial.
Tried in St. Charles County Court in Missouri, Johnson faced a jury that viewed him as an outsider in many ways. According to BuzzFeed, despite an absence of genetic fingerprinting to connect him to the other men's HIV strains, Johnson was convicted of one of the two transmission cases and of all four exposure cases.
Johnson's release occurs at a time when HIV is more well-understood, less sensationalized, and less equated with a death sentence. Prevention methods such as PrEP are also becoming more widely used.
David Hursey, a gay man and member of the Missouri Justice Coalition, spoke with the B.A.R. via phone, saying he was drawn to Johnson's case back in 2013. He and Johnson are roughly the same age, and Hursey had just received his own HIV-positive diagnosis when the college wrestler's story made headlines.
"I was very interested in this case because it was taking place in my community and I needed to be part of it," he said.
When asked about the inflammatory rhetoric surrounding the case, Hursey was clear that the tone of media coverage on Johnson's story posed a major part of the problem.
"Steven Thrasher is still using 'Tiger Mandingo' to identify this man in his stories. He may not understand why it's damaging, why it's objectifying," Hursey said, referring to the BuzzFeed reporter. "But I hope Mr. Johnson gets some peace. I believe he's headed home to Indiana to be with his family. I hope he's not exploited by the public health community, because they love a poster child."
Hoodslam brings queer wrestlers to Oakland
Oakland-based professional wrestling outfit Hoodslam put on its first-ever Pride-themed show at the end of June, inviting queer wrestlers from around the country to take part in mixed-gender matches and show the world that wrestling is no longer the explicit domain of heterosexual masculinity.
Bouts pitted drag performers against tag-team black cats, bringing in performers from Texas and Nevada to show off queer, trans, and nonbinary talent.
Contrary to what many believe about the world of professional wrestling, the sports-drama event provides a platform to far more than the macho-man stereotypes of the 1980s World Wrestling Federation's golden era.
Trans lesbian wrestler Jetta Rae (aka "The Great Bambina") communicated with the B.A.R. via text message about the way the show frees her and people like her to be themselves.
"When I started training, I took for granted that I'd just be like, a novelty, one-dimensional act where I would maybe shirk my body and identity for that sort of tempered acceptance that people give non-white men who are funny," Rae wrote.
"But my trainers, my fellow students, and the workers and fans alike of Hoodslam take me seriously, and in turn this has made me take myself, as a person and artist, seriously. I hope people who see Hoodslam feel empowered to be their serious selves in the world, whatever that looks like, unless it looks like a time-displaces lesbian baseball demon, because that's mine, give it back." she wrote.
Pennsylvania-based nonbinary wrestler and human painting Still Life with Apricots and Pears spoke with the B.A.R. via email about their introduction to LGBTQ representation in wrestling, and how much that has changed in just the last few years.
"Wrestling has always been my outlet. As a child, Goldust was my first exposure to someone exploring gender," they wrote, referring to a professional WWE wrestler who makes sexual ambiguity a mainstay of his act. "Unfortunately, his queerness was presented as 'mind games' or what have you. Either way, he was the first glimpse of someone I could relate to. But traditionally masculine or heteronormativity isn't the world I live in, or the type of wrestling that I want to make. Wrestling is the ultimate art form and it is for everyone."
For more information on Hoodslam, visit https://www.birdswillfall.com/.
Q Agenda is a new online column that appears weekly, usually on Tuesdays. Get updates on the latest LGBTQ national news by following Q Agenda reporter Meg Elison on Twitter at http://twitter.com/megelison . Got a tip on queer news? Call Meg Elison at (415) 875-9986, or email m.elison@ebar.com.
Comments on Facebook