Sunset lesbian says tyrannical master tenant using chicanery to steal mail
Wednesday Jul 10, 2019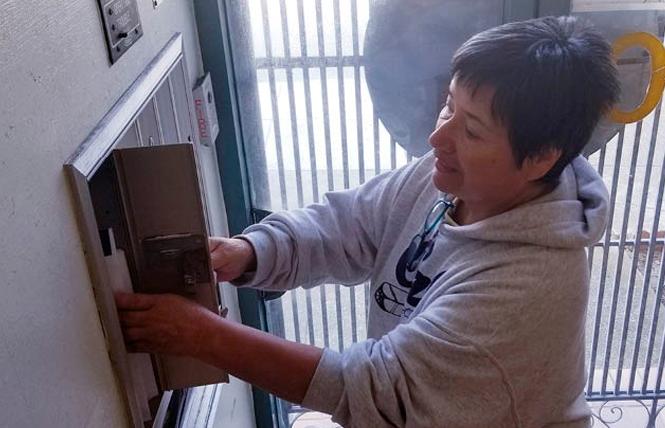 A senior lesbian living in San Francisco's Sunset neighborhood alleges that her neighbor, who's the master tenant in her apartment building, may have compromised her mailbox.
Raquel Guillen said that she had the usual suspicions when her mail and parcels went missing. She assumed simple theft, posting a sign for the U.S. Postal Service not to leave packages outside her building's locked entrance. However, when certified mail addressed to another tenant in the building mysteriously landed in her mailbox, she realized her problem was much more complicated.
She believes someone has access to her mailbox.
Six months ago, Guillen, 63, began to experience disruptions in her services and benefits, only to find out that she had been notified by mail but had never received the letters warning her of deadlines. Her suspicions grew, thinking there had to be a reason.
"Letters from my doctors went missing," Guillen told the Bay Area Reporter by phone. "I asked my doctor to never again send me mail. My banking statement didn't arrive punctually. I'm not techie, so I don't use digital statements. Sometimes it arrived, sometimes it didn't. But I didn't connect the dots until those pieces of certified mail arrived."
Guillen discovered three pieces of certified mail that had been received and signed for, the receipt stubs removed from the back. They were all addressed to the master tenant in her building, and sent by their landlord. Confused, Guillen contacted her landlord. The mystery only deepened from there.
The landlord of the property, Shiu Cho, had resorted to attempting to contact the master tenant through certified mail because she had stopped answering her phone or her door. A long, messy history unfolded to the B.A.R. via email, phone call, and interviews. The master tenant had formerly kept an incontinent, off-leash pit bull in the stairwell and common areas of the building. Guillen and other tenants, including former tenant James Kauffman, 59, banded together to get someone to intervene. According to the other tenants, Cho did not respond to efforts to care for or remove the animal. Guillen and Kauffman reached out to Animal Care and Control and the health department, citing both the unsafe conditions for the dog and the health risk of living in a building filled with dog urine and feces.
Posters currently displayed inside the building placed by multiple parties and agencies forbid the keeping of animals in common areas, as well as outline the health risks of leaving feces in place. Guillen showed the B.A.R. the marks of repairs made to stairwell walls ruined by dog excreta, and scratch marks on the master tenant's door, where a dog might beg for entry.
The B.A.R. spoke to Cho by phone. When asked whether the master tenant has a key to the entire mailbox, he responded, "Nobody should have a master key except the post office."
When pressed for further details about the ongoing dispute, Cho shut down, claiming that he has received no complaints related to the mailbox at that address, and denied making repairs to dog-related damage. He added, "Anybody who is talking to reporters and causing a lot of problems should talk to the landlord first."
Current and former tenants of the building insist that they have asked their landlord to address these problems many times, among other requests for repairs to the building, to little or no response.
Guillen believes the master tenant is upset with her because of these past issues, but also because Guillen is a lesbian.
"I pray God never to have a chance to cross paths with her. She says awful things to my face. If we run into each other by accident, like I am coming in with my groceries and she's exiting. I say 'good morning.' She says 'bitch.' She says 'lesbian,' she says 'ugly.' She spits on the floor as I pass by," Guillen said in an interview.
Guillen worries that if this same individual is stealing her mail, their homophobia may be one reason why.
The B.A.R. knocked on the master tenant's door, but received no response. The master tenant identified herself by phone to this reporter, but quickly said that she spoke no English in response to questions. The B.A.R. is not identifying her because she has not been charged by any agency in relation to these alleged incidents.
Kauffman corroborated what Guillen had to say about the mail issue, and offered stories of his own.
"I felt trapped because I had to meet the mailman to get my packages," he said. "I was collecting coins and I came home a few times to find the coin packages were left for me, slit corner to corner with a razorblade and then sealed with tape, the contents shoved back inside. Some were just stolen."
Kauffman said other mail had gone missing, and he finally moved out of the building to find better conditions, citing both the mail theft and generally poor upkeep of the property.
Guillen and Kauffman both believe the master tenant has obtained a copy of the master key to the mailbox, or has somehow picked it. They can't prove this, but they can find no other explanation for these events.
When asked about the master tenant's seeming lack of boundaries, Kauffman was at a loss. "The landlord told me he's been trying to get rid of her for 12 years. She just does whatever she wants. She built a wall in the basement, and he had to come tear it down."
Post office alerted
Guillen and Kauffman reached out to their local postal inspectors to ask that the master lock on the box be replaced. Bounced back and forth between USPS and the police about who is responsible for this matter, the tenants were told that the USPS will not replace the lock unless it is broken.
The local Sunset post office confirmed that a postal investigator is looking into the matter, and said that only the postal carrier should have a key that can open the master cylinder in the lock, which was installed by USPS. A representative of USPS told the B.A.R. by phone that the lock does not have to be broken to warrant replacement, but that there would have to be proof of manipulation for them to take action.
Lieutenant Christopher Beauchamp of the San Francisco Police Department's Taraval Station also confirmed that there is an ongoing investigation into the matter via email to the B.A.R., but would say no more.
Comments on Facebook