Bay Area Cannasseur: New jobs expected in cannabis field
Tuesday Jul 2, 2019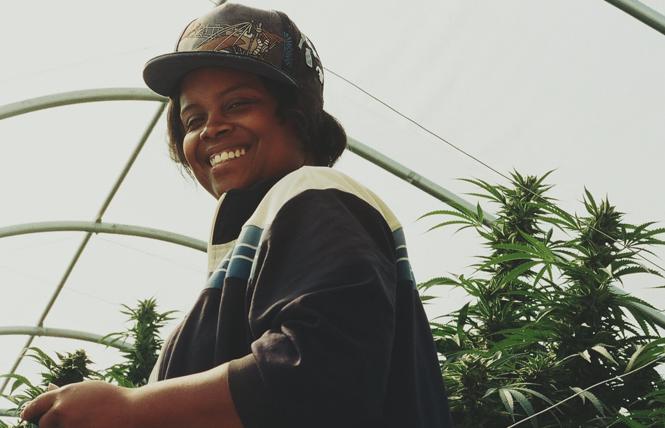 With almost 200 applications for licenses to open retail cannabis businesses now in the pipeline in San Francisco, a flood of new jobs is expected to make it easier to break into the burgeoning bud industry.
Until now, demand for entry-level jobs as budtenders has been very competitive, with thousands of people lined up to attend job fairs and stores such as the Apothecarium typically receiving up to 50-60 applicants when an opening is posted.
Although Craigslist began banning cannabis ads last year (the company did not respond to repeated requests for a comment), the slack has been taken up by the employment website, http://www.indeed.com, which listed almost 300 available jobs in the industry in the region when the Bay Area Reporter checked June 21. The majority of open positions are entry level, although there are a smattering of management jobs with starting salaries ranging from $50,000-$100,000.
Since listings don't really offer any flavor about the positions, we called a handful of industry veterans to get their opinions of what it's like to work in the business.
Robbie Rainin, a 33-year-old gay man who is vice president for retail at the LGBT-owned dispensary SPARC, emphasized his company's policy of promoting from within.
"It's competitive to get into the company, but once you're here and doing well we are going to try to keep you and move you up," he said in a recent interview with the B.A.R.
That's what happened to Rainin, who started as a store manager after a successful career in management at Banana Republic. When SPARC recently acquired the Loveshack dispensary, the company announced five internal promotions, he said.
For entry-level budtender jobs, "We are looking for people with solid customer service experience," he said. "You definitely don't need to have an encyclopedic knowledge" of cannabis to qualify because the company offers continuous on-the-job training.
Starting salaries are $16.60 an hour but tips, which are divided among staff, typically add another $60-$80 to the weekly paycheck, Rainin said.
Eliot Dobris, a 43-year-old gay man who is chief marketing officer at the Apothecarium, said jobs at the company are "in high demand." Offering a starting salary of $18.50 per hour plus benefits, Dobris says there are also "generous" employee discounts and transportation subsidies.
In the past year, Dobris said, the company is receiving "higher quality" applicants who already have experience in the field. The Apothecarium has also noticed an increase in minority employees, with 49% of its California workforce and 64% of its store managers being people of color.
Cannabis entrepreneur Amber Senter, a 38-year-old lesbian who lives in Oakland, said that the influx of capital into the industry should enable companies to pay better salaries to workers. Also, said Senter in a recent telephone interview, the vertical integration of many cannabis companies will bring new opportunities for skilled jobs in areas such as cultivation, testing, manufacturing, and extraction.
Jimi Devine, a 33-year-old straight ally, has worked as a budtender at Berkeley's CBC Dispensary for the past 10 years, adding on a job as a senior writer for Cannabis Now magazine a few years ago. Devine said he "absolutely loves" working in the cannabis industry, after volunteering as an activist during college.
"The work is not for everyone," he said in a recent telephone interview. "It's very fast-paced. You'll sometimes be waiting on 1,000 people a day."
"People think it's going to be all fun and games," he added. "It's hard work."
Devine said he made a conscious decision not to try to move up into management to give him time for his writing.
"For me, the cannabis industry has been a beautiful experience," he said. "Where else could someone have the opportunity to be a part of this growing movement?"
Bay Area Cannasseur runs the first Thursday of the month. To send column ideas or tips, email Sari Staver at sfsari@gmail.com
Comments on Facebook