SF Pride nods to Stonewall 50
Wednesday Jun 26, 2019
This weekend's San Francisco Pride parade and celebration has the theme "Generations of Resistance," to honor both the rioters at New York's Stonewall Inn in 1969, as well as the generations who have come since that historic moment.

The celebration takes place Saturday, June 29, and Sunday, June 30. The world-class parade steps off at the foot of Market Street Sunday at 10:30 a.m.

But SF Pride is not without its controversies. As the origin of Pride was a riot against oppressive policing 50 years ago, some activists question whether police belong in Pride at all.

Gay Shame, a Bay Area organization whose Twitter tagline reads "is a virus in the system," is "opposed to capitalist and law enforcement involvement in Pride celebrations," and has claimed responsibility for graffiti reading "Police Out of Pride" that has popped up in the Castro.

It is recommending a full boycott of the San Francisco event, including participation, sharing Pride-related media, and wearing corporate Pride gear.

Anonymous representatives from Gay Shame communicated with the Bay Area Reporter via email with a take-no-prisoners turn on how they view the yearly celebration.

"Our immediate goal is for SF Pride to finally stand with trans/queer people of color that have been, and continue to be, terrorized and murdered by SFPD, by officially banning all cops from Pride. We know that cops in Pride makes most of us less safe," Gay Shame wrote in an email.

"As SF Pride is now almost exclusively a day of celebration for every murderous, racist, and transphobic multinational company, from Chevron to Facebook and more, we know that there is nothing to 'reclaim' and that Pride as we now know it must be destroyed," the email stated.

For its part, the San Francisco Police Department will have a contingent in the parade, including a Pride decal-decorated police cruiser.

Officer Michael Andraychak, with the department's media relations unit, wrote in an email to the B.A.R. that SFPD officers will march in the Pride parade wearing rainbow-bordered patches on their uniforms.

"The San Francisco Police Officers' Pride Alliance coordinates SFPD participation in the Pride parade. SFPO Pride members, friends, family, supporters, and SFPD command staff will be walking in this year's parade," he wrote. "I would anticipate that SFPO Pride Alliance will provide stickers and beads to be handed out to the public as they have done in years past."

There will be uniform and plainclothes officers along the parade route and at the celebration, as has been the practice in the past.

SFPD also reminded people that there is no organized event in the Castro Saturday night and there will be no street closures.


#SFPD is celebrating #Pride Month in June by sporting new #PridePatches. We're the 1st law enforcement agency in the nation to do so. Funds raised by donations for the patches will support @LarkinStreet Youth Services. Contact @OfficerPetuya or @1yceu to purchase a pair for $20. pic.twitter.com/iztTGr6TOa— San Francisco Police (@SFPD) June 3, 2019
Another sore spot for some is the corporatization of the parade and concerns about tech companies and how they address anti-LGBT content.
Activists last month asked the San Francisco LGBT Pride Celebration Committee board to ban Google from the parade and from the list of event sponsors over the tech giant's handling of homophobic comments on popular
YouTube channels
. (Google owns YouTube.) SF Pride indicated that it was "monitoring the story," but ultimately took no action in the matter. Google will have a presence in the parade. It partnered with the LGBT Community Center of New York City to extend a digital landmark for the Stonewall Inn to celebrate the 50th anniversary of the riots that began the
Pride movement
.
The Verge, citing a leaked company memo, reported this week that employees are welcome to protest Google or YouTube during the Pride parade, as long as they are not marching with Google in an official capacity.
Bloomberg reported Wednesday morning that over 100 Google employees created and signed a petition again urging the SF Pride board to suspend the corporation from the parade and event. Google employees cited their dissatisfaction with how the controversy has been communicated and handled internally as well as externally. The letter will be posted online and will bear the full names of the employees who signed. Legal experts have commented on the developing situation, pointing out that federal laws that protect workplace activism will likely be of particular importance if Google seeks to terminate employees who protest policies or take advantage of this event to make their voices heard.
Bloomberg obtained a portion of the petition addressing this exact vulnerability. It reads: "We have considered the possibility that our employer will punish us for signing this letter, or that supporters of these very hatemongers will attack us personally, online or otherwise, simply for speaking out against them. Despite these risks we are compelled to speak."
SF Pride officials did not return a call Wednesday seeking comment.
ED's last parade
This will be the final parade for outgoing SF Pride Executive Director George F. Ridgely Jr., who has declined to comment on the controversies around this year's event, focusing instead on legacy concerns. Writing in the official
Inside Pride guide
about his departure, Ridgely said, "It has been the singular privilege of my life to lead this iconic organization along its path to its fiftieth year. I am grateful for the support I have received, and humbled by the lessons I have learned."
Ridgely did not respond to the B.A.R.'s requests for comment.
The central celebration runs from noon to 6 p.m., Saturday, June 29, and from 11 a.m. to 6 p.m. Sunday, June 30. The event is located in Civic Center Plaza and the surrounding area. Multiple stages will offer programming, in addition to vendor and resource booths.
The suggested donation for entry is $1-$5. Pride is a 501(c)3 nonprofit organization, and most of the event is paid for through corporate sponsorship. SF Pride's community partner program provides grants to participating nonprofits.
Parade
The parade steps off at Market and Beale streets Sunday morning. It continues to Eighth Street and paradegoers can take it all in along the route. There are grandstands located at United Nations Plaza from which to view the parade, and tickets for those seats are available online before the event for $42.50, or $45 at the door on the day of the celebration. Tickets are also available on a sliding scale basis for those with financial hardship, and accessibility seating for deaf, hard-of-hearing, and disabled attendees is also available for purchase.
This year's celebrity grand marshals include Kristen Beck, a transgender former Navy SEAL, as well as creators and cast members of the STARZ television series "Vida," and cast from the Netflix limited series "Tales of the City," based on the seminal, queer San Francisco-based serial novels of the same name by 75-year-old gay author Armistead Maupin.
Community grand marshals include Vince Crisostomo, program manager for the Elizabeth Taylor 50-Plus Network at the Castro men's health center, Strut (part of the San Francisco AIDS Foundation), as well as trans woman Donna Personna (lifetime achievement grand marshal) and drag queen Ms. Vera of Verasphere. Ms. Billie Cooper, a transgender woman, and API Equality-Northern California round out this year's list.
Main stage acts are scheduled to feature performances from nonprofit theater company Bay Area Musicals' "Hairspray," DJ Siobhan Aluvalot, 48th elected Absolute Empress of San Francisco Patty McGroin, the Sisters of Perpetual Indulgence, cumbia band Candelaria, Cheer SF, the official cheerleading team of the City and County of San Francisco, and many other acts.
Officials said that people planning to attend the festival should note: SF Pride bans glass bottles, coolers, and outside alcohol. Screening this year will include metal detectors and will refuse entry to anyone carrying guns, knives, or other weapons. The rules also exclude any bag or container larger than 18 inches square, as well as drones, stun guns, speakers, and walkie-talkies.
Child care and accessibility services are available to those who inquire at the information booth. The main stage and some others will feature ASL interpretation.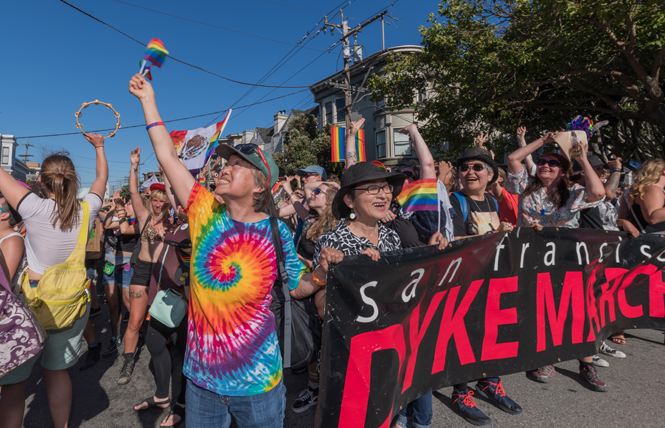 Trans, Dyke marches
Pride weekend starts with the 16th annual Trans March Friday, June 28, beginning at 6 p.m. at Mission Dolores Park.

Organizers did not respond to a request for comment, but according to the website, the march is "one of the largest trans events in the entire country, the entire world and the entire universe." The official description of the route states that it moves "up Dolores from the park; make a right on Market; left on Viki Mar Lane (also known as Taylor Street) into the Compton's Transgender Cultural District."

The Trans March rents a classic street trolley for accessibility for people who may not be able to walk the route (the trolley is not wheelchair accessible). The trolley ride will stop at Eddy Street, where marchers are expected to fill the street in anticipation of a short program of speakers.

Programming for the Trans March also includes a youth and elder brunch at Dolores Park from 11 a.m. to 2 p.m., a resource fair from 2 to 6, and a community stage with performers and special guests, including drag king goth boy band Nine Inch Males, from 3 to 6, breaking in time for the march itself.

There is an official Transfabulous! sober 18 and over after party at Wicked Grounds at 289 Eighth Street from 7 to 9:30 p.m. There is a 21 and over after party called Bustin' Out! at El Rio, 3158 Mission Street, during the same time. For more information, check https://www.transmarch.org/.

The 27th San Francisco Dyke March will take place Saturday, June 29, from 5 to 6:30 p.m., beginning at 18th and Dolores streets, looping from Valencia to 16th Street, through the Castro, and back to Dolores Park. The Dyke March will host a rally and events at the park before the march from 11 a.m. to 4:30 p.m.

Information from https://www.thedykemarch.org/ indicates that its concept of dyke identity is a broad construct, including people who identify as "transdyke, MTF, transfeminine, transmasculine, genderqueer, and gender fluid dykes," and welcoming women who want to support dykes in the space and the march. It asks men who want to support dyke identity to do so from the sidelines. Representatives of the Dyke March did not respond to requests for comment.

There are over 200 booths throughout SF Pride's rainbow-bright celebration of queerness, offering work from artists, local and national businesses, nonprofit organizations, food and drink vendors, and other services. In addition, many local businesses will be open and flying rainbow flags to welcome revelers and visitors for the weekend.

Find more information at www.sfpride.org.
Comments on Facebook