Political Notebook: SF set to name new LGBT landmark
Wednesday Jun 5, 2019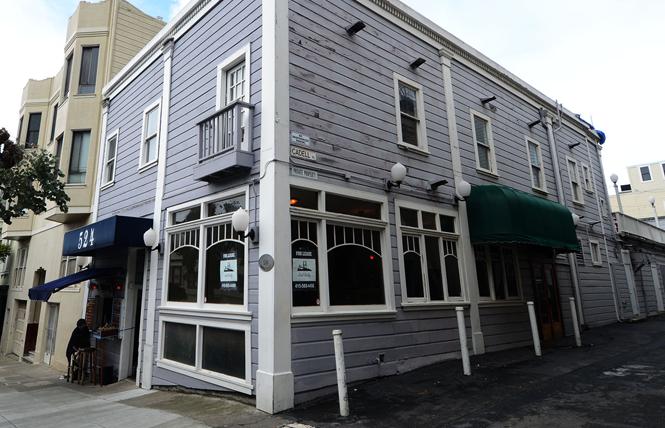 San Francisco officials are expected to designate the city's fourth LGBT historic site next week when the Board of Supervisors votes to landmark 524 Union Street.
The North Beach property was home to several LGBT restaurants, most famously that of the Paper Doll, starting in the 1940s. It is believed it would be the first landmark in the country to focus on an early queer restaurant.
The Paper Doll, which opened in 1944, is believed to be San Francisco's first restaurant and nightclub catering to the gay community. As the Bay Area Reporter first disclosed in 2017, the Smucha family that owns the building has sought to have its historical significance be officially recognized by the city.
It has been six years since the Twin Peaks Tavern, the Castro gay bar that was the first to install clear glass windows, was deemed a city landmark. Four years ago San Francisco adopted an LGBT historic context statement that included a list of various properties worthy of landmark status.
Among them was 524 Union Street, which has housed bars and restaurants since the late 1840s and was rebuilt after the 1906 earthquake. The Paper Doll's first owner, Tom Arbulich, hired lesbian staff and offered a welcome watering hole to queer patrons.
By the mid-1950s gay men had claimed the space as their own, leading to a court fight over the suspension of its liquor license waged by then-owner Dante Benedetti, a straight man. He lost his legal battle and later sold the bar; in the late 1960s and early 1970s the late B.A.R. founding publisher Bob Ross had two stints operating restaurants there.
By the 1980s the restaurant space lost its gay affiliations and was home to a number of establishments that catered to mostly straight clientele. It has been vacant since 2012 when the French bistro Le Bordeaux closed.
Due to the length of time the restaurant space has sat dormant, it lost the right to operate as an eatery. The Smucha family has been fighting with the city's planning department to be able to rent it out to a restaurant operator.
District 3 Supervisor Aaron Peskin, who represents North Beach and chairs the board's land use and transportation committee, had been expected to be the lead sponsor of the landmark request. But because he owns property within 500 feet of the site, Peskin had to recuse himself from voting on the matter when it came before the committee Monday, June 3.
He will also have to recuse himself from voting when the full board takes up landmarking the building at its June 11 meeting. Land use members Supervisors Ahsha Safai and Matt Haney voted this week to recommend their colleagues approve the Smucha family's request.
"Now, at a time we are losing San Francisco's cultural institutions and notable queer spaces, maybe we can get one back or in the same spirit. We would love to see a new Paper Doll or something in that spirit go in honoring it," said Barak Smucha, a third-generation San Franciscan whose family has owned the site since the late 1970s. "We thank you for helping us preserve this space."
The city's other two LGBT landmarks are the late gay supervisor Harvey Milk's residence and former Castro Camera shop at 573 Castro Street and the former Jose Theater/Names Project Building at 2362 Market Street, once home to the AIDS Memorial Quilt. While the Women's Building at 3543 18th Street is also a city landmark, it was listed for its historical significance predating the modern LGBT rights movement. It did recently gain national historic site status due to its LGBT cultural significance.
CA Dems elect new chair
At its convention last weekend, the California Democratic Party elected Los Angeles labor leader Rusty Hicks as its new state chair. He easily defeated six other candidates, including second place finisher Kimberly Ellis, with 57% in the first round of voting Saturday, June 1, to claim victory.
"I applaud the other six candidates. I got to hear them and know them as we all campaigned over the last four months," stated Hicks, 39. "I believe that the positive nature of our respective campaigns has been and will prove to be a positive step to a bigger, better, stronger Democratic Party. Let's get to work."
Ellis had narrowly lost to gay Los Angeles Democratic Party leader Eric Bauman in 2017. He was forced to resign last fall after numerous party members came forward to allege Bauman had verbally and sexually harassed them. The accusations are now the basis of several lawsuits his accusers have filed.
Unlike two years ago when she refused to concede, Ellis via a tweet congratulated Hicks on his win.
"Party politics is always going to be tough and often disappointing, but great change is never easy," she wrote.
The convention attracted 14 of the 2020 Democratic presidential candidates to the party confab held in San Francisco. Meanwhile, at the Santa Cruz Pride festival Sunday, June 2, attendees picked Vermont U.S. Senator Bernie Sanders as their top choice to be the party's nominee.
The independent lawmaker took first place with 210 votes. In second, with 171 votes, was California Senator Kamala Harris, while Pete Buttigieg, the gay mayor of South Bend, Indiana, landed in third with 135 votes. Rounding out the top five were Massachusetts Senator Elizabeth Warren with 128 votes and former vice president Joe Biden with 29 votes.
Touted as the first California Presidential Primary LGBTQA Straw Poll, the Santa Cruz County Democratic Central Committee conducted it at its booth.
Be bored to tears ...
... or be riveted Thursday (June 6) by a 17-hour live reading of the redacted Mueller report at the gay-owned Manny's in the Mission. A number of local politicos, including LGBT leaders Scott Wiener, Rafael Mandelman, David Campos, Cleve Jones, and Carol Queen, Ph.D., are slated to read 30-minute portions of the 442-page document detailing special counsel Robert Mueller's investigation into whether President Donald Trump's campaign colluded with Russia to win the 2016 election and if he and his administration tried to obstruct the efforts to look into the matter.
It will kick off at 7 a.m. at the cafe and event space located at 3092 16th Street in San Francisco's Mission district. The free reading, which will also be livestreamed at http://www.welcometomannys.com/, should wrap at midnight.
Web Extra: For more queer political news, be sure to check http://www.ebar.com Monday mornings for Political Notes, the notebook's online companion. This week's column reported on the Pride gear presidential candidates are hawking.
Keep abreast of the latest LGBT political news by following the Political Notebook on Twitter @ http://twitter.com/politicalnotes .
Got a tip on LGBT politics? Call Matthew S. Bajko at (415) 829-8836 or e-mail m.bajko@ebar.com.
Comments on Facebook