News Briefs: Baker's memoir set for release
Wednesday Jun 5, 2019
A memoir by the late Gilbert Baker, co-creator of the rainbow flag, will be featured at a launch party Tuesday, June 11, from 5:30 to 7:30 p.m. in the Koret Auditorium at the main San Francisco Public Library, 100 Larkin Street.

"Rainbow Warrior: My Life in Color" is being published posthumously by Chicago Review Press. Baker, 65, died in March 2017 in New York City, where he had lived for many years.

Baker is known as the man behind the rainbow flag, which has become a world-recognized symbol of the LGBTQ community. A former longtime resident of San Francisco, he and friends, Lynn Segerblom and James McNamara, who died of AIDS in 1999, created the first rainbow flags for the 1978 San Francisco Pride parade. Those flags were different than the common six-striped flag seen today.

The upcoming program, organized by the GLBT Historical Society and co-sponsored by the James C. Hormel LGBTQIA Center at the library, will feature a short film about Baker's life, selected readings from the memoir, and a discussion with social justice advocates. Panel participants include attorney and activist Matt Foreman, attorney Kate Kendell, AIDS activist and former San Francisco supervisor Jeff Sheehy, and Sisters of Perpetual Indulgence member Cass Brayton (Sister Mary Media). Journalist Tony Bravo will moderate.

The evening will begin with a reception and end with a book signing. Admission is free.

Baker is the subject of an upcoming exhibition this fall at the GLBT Historical Society Museum.

For more information, visit www.glbthistory.org/events or https://sfpl.org/index.php?pg=1038504401.

On Wednesday, June 12, from 5:30 to 7:30 p.m. there will be another book launch event for "Rainbow Warrior" at Bloomingdales San Francisco, 845 Market Street, hosted by drag queen Donna Sachet.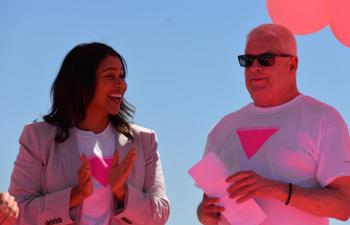 Volunteers sought for pink triangle display
This year's 24th pink triangle installation atop Twin Peaks will be special, as it's the 50th anniversary of the Stonewall riots in New York City. People looking for a hands-on Pride experience can sign up now to help create the triangle (or take it down at the end of Pride weekend).

Patrick Carney, co-founder of the project, said in a news release that it takes at least 125 people to install the tarps that make up the giant public art, and about 50 to take it down. The pink triangle can be seen for miles if the weather is clear.

The main installation takes place Saturday, June 29, from 7 to 9 a.m. A ceremony follows at 10:30.

Carney said that confirmed speakers include Mayor London Breed; gay diplomats Hans-Ulrich Suedbeck, consul general of Germany, and Emmanuel Lebrun-Damiens, consul general of France; gay politicos state Senator Scott Wiener (D-San Francisco) and District 8 Supervisor Rafael Mandelman; fellow San Francisco lawmakers Assemblymen Phil Ting and David Chiu; some of the San Francisco Pride grand marshals and honorees; the San Francisco Lesbian/Gay Freedom Band (the city's official band); and musical theater star Leanne Borghesi.

The most difficult challenge is getting volunteers to help dismantle the pink triangle Sunday, June 30, from 4:30 to 8 p.m. after the Pride parade. Carney promised a free dinner at a Thai restaurant for those who help with the take-down.

All volunteers will receive pink triangle T-shirts, the funding of which was donated by the Bob Ross Foundation.

The reason Carney and others started the pink triangle installation was to remind people of the time when it was used by the Nazis in concentration camps to identify and stigmatize homosexual prisoners. It has since been embraced by the LGBTQ community as a symbol of pride.

"Various speakers will point out that the kind of hatred that existed in the 1930s and 1940s still exists today — as in Chechnya, Indonesia, Iran, Iraq, Brunei, Jamaica, Saudi Arabia, and so many other places," Carney said in the release. "There is much to be done and education is the key. That's why the pink triangle is still being installed after all of these decades — it is a giant one-acre learning tool."

Volunteers should bring a hammer and gloves, wear closed-toe shoes, and wear sunscreen.

To sign up, for directions, or more information, visit www.thepinktriangle.com.

Bay Area cultural centers celebrate Pride Month
Three Bay Area cultural organizations — the California Historical Society, the Contemporary Jewish Museum, and the Oakland Museum of California — are joining together to celebrate Pride Month with a wide range of programs at each institution, including exhibitions, a lecture series, special programming, and events to help tell the unique stories of the LGBTQA community and shine a light on its historical significance to the region, state, and nation.

According to a news release, this is the first time these three organizations have worked together to promote special programming, which also complements two ongoing exhibitions focused on LGBTQA communities: "Show Me as I Want to Be Seen" at the CJM through July 7, and "Queer California: Untold Stories" at OMCA through August 11. Over the weekend of June 22-23, members of each organization will receive reciprocal access to all three institutions.

California Historical Society programming includes a lecture series every Tuesday during June at 6 p.m. at 678 Mission Street. Upcoming talks include "The Roots of Today's Revolution" (June 11) with award-winning trans scholar and filmmaker Susan Stryker, and a film screening and discussion of "Major!" about trans activist Miss Major Griffin-Gracy (June 18). A presentation on California's "Gay Revolution" in the Stonewall era will be held June 25.

In addition to its current exhibit, CJM will hold a one-day zine fest Sunday, June 9, from 11 a.m. to 4 p.m. featuring zines and comic art celebrating self-expression in all its forms. On June 20, from 6 to 8 p.m., the museum will participate in Call and Response: Curator Swap, a new progressive gallery talk in collaboration with the historical society and the Museum of the African Diaspora, which will bring together educators and curators to examine work on view at the three museums in connection with Pride.

Over in the East Bay, OMCA will hold drag family storytime Friday, June 7, from 6 to 7 p.m., and a Queer California Film Series that begins at 7:30. "In Conversation: Queer Cinema" takes place Friday, June 14, from 7 to 8:30 p.m., while "In Conversation: Black Trans Women on Resilience and Strength" will be held Saturday, June 15, from 2 to 3:30 p.m.

During the San Francisco Pride parade Sunday, June 30, staff members from each of the three institutions, in partnership with several other cultural groups, will march together as part of a Museums with Pride contingent.

For more information, including tickets and other events, visit www.californiahistoricalsociety.org, www.thecjm.org, and www.museumca.org.

Discussion on queer sites in SF
Just in time for Pride Month and the 50th anniversary of the Stonewall riots, the San Francisco Public Library will host "SF's LGBTQIA Historic Places: Meaning, Value, and Use," a panel of community scholars and organizers discussing the status of historic queer sites and queer public history in San Francisco. Carol Queen, Ph.D., a local writer, activist, and advice columnist for Good Vibrations magazine, will moderate the panel.

The event is Thursday, June 13, at 6 p.m. in the Koret Auditorium at the main library, 100 Larkin Street. Admission is free.

According to organizers, carving space in the urban landscape has always been essential for queer survival, both for building community and obtaining political and cultural power. As the city undergoes transformation in its physical landscape and its resident population, previously queer sites and neighborhoods have slowly moved away from their historic identities. Panelists will probe San Francisco's status as a haven for queer communities and look forward to where people want it to be in the future.

Scheduled panelists include Terry Beswick, executive director at the GLBT Historical Society; Tania Jimenez, program coordinator at El/La Para TransLatinas; Gerard Koskovich, adviser and archival researcher in the field of LGBTQ history and culture; and Gayle S. Rubin, American cultural anthropologist, activist, and theorist of sex and gender politics.

Drag bingo benefit in San Leandro
All Saints Episcopal Church in San Leandro will hold its first drag bingo event Saturday, June 15, from 5 to 8 p.m. at 911 Dowling Boulevard. A news release stated that the night will be hosted by Imelda, a local drag queen from the East Bay city.

The night will raise funds for the church, which is a diverse and dynamic congregation with active ministries including a 15-member pastoral care team, a food pantry that serves 350 people monthly, and a neighborhood center used by 12-step programs, music and dance classes, and community groups.

Rector the Reverend Justin Cannon, a gay man, became leader of the church just over three years ago. He was recognized as one of Instinct magazine's Leading Men of the Year for his work in the LGBT community.

The bingo night will include seven rounds with prizes ranging in value from $50 to $250. Additionally, the evening includes a Mexican dinner hosted by Mi Zacateca's, an Oakland eatery.

Tickets are $10-$25 and available at https://bit.ly/2wvmL5E.
Comments on Facebook