Editorial: A stellar choice to lead DPH
Wednesday Jan 30, 2019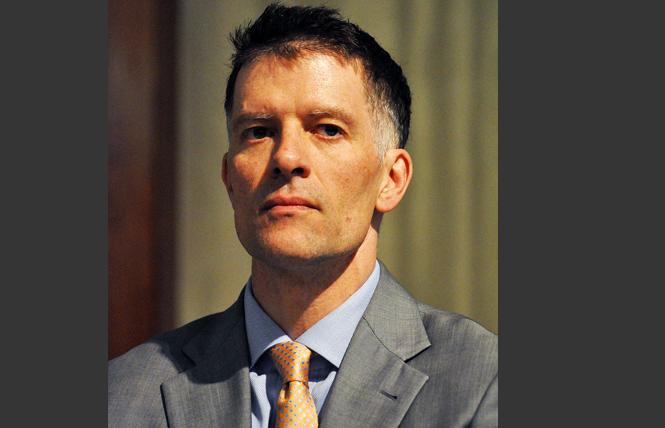 San Francisco Mayor London Breed made an outstanding choice by naming Dr. Grant Colfax to lead the sprawling Department of Public Health. Many readers may recall that Colfax was the city's HIV prevention director from 2007-2012. In that capacity, he was instrumental in introducing sweeping changes in the city's approach to the epidemic. Ideas once viewed as controversial, such as rapid HIV testing and early treatment, are accepted protocols in San Francisco and many other cities. He is not afraid to stake out bold positions on health matters even if it means taking some heat.

Colfax, a gay man, will continue the health department's succession of gay and lesbian leaders that began with Dr. Sandra Hernandez, followed by Dr. Mitch Katz, and then most recently by Barbara Garcia. Garcia resigned last summer after questions were raised about a contract granted to her wife's employer, leading Breed to name a new DPH director. The opportunity has resulted in a highly qualified AIDS expert being selected for the post.

The LGBT community and the city as a whole can have confidence in Colfax's appointment. He told the Bay Area Reporter that he supports establishing a safe injection site pilot project, one of Breed's top priorities. State legislation is needed first to make that happen, but this year will likely see positive developments on that front, as gay state Senator Scott Wiener (D-San Francisco) is expected to reintroduce a bill that was vetoed by Governor Jerry Brown last year. Governor Gavin Newsom has already indicated he's much more supportive of the plan. However, the mayor, Colfax, and state officials will have to figure out how to work with, or around, the federal government. In the meantime, they can continue educating the public about the efficacy of such sites, which allow people to use drugs under supervision of medical staff, thus reducing the risk of overdose deaths. The sites will provide sterile needles, which prevents transmission of HIV and hepatitis B and C, and will offer clients an entry point for seeking medical care and addiction treatment. What's important here is that Colfax doesn't need to be convinced of the merits of such a program. As he told us, there are "years of data" that show safe injection sites save lives and can have a positive impact on the community.

Beyond HIV/AIDS and safe injection sites, Colfax wants to work with the Department of Homelessness and Supportive Housing to ensure that those who are homeless — and those in supportive housing — have access to the care and help they need. Any collaboration is long overdue and we're sure that Colfax's vision to lead the department will have positive results for patients and the city.

Breed deserves credit for making an excellent hiring decision for her first department head. It's a hopeful signal that her choices for fire chief and city librarian will be just as stellar.
Ronen to the rescue
District 9 Supervisor Hillary Ronen may be "difficult," as she said (and wore on a T-shirt) during her unsuccessful bid for Board of Supervisors president. But we have nothing but admiration for her unending quest to ensure that the Harvey B. Milk Terminal at San Francisco International Airport has the proper signage to convey that the terminal is named for Milk. Next week, Ronen will introduce a proposed ordinance mandating that the airport flip the font sizes for "Terminal 1" and "Harvey B. Milk Terminal." The proposal says: "The signage identifying the terminal for drivers, on the exterior of the terminal generally facing the roadway and the domestic parking garage, shall state 'Harvey Milk Terminal' in a sign with lettering in which capital letters are at least four feet high, and, below 'Harvey Milk Terminal,' shall state 'Terminal 1' in a sign with lettering that is approximately half the height of the lettering of the 'Harvey Milk Terminal' sign."

As we have reported and editorialized in recent weeks, Ronen has not been satisfied with SFO's proposed signage, in which the lettering for "Harvey B. Milk Terminal" was significantly smaller than the gigantic "Terminal 1." She attempted to work with airport officials but they could not be persuaded. Airport officials previously told the B.A.R. that they had no plans to change the signage. This week, a spokesman told us that the airport would follow whatever instructions the supervisors mandate.

Ronen's correct to point out that the Milk terminal signage will set a precedent for the other terminals when they are renamed — and make no mistake, at some point they will be. There's already a push to rename the International Terminal after the late mayor Ed Lee. Should that occur, the signage likely will read "Ed Lee International Terminal" — and it will be large.

San Francisco's world-class airport welcomes visitors from around the world. The exterior signage needs to communicate the importance of the people being honored and large enough for passengers to read. Ronen's proposed ordinance will accomplish that.

Gay District 8 Supervisor Rafael Mandelman told us he's on board and will co-sponsor Ronen's proposal. We suspect that, as he does, the measure will pass, likely with a veto-proof majority.

It's unusual that the board has to pass an ordinance for a matter like this, but, in the end, it will be better for both the Milk terminal and the terminals named in the future. Ronen has steadfastly insisted that Milk be properly honored, and for that, we thank her.
Comments on Facebook