Gay friendly GOP lawmaker joins CA Dem party
Thursday Jan 24, 2019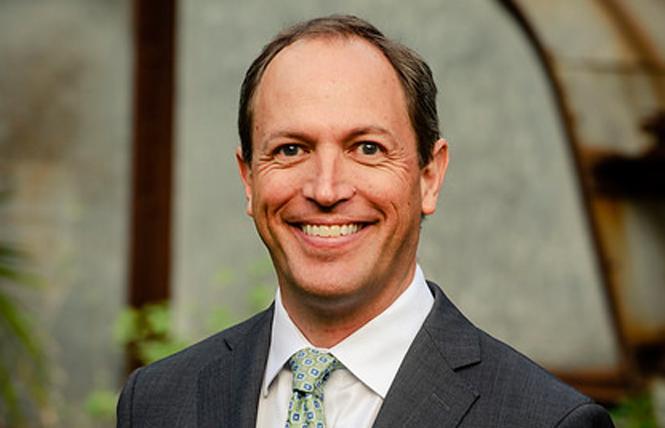 In a shocking announcement this morning, made during a press conference inside the state Capitol, a gay friendly GOP lawmaker announced he was joining the California Democratic Party.
The decision by Assemblyman Brian Maienschein (D-San Diego) brings the number of Republicans in the state Assembly down to 19 out of 80 seats. According to the office of Assembly Speaker Anthony Rendon (D-Lakewood), Maienschein is the fifth Assembly member to switch parties while in office but the first to change his party registration to the Democrats.
He is the second GOP assemblyman from San Diego to leave the Republican Party while in office. Nathan Fletcher, now a San Diego County supervisor, left the GOP to become an independent in 2012.
Maienschein narrowly won re-election in November to his 77th district seat after fending off a strong challenge from lesbian real estate agent Sunday Gover. The two had initially been co-endorsed by Equality California, but Maienschein lost the support of the statewide LGBT advocacy organization after failing to vote for Assembly Bill 2119, which ensures that transgender youth in the state's foster care system have access to appropriate health care.
In a statement explaining his defection, Maienschein noted that he has been at odds with the Republican Party for years and has routinely voted across party lines. In terms of LGBT issues, he earned a 100 percent on EQCA's 2017 Legislative Scorecard and received a score of 93 percent last year.
"Leaving the Republican Party is not easy. I can either keep fighting to change the Republican Party or I can fight for my constituents. I choose to use my energy and skills for the people I represent," stated Maienschein.
He also pointedly criticized President Donald Trump for leading "the Republican Party to the extreme on issues that divide our country," though Maienschein stressed that the real-estate-mogul-turned-reality-TV-host's "leadership is not the lone reason for my change in party affiliation. I too have changed. As the Republican Party has drifted further right, I — and my votes — have changed. As a single father to two girls I am guided by my hopes and dreams for their future."
In his own statement, Rendon welcomed the latest member to the Democratic Caucus.
"His legislation, his actions and his presence in the Assembly have always shown him to be a man committed to ideas for making California better, not to ideology that divides us," stated Rendon. "In particular, he has shown a passion for addressing homelessness since his arrival in this body. As Donald Trump continues to debilitate the Republican Party, Assembly Democrats will continue our work to make things better for Californians."
In a series of tweets Thursday morning, Gover said she and her supporters "will be watching closely to see whether Mr. Maienschein fully embraces our community's values & rejects the Republican agenda, or whether his party switch is simply an attempt to hold onto power."
Gover wrote that, "clearly our campaign had a massive impact and it's good news that Mr. Maienschein has finally left the Republican Party, but simply switching parties doesn't address the issues our community needs championed in Sacramento."
She criticized her former opponent, who will be up for re-election in 2020, for ignoring such issues as "healthcare, education and gun safety ... for far too long."
I ran for State Assembly to fight for middle-class priorities like healthcare, education and gun safety, which Republican politicians representing our community, including Brian Maienschein, had ignored for far too long.— Sunday Gover (@sunday_gover) January 24, 2019
Reaction from Republicans to Maienschein's desertion from their party was swift and harsh. Ontario resident Matt Munson, a gay Republican who ran unsuccessfully last year for a state Senate seat, was among those critical of the lawmaker.
"It is weak to switch parties as a legislator during the middle of a term," Munson posted on Twitter. "You can still be against your own party's president and fight against the crazy of the California Democratic Party. Just as how West Virginia Democrats were embarrassed by Obama."
The Assembly Republican Caucus immediately removed Maienschein from its website. And Assembly Republican Party leader Marie Waldron (R- Escondido) denounced his decision in a statement.
"It's unfortunate that Brian's takeaway from his extremely close reelection was that his political future depended on becoming a turncoat. Unfortunately some people run for office simply because they want a job, regardless of political philosophy," stated Waldron. "It appears that Brian falls into this category. While Brian is enjoying the perks of his new status as a member of the Democrat majority in the Legislature, we Republicans will continue to stand for the people of California."
Comments on Facebook