Chapter's ending at SF's Aardvark Books
Wednesday Jan 23, 2019
It's the last chapter for Aardvark Books, a mainstay on Church Street for 40 years that will close Friday, January 25.

For John Hadreas, who bought the building at 227 Church Street in 1978 and opened the bookstore, it's a bittersweet moment.

He sold the property, which once housed the Electric Theater Movie House, for $2.43 million and must vacate by the end of the month.

Hadreas, 75, in an interview with the Bay Area Reporter, said that back in the 1970s he was a bridge and poker player who wanted a more regular living, as he was married and had children. He knew a little about books and "had a vision of a local bookstore with friendly, knowledgeable staff, fair prices, and the ability for customers to sell books at any time."

He didn't want to settle on Castro Street, as there were already several bookstores there, but wanted a location in the Upper Market area.

Ready to retire permanently, he had first put the store up for sale in September 2017, asking for $2.8 million. Although he had no takers at that price, he was so touched by the outpouring of communal support, he pulled the listing a year ago. However, in July he again listed the building for sale, having lowered the price to $2.45 million.

He has mixed feelings again about the sale but cannot back out because the buyer already has paid him in cash.

"If I could do it all over, I wouldn't sell," he said.

He observed that the store never made a big profit, but he could keep Aardvark open since he owned the building, when so many others closed because they couldn't afford rising commercial rents. The store holds the distinction of being one of the first used bookstores (not gay-affiliated) in San Francisco to have a gay and lesbian section. A straight ally, Hadreas hired LGBTQ employees and supported the community.

Dan Lugen has worked at Aardvark for 38 years.

"We've known about the closing for awhile so we've had time to adjust," he said. "It will be a loss for the neighborhood and city as there are not many bookstores left."

Lugen, who declined to say how he identifies, noted that there aren't as many stores open on the block, so fewer customers come into the area.

"I live and commute from the East Bay, so I won't see the consequences of its closing here in San Francisco. But people have expressed a sense of loss about the store's leaving, both regular customers and others I haven't seen before," he said.

Lugen explained the origin of the bookstore's name.

"It's a catchy name, but the story isn't very exciting. In the old telephone books, aardvark would be the first listing, so people would catch the name right away. People from all over the world have told us how popular a name aardvark is for businesses, especially in England."

Lugen said he would look for another job.

"We've been here for 40 years and we've made a great go of it," he said.

Eric Lundstrom has been an employee since 1996.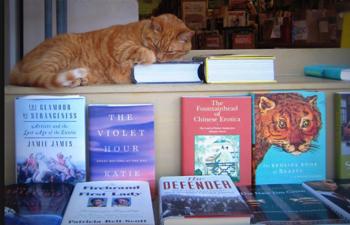 "I have mixed feelings about the closure as I've been so accustomed to this job for so many years, it's hard for me to imagine the transition," he said. "I will find another job, but I'm waiting for the whole thing to be over to process my feelings about it. I've used all my denial up. We had a year's reprieve but it passed so quickly."

Lundstrom, who declined to say how he identifies, has been surprised by customers having a sentimental attachment to the store.

"Even people who aren't regular customers, when they found out the store was closing, seemed to be at a loss. They see it as an integral part of the neighborhood, a hub. I understand that part because so much has changed on this block with stores closing but not replaced."

Perhaps Owen the cat will be missed most of all. A permanent fixture at Aardvark, the orange tabby is often seen lounging in the sunny store window nestled among the newest books on display. According to employees, the plan is for Owen to move to Antioch, where he lived before arriving at Aardvark.

In recent weeks, the store has been packed with customers, some from as far away as Australia, looking for treasures at the deep 50 percent discount.

Numerous customers, who didn't want to be identified, said Aardvark was their favorite used bookstore in San Francisco.

Aardvark also attracted many younger customers who cherished its extensive graphic novel section.

"I've been here since I was 2 years old when my father would buy me books here," said Sky Dow, 23. "I feel like it's a part of my history that is now gone. I know it's been here for a long time but it's sad to see something pass that is so intimately connected to my own history. I was grateful for the quality care given by the owners in the way they selected books.

"Yes, I would find books on my list, but then I would find other books I had wanted but had slipped my mind," Dow added. "I guess what I will miss most is this feeling of comfort you got when you walked in, a sense of lived-in-ness that you don't find in other bookstores. Aardvark was unique and I'm glad it was an important part of my own personal growth and development."
Comments on Facebook