Harris announces presidential run
Monday Jan 21, 2019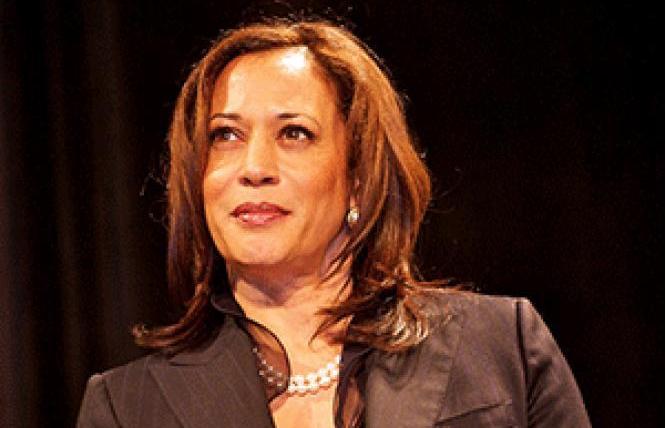 In the end, California Senator Kamala Harris made the announcement from Washington, D.C. on ABC's "Good Morning America" Monday, Martin Luther King Jr. Day — she's running for president.
The news was not a surprise, but rumors swirled for days that Harris, the junior Democratic senator from California, would make the announcement in Oakland, where she was born. Instead, she told GMA anchors Robin Roberts, a lesbian, and George Stephanopoulos that "I'm running for president of the United States."
"I'm very excited about it," she said in a clip shown on ABC around 4:40 a.m. Monday, a couple hours before GMA is broadcast on the West Coast. On Friday, the Baltimore Sun reported that Harris has settled on Baltimore for her campaign headquarters. The paper reported that Harris chose the city because of its diversity, proximity to Washington, D.C., and because it's in the Eastern time zone.
Harris' campaign sent out the announcement shortly after her GMA appearance.

"U.S. Senator Kamala Harris announced her candidacy for President of the United States in an interview today on ABC's "Good Morning America" and in a teaser video on her social media accounts. The video revealed she will formally launch her campaign at an Oakland rally on Sunday, January 27."
According to ABC7, the rally will be at noon at Frank Ogawa Plaza.
"At the rally, Harris will lay out why she is running for president, the challenges that face the nation and her vision for the country," the campaign stated. "Harris believes that the time is now for us all to defend the American values of equality, decency, justice, and democracy -- and her candidacy will be animated by her life's work of fighting "for the people."

A clue to Harris' Monday announcement came just minutes before her television appearance. Her husband, Douglas Emhoff, tweeted a pic of he and Harris captioned "Pre @GMA...Tune In. @kamalaharris."
Pre ?@GMA?....tune in! ?@KamalaHarris? pic.twitter.com/45m07u2soF— Douglas Emhoff (@douglasemhoff) January 21, 2019

Harris, a former San Francisco district attorney, has a strong record on LGBT issues. As state attorney general, she refused to defend Proposition 8, the state's same-sex marriage ban, setting up years of litigation that ultimately decided the measure was unconstitutional. Same-sex marriage became legal in California in June 2013, and Harris was in San Francisco City Hall on June 28 to marry the plaintiff couple in the federal lawsuit, Kristin Perry and Sandra Stier.
Harris joins a crowded field of Democrats who want to defeat President Donald Trump. Massachusetts Senator Elizabeth Warren was the first major candidate to enter the race in late December. Others who have announced they are running or exploring a run include New York Senator Kirsten Gillibrand and former Housing and Urban Development Secretary Julian Castro.
Updated: This article was updated to include information from Harris' campaign and the rally.
Comments on Facebook