Gay trailblazer leaves office: Worthington seeks new job
Wednesday Dec 12, 2018
After 22 years in elected office, Kriss Worthington is back to being a civilian and looking to rejoin the workforce. He has been fielding inquiries from area nonprofits and civil advocacy groups since announcing earlier this year he would not seek re-election to his seat on the Berkeley City Council.

Wherever he lands, it is sure to result in a significant raise, as his take home pay is less than $30,000 as a council member. Though he has seen a near tripling in his salary since becoming the first out LGBT person to serve on the East Bay council.

"I am certainly not going to retire," Worthington, 64, told the Bay Area Reporter during an interview last Thursday about his time in office. "Our party tomorrow night is called a send off party, not a retirement party. I will continue to be an advocate on issues I care about. I am looking for a job with a social service nonprofit or a political advocate role."

Due to his yearslong push to raise the city's minimum wage to $15, one of the first jurisdictions in the country to do so, Worthington could take any number of jobs now and make more than the roughly $27,000 he said he earns as a council member.

"One of my interns said I could get a job as a dishwasher and make more than a council member," said Worthington, who first proposed raising the minimum wage in 2002. "I have saved no money as a council member. For the first half of my time I was getting $10,000 a year."

Worthington officially stepped down from the council the morning of Saturday, December 8, at which point his successor, Rigel Robinson, was sworn into office. The 22-year-old took his oath of office again at Tuesday's council meeting with the other winners of the November races.

Robinson, who is straight, formerly served as vice president of external affairs for the Associated Students of the University of California. He was also an intern for former City Councilman Jesse Arreguin, who is now the mayor.

He had the endorsement of Worthington, who for close to a decade has wanted to see a UC Berkeley student be elected to the City Council. Although Worthington still had two days left to serve, he answered his City Hall phone last Thursday by saying, "Councilmember Robinson's office."

He said he was "ecstatic" about handing over the duties of his District 7 council seat to Robinson, who served as his alternate commissioner on the city's zoning board. Eight years ago Worthington had intended to step down from the council in order to see another gay man serve in his seat. But when that person opted against running, Worthington sought and won re-election.

A similar scenario played out four years ago, when Worthington looked for a younger successor to endorse. Again no candidate emerged, so Worthington ran one last time.

"I totally see this as the perfect way to go out," he said. "I'm ecstatic! My dream of being replaced by a student at UC Berkeley the past eight years is coming to fruition."

Not only is Robinson the youngest person to serve on the council, he is the first person since Berkeley adopted district elections to secure the endorsements from all nine members of the City Council, Worthington noted.

"I think we found the right person. Not only did I think they were qualified but everyone on the council thought he was qualified," said Worthington.

Robinson, who graduated in May with a degree in political economy, told the B.A.R. that, "Kriss has an incredible legacy of 22 years of championing progressive change on the city council. I am deeply grateful that he and our neighbors in District 7 have put their faith in me to carry the torch forward."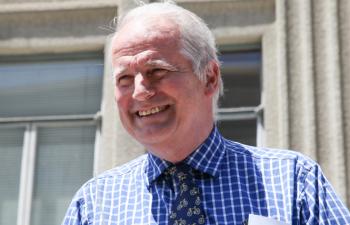 Next gen leaders
The council transition is a capstone in Worthington's legacy of appointing students as city commissioners and board members who later won elected office. By his own count he named 500 youth to commission seats and hired 1,000 young people as office interns.

"I have seen many of them go on to much bigger roles than I ever played in my life," Worthington said. "It is so gratifying to see these young people get experience writing resolutions, ordinances, and council items and seeing them use that experience in moving on with their lives."

Among those he appointed was Andy Katz, a bisexual man who is also gay and serves on the East Bay Municipal Utility District board, and those he hired as council aides included Arreguin and gay former Berkeley city councilman Darryl Moore, who was just appointed by the mayor to the Berkeley Housing Authority board.

While Moore appointed more LGBT people overall to city commissions, according to Worthington, he said he had named the most transgender people to serve on the oversight panels. It is one of his proudest achievements, not only naming LGBT people to serve but also appointing and hiring people of various ethnicities, such as Moore, who is African-American, and Arreguin, who is the city's first Latino mayor.

It also shows how much of a canard it is, said Worthington, when political leaders argue that they can't find people of color interested in public service or politics.

"The standard political lie is that people of color are too busy, they have to care for their families, and can't serve in community service. Not true," said Worthington, who is white. "I got so many applications from people of all races."

Though Moore and Worthington clashed over various issues while serving together on the council, Moore told the B.A.R. he enjoyed their time as colleagues and working for Worthington as a council aide.

"Kriss was hard-working, dedicated, and truly committed to the city of Berkeley," said Moore, 58, a senior analyst at the Oakland Housing Authority. "He was great to work for, very intelligent, hard-working, and dedicated to serving the citizens of the city and particularly those in District 7."

After losing his bid for re-election in 2016, Moore has readjusted to life outside of elected office. It does have its benefits, he said, as Worthington will discover.

"I hope he is able to relax and enjoy the time away from being on the dais," said Moore. "He will find it is a lot less taxing and definitely stress free."

Worthington is looking forward to spending more time with his longtime partner, Marty Spence. The couple have plans to see Lady Gaga in concert next month in Las Vegas and often travel to Mexico.

While he said he would like to find a job he could work at for upward of 10 or 20 years, Worthington also did not rule out seeking elected office again one day. He twice ran for and lost bids to be mayor of Berkeley and in 2007 ran unsuccessfully for a state Assembly seat.

"I haven't remotely thought about such things," said Worthington about his political future.

A lion of East Bay progressive politics, Worthington spent much of his time on the City Council in the minority, except for the last two years. Yet, he noted, it did not stop his political agenda.

"First, I want to say, even though die-hard progressives were a minority, I still got 98 percent of my council items won over all those 20-plus years that we were in the minority," said Worthington, who saw himself as a pro-housing progressive.

Back in 1996 while running for office he argued that the city needed to build 10,000 new housing units, a position not shared by other progressives. His opinion has not changed, said Worthington, who lamented the fact that during his time on the council the city has only seen several thousand units of new housing be built.

"I still believe we need middle-class housing. Some people say we just need affordable; I think we need both," he said. "The number one way we get affordable housing is from subsidies from market-rate housing."

He also fought university officials for years on the issue of on-campus housing, which he has long advocated more should be built — a position opposed by numerous UC Berkeley administrations until very recently.

"The university has now said they believe they need to build 7,000 beds of student housing, so that is a giant step forward," said Worthington. "There were years I was lobbying the chancellor to build student housing and they said we don't need any more student housing."

He was also on the forefront of LGBT issues, urging his city to support marriage equality as one of his first actions he took after joining the board in December 1996. Due to opposition within the famously liberal city, it took him a little over a year to get it passed.

"In 1996 that was considered controversial in Berkeley," Worthington recalled. "The transformation of the landscape on that issue has been profound."

Although, Worthington said, there is still a long way to go in terms of full LGBT equality, pointing to legislation he was unable to pass this year that would have required the city to allow transgender people to use the name and gender of their choice on city documents. He hopes Robinson is able to work with the city attorney's office on it and push for its passage next year.

"I think we have made major changes, but I still think we have a long way to go," he said. "There is still a massive lack of understanding of the transgender community. A lot of left-wing people and right-wing people don't call transgender people the way they choose to be identified."

Contact the reporter at m.bajko@ebar.com.
Comments on Facebook