The Chicks have now, thankfully, reunited for the amazing new record 'Gaslighter.' The album contains everything you love about The Chicks, including breathtaking vocal solos and harmonies.
Kim David Smith, a gay Australian native who now lives and works in New York City, has released his first concert album: 'Live at Joe's Pub.' Smith's concert conjures up images of smoky nightclubs in Weimer Era Germany.
Broadway fans rejoice; Megan Hilty's concert with erudite pianist and musical genius Seth Rudetsky will stream Sunday July 26 at 5pm PST, with a repeat on Monday, July 27 at 1:30pm PST.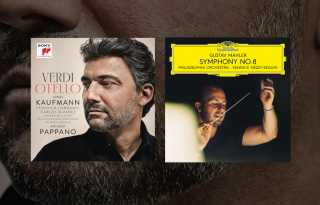 Jonas Kaufmann's performance as the lead in Verdi's 'Otello,' and a new recording of Mahler's eighth symphony, conducted by Yannick Nezet-Seguin, are reviewed.
Springsteen-inspired bands Steve Earle and the Dukes, Iron City Houserockers, plus Chicano Batman and other rocking groups' latest CDs are reviewed.
For those who have been counting (and patiently waiting), it's been 12 years since Rufus Wainwright has released an album of original pop music. Rest assured that with 'Unfollow the Rules,' Wainwright doesn't disappoint.
Missing SF Opera's summer performances? Tune in on Friday, July 10 at 7:30pm for a 90-minute free digital broadcast showcasing the many musicians, performers, and luminaries who would have shaped our summer season.
When it comes to Iggy Pop's solo work, he has yet to top the two he released in 1977: 'The Idiot' and 'Lust For Life,' each one newly reissued in expanded, double disc, deluxe editions, both produced by David Bowie.
Kent James, also known as the punk-influenced rock music frontman Nick Name, died at his home in Palm Springs on July 3, 2020. The gay singer-songwriter lived in San Francisco for a few years, and performed at local nightclubs.
Disco icon Sylvester's 'Step II' album has been reissued, and a short online documentary tells the story of his fabulous yet too-brief career and life.
Brittany Howard, Tom Goss, Jake Blount, Sarah Peacock and Maxx Mann offer diverse music with their own unique queer edge.
In one of the more creative stay-at-home projects, gay singer-songwriter Eric Himan offers a sweet tribute to the collective history of our "Local Gay Bookstore."