Notes, worthy: opera, classical and chamber concerts this fall
Tuesday Aug 31, 2021
Musical institutions in San Francisco and the Bay Area are emerging from the pandemic to offer new fall seasons. Forced to find ways to connect virtually for more than a year and a half, they are ready to brave the future of live performance.

Digital solutions helped during shutdowns, but nothing can replace the synergy between audience and performer. Online presentations should continue, but we are accepting all health mandates, if they permit in person attendance.

Symphonic
The San Francisco Symphony is already bringing limited crowds back to Davies Symphony Hall and well-curated streaming concerts make the SoundBox experience almost as good as being there. Masking and vaccinations will allow the full experience in December.

Music Director Esa-Pekka Salonen joins Collaborative Partner Esperanza Spalding and Alonzo King LINES Ballet for opening week celebrations Oct. 1 and 2.
The calendar through the holidays is a diverse lineup of guest artists, premieres, and orchestral repertoire. The inclusion of women composers Hannah Kendall's Tuxedo: Vasco 'de' Gama (SFS/U.S. Premiere) and Unsuk Chin Graffiti (SFS Premiere) in October is encouraging; Anna Clyne's Sound and Fury (SFS/U.S. premiere) arrives in November alongside Beethoven's Ninth.

Salonen conducts an MTT-style theme concert, Exotic Birds: Debussy, Messiaen & Saariaho, in October as part of the San Francisco Symphony Orchestral Series. The repertoire is squarely in the maestro's wheelhouse. Classics that are more traditional will feature in other concerts along with many living composers.

SFS Principal Trombone Timothy Higgins' Trombone Concerto, an SFS commission, premieres during Music Director Laureate Michael Tilson Thomas' return for two weeks in November.

Recuperating from recent surgery for a brain tumor, the Energizer Bunny of conductors said, "I look forward to seeing everyone again in November."

We look forward to the reunion too. His programs feature Mozart, Schumann, Copland and the overdue SFS premiere of African-American composer William Grant Still's "Patterns."

The Film Series returns in December with the Orchestra accompanying Craig Armstrong's score for Love, Actually and John Williams' music for Home Alone.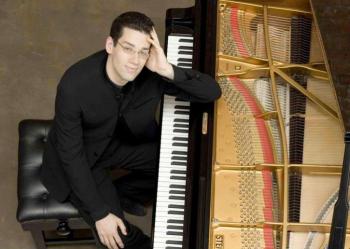 Handel's Messiah returns (Ba-dum-bum) in December. Other seasonal concerts and special events include Deck the Hall, Holiday Soul featuring Oakland Interfaith Gospel Choir, and A Merry-Achi Christmas, and Alan Cumming narrates The Nutcracker & the Mouse King.

A Cool Yule Christmas-Holiday Favorites of Frank & Ella with Capathia Jenkins and Tony Desare, sounds like fun too. And New Year's Eve with Darren Criss, conducted by Bruce Anthony Kiesling, is December 31.

Single tickets for all SFS 2021—22 season concerts have been available since the end of August. www.sfsymphony.org

Operatic
San Francisco Opera started its 99th season with performances of Puccini's Tosca, August 21-September 5. The verismo mega-hit has long been associated with milestones in the company's history: a good selection to bring audiences back after months of separation.

The indomitable SFO has been hard at work, installing new seats, strategizing the future and making a wealth of content available free online.

Tosca revives a production from 2018, reviewed favorably by the Bay Area Reporter in our Oct, 12, 2018 issue.

New Music Director Eun Sun Kim officially inaugurates her tenure from the orchestra pit and 35 year Chorus Director Ian Robertson prepares his singers for a final season opener before his retirement at the end of 2021.

Soprano Ailyn Perez is the titular diva. Out, proud and talented tenor Michael Fabiano is her lover Cavaradossi. Bass-baritone Alfred Walker plays Scarpia, one of opera's biggest baddies.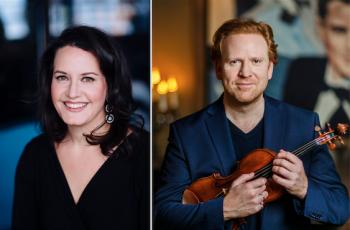 A one-night only celebration Friday, Sept. 10, 2021, Live and In Concert: The Homecoming signals "a new era" featuring three women who personify the face of opera today. Conductor Eun Sun Kim, avowed 'queer girl with a nose ring' mezzo-soprano Jamie Barton, and American soprano Rachel Willis-Sorensen.

The Homecoming includes toasts of sparkling wine and sit-down dinners, but is scaled down from previous galas. The event is simulcast to Oracle Park for free Opera at the Ballpark. A real San Francisco party!

Beethoven's only opera, Fidelio, has survived as one of his greatest works. The powerful ode to love is updated in Director Matthew Ozawa's new production from an eighteenth-century prison to a contemporary government detainment center.

Soprano Elza van den Heever as Leonore disguises herself as a man to save her husband Florestan (tenor Russell Thomas) from evil Don Pizarro (bass-baritone Greer Grimsley). Proudly we report Thomas, van den Heever, and Ozawa are all part of the LGBTQ+ community.

Fidelio is especially relevant today. The chorus of prisoners finding a brief moment in the sun and the exalted finale resonate amidst the pandemic and global strife. The production runs October 14—30, 2021.

Cosi Fan Tutte (November 21-December 3, 2021) is the second installment of a multi-year project tagging all operatic collaborations between Mozart and librettist Lorenzo Da Ponte. The concept invents a trilogy set within the same house through different eras. For Cosi, the house is converted into a 1930s country club.

We loved Part 1, with The Marriage of Figaro set in Colonial times Figaro 2019 B.A.R, Oct. 15, 2019).
Part 3, Don Giovanni, arrives next summer.
www.sfopera.com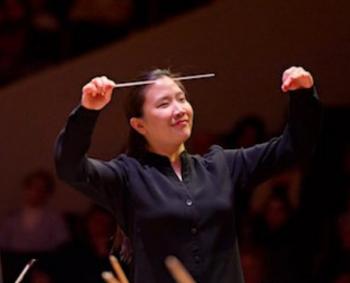 Operetta etc.
New Century Chamber Orchestra, with charismatic Music Director & Concertmaster Daniel Hope, returns to Bay Area and San Francisco venues September 30-October 3, 2021. Mark-Anthony Turnage's "Lament," for solo violin and string orchestra (NCCO Co-Commission) gets a US. Premiere. www.ncco.org

San Francisco Performances has been a major cultural force for 42 years. Three cheers and fingers crossed for the new season. Back-to-back bookings through December are slated for Herbst Theatre and Taube Atrium Theater. www.sfperformances.org

Lamplighters Music Theatre is another beloved survivor. The Company has been taking advantage of their presence at Yerba Buena Center for the Arts, joining with 42nd Street Moon, Ars Minerva, Opera Parallele, Pocket Opera, Theatre Flamenco, Urban Jazz Dance Company, and Volti for Welcome Back to the Arts in August at the YBCA Esplanade.

If you missed it, but long for their legendary wit and some Gilbert & Sullivan silliness, look at their plans. www.lamplighters.org

Help keep the Bay Area Reporter going in these tough times. To support local, independent, LGBTQ journalism, consider becoming a BAR member.