Back to Baton: five decades of opera & symphony stories
Tuesday Mar 30, 2021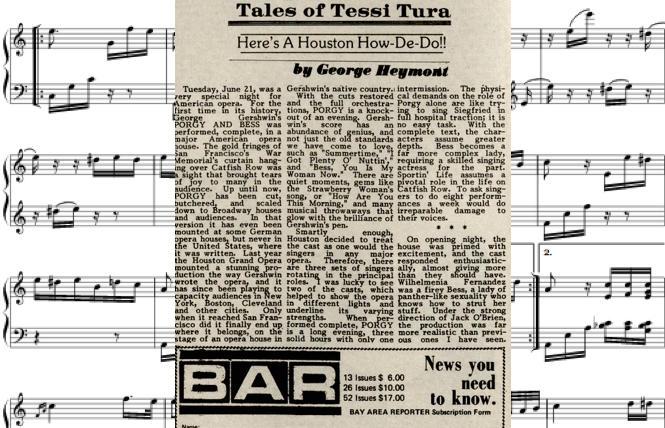 I could write a book. Instead, I will sum up 50 years of the Bay Area Reporter's classical music and opera coverage, noting examples and adding personal remarks. I will try to avoid a memoir. Not easy, considering I have been around for four of those decades. My adulthood is totally bound with B.A.R. history. And, yes, when they built Louise M. Davies Symphony Hall, I was wearing a hardhat.

Actually, former Fine Arts Editor George Heymont covered the opening of DSH, but I tagged along. Our friendship led to my hiring by Managing Editor Paul Lorch. Since 1980, the San Francisco Symphony has been my beat. More assignments came as the Arts section grew and my straight gig allowed, but the SFS was my first love.

The timing was good. After years of skepticism, B.A.R. reviewers were finally getting some recognition from major institutions.

Organizations like the Women's Philharmonic (1981-2004), The Society of Gay and Lesbian Composers (1985-1996), and the San Francisco Gay Men's Chorus (1978- ) were still necessary, but attitudes were improving.

The 1970s
In the 1970s, the paper focused on gay and lesbian content by necessity. Fledgling B.A.R. prioritized political social items- gay news by gay writers, with little room for music.

From the start, Bob Ross knew a queer take on arts and music, including the classics, was essential. His passion for dance guaranteed coverage.

In the second edition, Jay Noonan raved about Broadway goddesses Elaine Stritch and Lauren Bacall. A few pages on, Terry Alan Smith covered legendary Swedish opera star Birgit Nilsson in his article, "Opera Queen (April 1971). A diva is a diva is a diva. Finding Our Seat (May 1971), a book review by J.D. Miller, praised A Rage for Opera by Robert Lawrence.

Entertainment Editor Donald McLean, (aka Lori Shannon and Beverly LaSalle on the TV sitcom All in the Family) covered all the bases during his extended run writing a condensed arts column, Show Biz '75 (April 1975). A review of the Lamplighter's H.M.S. Pinafore made it into the mix. McLean remained in charge and classical coverage was spotty until a game changing new hire came aboard.
George Heymont started his fabled career with Tales of Tessi Tura. One day, he would be on the masthead as Fine Arts Editor. Mythic stories about George stem from his notoriously brash young persona. He was outrageous, but good-natured. His insightful and amusing criticism never wavered from a genuine love and understanding of opera and musical theatre.

An early scandal confusing his prose and personality followed coverage of Houston Grand Opera's historic presentation of Porgy and Bess at San Francisco Opera in 1977. The brilliant production reversed abridgements and restored the original score to make a complete debut in an American opera house. Heymont remarked, off the cuff, the rehabilitated masterpiece was 'Big, Black and Uncut.'

The review was titled a tamer, 'Here's a Houston How-De-Do!!,' but the spit-take quip went the '70s equivalent of viral. There's no such thing as bad publicity. Delighted readers who never considered attending opera were suddenly interested.

The 1980s
Heymont matured as an editor, but never lost his edge. Covering the long-awaited opening of Davies Symphony Hall in Sing Out, Louise! (September 1980), he discussed the untried acoustics under the sub-heading, 'Is Louise Davies Well Hung?'
Turns out, the answer was yes. As ever, he managed to inject enough gay wit to remind readers which newspaper they were reading.

George assigned the SF Symphony to me. For the next 15 years, I covered the rest of Music Director Edo de Waart's tenure (1970-1985), and all of Herbert Blomstedt's solid decade of leadership (1985-1995). Under the byline "Back To Baton," (Tess allowed naming rights), I wrote about De Waart's fourth year of SFS programming in Davies in "Symphony Sallies Forth" (April 1983).

De Waart brought innovations; the New and Unusual Music Series has become legend. Before turning 35 and becoming SFS composer-in-residence (1982-85) John Adams' future looked bright enough to need sunglasses ("Bright Future," Nov 20, 1980. We interviewed him for B.A.R. He had no problem talking to the gay press one day and Esquire the next.

Re-reading letters from the 1980s (Yes, folks typed and mailed during the Jurassic Period) evokes memories of a city full of musical adventure. PR directors kept in touch, Miriam Abrams of the Bay Area Women's Philharmonic thanked us for "perceptive" coverage (Jan. 20, 1988), and a charming note from the late Robin Sutherland, SFS Principal Keyboardist, expressed gratitude for B.A.R's. support and understanding before coming out.

We still couldn't out anyone without permission, a B.A.R. rule, but if readers were interested in the subject, that was gay enough. There were no limits on opinions- another B.A.R. tradition. Variety was key. The early days of America's AIDS crisis hit the classical music community hard. Specific response and coverage in fine arts came later in the epidemic.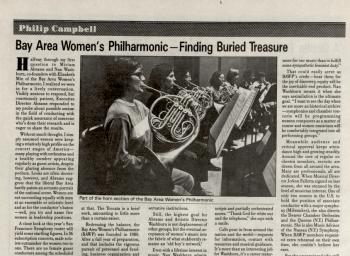 The 1990s
A February, 1995 article, "All Together Now," covered Classical Action: A Concerted Effort Against AIDS, a massive fundraiser at Davies Hall with the participation of SF Opera, Ballet, and Symphony with many famous guest artists. After intermission, the party-concert moved to the Opera House.

Chris Culwell had been Arts Editor for a few years, when Michael Tilson Thomas began his historic SF Symphony career. His arrival was a watershed event for the musical community.

The offer of an exclusive interview was a big deal. Chris trusted my writing and so did Symphony press relations. They knew we knew the maestro is gay, but wouldn't out him prematurely. A thrilling assignment, but for the first and only time in 41 years, I missed a deadline. My life partner and constant companion at DSH died of AIDS the week of the meeting.

Chris had my back and took the interview. The folks at SFS sent a dozen white roses with handwritten condolences from MTT. Peter Shelton, SFS cellist, a favorite of my mate's and his same age died of HIV 14 years later.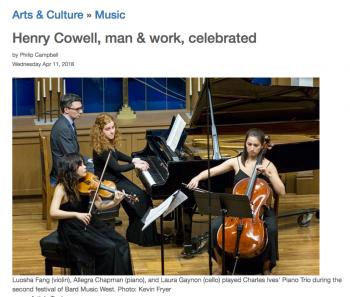 The 2000s
For the April 2011 40th Anniversary of the Bay Area Reporter, Arts Editor Roberto Friedman interviewed himself ('Culture Vulture'). The old Arts and Entertainment section had morphed into Arts & Culture. If anyone could articulate the mission, our resident bon vivant of 'Out There' was just the chap to ask and answer.

"I've always wanted to cover arts and culture both high and low... I want our talented staff to write about gay artists, gay arts, other art that matters to gay people... The gay press has matured over our lifetimes... I look for intelligent critical writing from contributors." Since Roberto got that promotion in 1996, Arts & Culture continued a tradition of growing eclecticism and inclusion.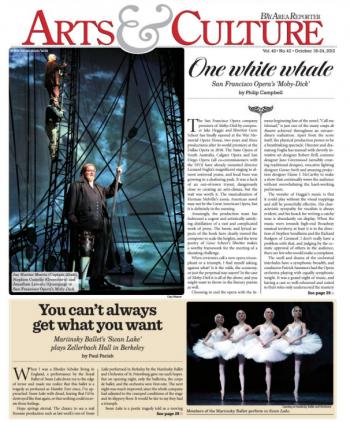 The play-off music starting, so I will quick call it a wrap with some highly subjective moments from the 2000s. Pardon the exclusions and too brief references to other important contributors to classical music reviews, especially recorded music critic Tim Pfaff and opera maven Jason Victor Serinus.

Bard Music West's Henry Cowell concert was reviewed in "A Legend Restored," about the fascinating rehabilitation of neglected gay composer Henry Cowell by the brilliant young talents at Bard.

SoundBox: Curated and conducted by MTT, an evening at the trendy SFS nightclub celebrating Bay Area gay icon and international maverick composer Lou Harrison in the article, "Skip to my Lou."

The review "Naughty Nobles" covered West Edge Opera's Powder her Face, a raunchy opera about a British sex scandal by gay composer Thomas Adès; the production first alerted us to the enormous flair of daring West Edge. We mentioned barihunk star Hadleigh Adams as out and proud and co-star Emma McNairy quickly wrote to tell us she is too!

Merola Opera Program: In "If I Were You," we gave gay composer Jake Heggie and librettist Gene Scheer more well-deserved ink.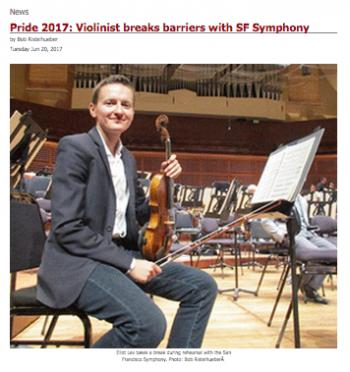 San Francisco Opera has had hits with their powerful Moby-Dick reviewed in the Oct, 18, 2012 issue) and Christmassy It's A Wonderful Life but a less assuming score commissioned by Merola to be performed by gifted young Program participants signifies everything I am proud about B.A.R.'s artistic diversity. It is affirming to see a new generation of musicians reading and quoting our paper all over the nation and world.

Covering San Francisco Symphony news, violinist Eliot Lev came out and made history as the first transgender member of the orchestra. In our 2017 Pride edition, Lev talked about it in a video shown during the Symphony Pride concert at Davies Hall in April. The video, featuring several LGBT musicians, was one of the highpoints of an amazing lovefest.

Symphony Pride, MTT's gallant replacement of tour concerts, was cancelled in North Carolina in response to state legislation overturning transgender protection.

It was also a way for the cherished maestro to give back to the city he has loved and lived in for 25 years. With husband Joshua Robison at his side and guest artist Audra McDonald singing her lovely heart out, MTT treated a packed hall and parade of California politicos to a concert featuring works by gay composers.

Happy Golden Anniversary B.A.R.! Maybe I should write that book.