Musical insights with Michael Tilson Thomas
Tuesday Mar 17, 2020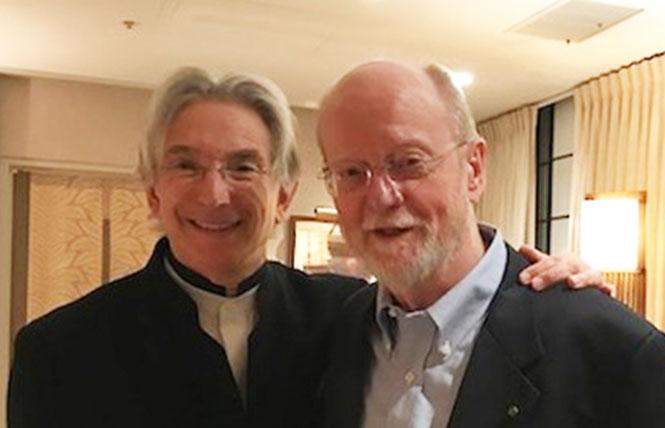 Any performance of a Mahler symphony with Michael Tilson Thomas promises to be an event. His lifelong commitment to the composer always produces fresh insight. Some works are so intertwined with MTT, it is hard to tell where composer ends and interpreter begins.
Mahler's tragic Symphony No. 6 is one of the strongest examples of an interpretation that continues to grow. It makes an almost supernatural nexus of composer, musicians, and listeners with contemporary history. In his final season as San Francisco Symphony Music Director, MTT's performance at Davies Symphony Hall on March 6 still resonates.
Meant as something of a final local dress rehearsal before joining repertory for MTT's last European tour with the Orchestra, the electrifying concert turned out to be the last SFS performance until the end of April, at least, as of this writing. Cancellations due to Covid-19 are expanding throughout the city and world on a daily basis. The tour is kaput, and like it or lump it, we all must cope as best we can. Anyone who has seen the endearing videos of quarantined Italians serenading neighbors from their open windows feels the power of music. It connects and consoles us.
Administration at SFS faced an inevitable decision. Expressing his own disappointment and resolution to comply, MTT said, "The most important thing is to focus on everyone's health and well-being. On behalf of all the musicians in the San Francisco Symphony, we want to express our regrets that we cannot make music for you now, and to wish everyone good health."
At the concert, given over entirely to an uninterrupted Mahler Sixth, many already felt a mixture of emotions. Knowing this would probably be the last time to experience this work with MTT's vision at DSH added nostalgia. After witnessing his fabulous 25-year career, marked by a succession of triumphs, the historic Mahler Project remains a major milestone.
We remember the grim days following 9/11, when, by sheer coincidence, the Symphony No. 6 served as a requiem for the dead and profound catharsis for shocked local listeners. The recording on the SFS Media label is a criterion for Mahler interpretations.
Charles Wuorinen (1938-2020)
Charles Wuorinen, Pulitzer Prize-winning gay American composer, longtime friend and colleague of Michael Tilson Thomas, and Composer-in-Residence for the San Francisco Symphony from 1985-89, died on March 11, 2020, from injuries suffered in a fall last September.
Among many awards and international recognition, Wuorinen will be remembered prominently as an opera composer. "Haroun and the Sea of Stories," based on a children's novel by Salman Rushdie, with a libretto by James Fenton, and "Brokeback Mountain" (libretto by Annie Proulx, from her own short story) earned admiration from surprised critics and listeners. One writer joked about "Brokeback," saying it was like "Gay 12-Tone Cowboys."
Considered a rather cerebral writer, Wuorinen seemed an unlikely composer for "Brokeback," but he thought of the project himself, and his manager and husband Howard Stokar agreed it was "a marvelous idea." The work was commissioned and premiered by the Teatro Real in Madrid.
Commissioned by MTT and the SFS with support from the Phyllis C. Wattis Fund for New Works of Music, Wuorinen's "Sudden Changes" premiered at Davies Symphony Hall in celebration of the composer's 80th birthday. Grinning mischievously from ear to ear, MTT introduced the new work as confirmation of Charles Wuorinen's uncompromising integrity. Our enthusiastic Bay Area Reporter review is quoted on the composer's website and his publisher's. We honor and remember him.
Comments on Facebook