Gay string quartet Well-Strung goes to the movies
Tuesday Sep 10, 2019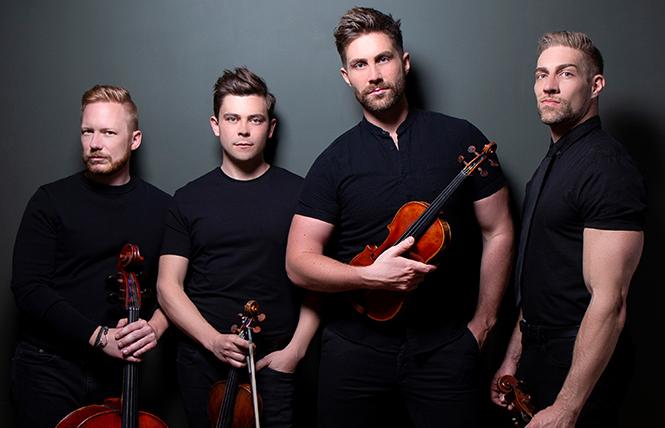 Well-Strung, the adorably hot gay string quartet from New York City, returns to Feinstein's at the Nikko for three shows Sept. 13-15. The group will be celebrating some of the biggest songs from the Silver Screen with their unique sound, which blends classical, pop music, and vocals. The guys are Edmund Bagnell (first violin), Chris Marchant (second violin), Daniel Shevlin (cello) and Trevor Wadleigh (viola). Their talents have gotten them some impressive gigs, including performing for President Obama, presidential candidate Hillary Clinton, and with some of musical theater's biggest names, including Neil Patrick Harris, Kristen Chenoweth, and Audra McDonald. They have also performed at the Vatican, which Shevlin said went without a hitch, even though the Vatican is notoriously anti-gay.
"It was a closed event, so it didn't seem to be an issue," he said. "We still got a private tour of the Sistine Chapel."
The guys report they got a big kick out of performing for Clinton. "Playing for Hillary was totally unreal," said Bagnell. "But thankfully we got to meet her backstage before we performed for her, so we had a little time to adjust. She couldn't have been more gracious, and that will go down as one of my favorite performances of ours."
The bandmates are very casual about being gay, not making a big deal out of it, but also being open about it. "Always be yourself, right?" said Marchant. "That goes for being gay, too. I wouldn't want to enter any endeavor, performance or otherwise, that stopped me from being fully myself, regardless of the political climate."
"In our music videos you can see that we never back away from showing who we are," added Bagnell. "It's very important to us to show that we are out and proud."
The band's name, an obvious double entendre, has amused a number of their fans. "We can't resist a good pun that has to do with string instruments," said Bagnell.
Marchant recalled how the seeds were planted for the four of them to come together. "Before I met any of the other guys, I did a photo shoot with DNA magazine," he said. "It was their musician issue, and they were doing a photo spread on me as a violinist. In the interview I talked about wanting to create a string quartet that mixed pop and classical music together. They titled the spread 'Well-Strung,' and I knew that would be our group's name."
The group is excited to be returning to Feinstein's. They say that both the audiences and the cocktails at the club are superb. The Movie Show, they promise, will be loads of fun.
"Without giving too much away, we made sure to include a movie-score medley by the great film composer John Williams," said Shevlin. "His scores definitely provided some influence to us budding musicians as we grew up hearing his great melodies in all of the blockbuster films he penned the music for." Williams has composed the scores for dozens of iconic films, including highly recognizable themes for classics like "Jaws" and "Star Wars."
"We just chose the pieces we had personal connections to as both musicians and avid movie fans," said Shevlin. "And yes, there will definitely be lots of vocals!"
"The Movie Show endeavors not only to celebrate great music from movies we know and love, but also to highlight how important music is in film," said Wadleigh. "If I can be so bold, perhaps it's what can make a film the lasting, beloved cultural phenomenon we love and revisit time and time again."
Well-Strung in The Movie Show, Fri. & Sat., Sept. 13 & 14, 8 p.m. Sun., Sept. 15 at 5 p.m. Feinstein's at the Nikko, 222 Mason St., SF. Tickets ($50-$90): www.feinsteinssf.com
Comments on Facebook