Playlist for your gay days & nights
Tuesday Sep 10, 2019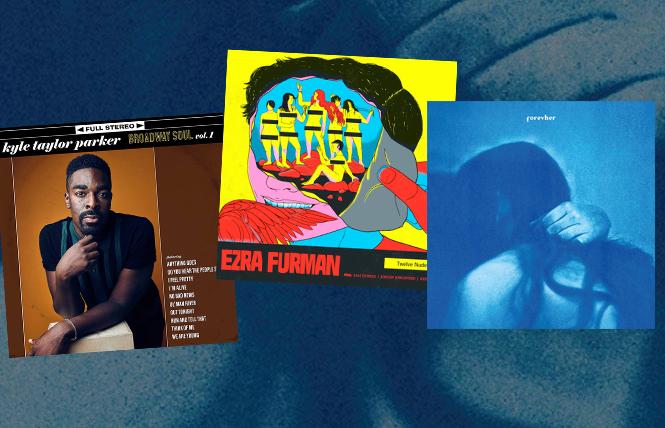 If you were lucky enough to attend a performance of the first national tour of the Tony-winning musical "Kinky Boots," you probably saw out actor-singer Kyle Taylor Parker filling the distinctive thigh-high red boots worn by Billy Porter on Broadway. Parker makes his recording debut on "Broadway Soul, Vol. 1" (Broadway Records). If this is the first of a series from Parker, we have much to look forward to. While not all the material works (opener "Anything Goes" is a good example), much of it is exhilarating and worth hearing. "Think of Me" (from "Phantom of the Opera") is transformed into a retro disco number and could do well with the proper club remix. The pairing of "Ol' Man River" (from "Showboat") with Sam Cooke's "A Change Is Gonna Come" couldn't have come at a better time. Parker's take on "No Bad News" (from "The Wiz") and his transformation of "Do You Hear the People Sing?" (from "Les Miserables") into a gospel-fueled number are also very timely.

Since 2007, when Ezra Furman released his debut album "Banging Down the Doors" with his then-band The Harpoons, he's established himself as one of the most captivating queer musicians of the 21st century. Furman's 2018 album "Transangelic Exodus" found him at the peak of his songwriting and performance skills. On "Twelve Nudes" (Bella Union), Furman is joined by Sam Durkes, Jorgen Jorgensen and Ben Joseph for one of his most raucous efforts to date. Opening track "Calm Down, aka I Should Not Be Alone" rocks with the raw energy of a long-lost Rolling Stones song. The rapid-fire "Rated R Crusaders" wouldn't be out of place on a Nine Inch Nails album. But Furman is very much his own artist, as he proves with the wailing wall of guitars on "Trauma," the torchy twang of "I Wanna Be Your Girlfriend" and the album's most accessible track, "In America."

With "Stuck Together" (wearemutts.com), the latest album by Mutts led by out frontman Mike Maimone, the Chicago trio just keeps getting better. Beginning with the sexy, soulful "I'll Be Around" (complete with a heavenly gospel choir), continuing with the kooky "Tin Foil Hat," the political statement of "Treason," the atmospherics of "Never Know Now," and "Stick Together" at the tail end, Mutts are definitely man's (and everyone else's) best friend.

"Forevher" (Secretly Canadian), the second album by queer Brit diva Shura, aka Aleksandra Denton, is all about being in love. Sultry and snappy, these 11 songs will make even the hardest-hearted listener improvise a dance to honor Cupid. Like a lo-fi Robyn, Shura knows how to get our booties bouncing on "The Stage," "Religion (U Can Lay Your Hands On Me)" and "Side Effects."

Joe Troop, the out gay frontman of bluegrass act Che Apalache, is fearlessly paving the way for others in the genre to be their true selves. With features in Billboard and No Depression, the spotlight is on the group's world-traveling lead vocalist, fiddler and songwriter. Produced by Bela Fleck, "Rearrange My Heart" (Free Dirt) has an international flair, broadening the genre's horizons. Che Apalache don't shy away from subjects including immigration and the rise of the meek.

Tanya Tucker is straight and has a history of dating high-profile menfolk such as Glen Campbell, Don Johnson and Merle Haggard. She's not exactly a gay icon. So what's she doing in this column? "While I'm Livin'" (Fantasy), outlaw diva Tucker's first album in 10 years, was co-produced by out Grammy-winning singer-songwriter Brandi Carlile (with Shooter Jennings), and all 10 songs were co-written by Carlile and her longtime twin collaborators Tim and Phil Hanseroth, that's why! Tucker's lived-in voice is a good match for these countrified compositions, some of the twangiest tunes in Carlile's canon. Everyone benefits here, as you can hear on standouts "I Don't Owe You Anything," "Mustang Ridge," "Seminole Wind Calling" and the gorgeous "Bring My Flowers Now."

Combining standards with originals, out vocalist Peter Eldridge teams up with pianist Kenny Werner and "the fantastical string orchestra" on "Somewhere" (Rosebud Music). Eldridge croons his way through the title song (from "West Side Story"), paired up with Johnny Mandel's "A Time for Love" and the familiar "You Don't Know Me."
Comments on Facebook