Listen to lesbians: pop music
Tuesday Sep 3, 2019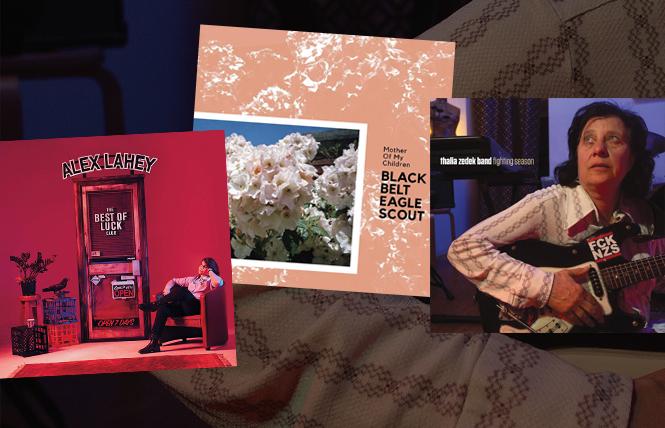 It's best to get this out of the way first. Comparing Alex Lahey to fellow queer Aussie Courtney Barnett is almost unavoidable. Lahey, a few years younger than Barnett, shares a similar sense of humor and musical aesthetic. Her phrasing, particularly on "Misery Guts," is definitely reminiscent of Barnett's. That said, Lahey's exceptional new album "The Best of Luck Club" (Dead Oceans) is a rocking, rousing affair that has its own distinctive personality. Lahey has a knack for accessible arena rockers such as "Am I Doing It Right?" and "I Need To Move On." Lucky for listeners, she's also comfortable playing the indie diva on "I Don't Get Invited to Parties Anymore," "Interior Demeanor" and "I Want to Live with You." Alex Lahey performs on Sept. 5 at The Independent in San Francisco.

If Lahey isn't cool enough for you (and there's no reason she shouldn't be), consider Black Belt Eagle Scout's "Mother of My Children" (Saddle Creek) and Hand Habits' "Placeholder" (Saddle Creek). Black Belt Eagle Scout (aka Katherine Paul) is a queer musician rooted in both her Native American heritage and the indie rock tradition. It's a potent combination at its most riveting on album opener "Soft Stud," "I Don't Have You in My Life" and "Just Lie Down." The songs on "Placeholder" by Hand Habits (aka Meg Duffy) sound deceptively sweeter than they are. This device works well in subtly getting across the difficult moods of "Can't Calm Down," "Jessica" and "The Book of How to Change, Part II."

In case any of these young whippersnappers get out of line, lesbian punk foremother Thalia Zedek can set them straight (so to speak). With a plaintive wail on par with the punk godmother of us all Patti Smith, Zedek, known for her work with groundbreaking bands such as Come, Live Skull and Uzi, makes some of her most overtly political statements on "Fighting Season" (Thrill Jockey), including the title cut, "Of the Unknown" and "War Not Won."

Also known for her political music, SONiA disappear fear confronts the rise of white nationalism on her new album "By My Silence" (disappearfear.com). It's comprised of five new songs by SONiA, including "A Voice for Nudem Durak" and the bouncy "Wandering Jew," as well as folk songs and covers of Leonard Cohen's "Hallelujah" and Nick Annis and Ellen Bukstel's title tune.

Prolific singer-songwriter Rachael Sage is perhaps best known for her keyboard work. Sage shifts gears and enters SONiA's folky world with "Pseudomyopia" (MPress), an album on which she reimagines 11 songs from her 2018 "Myopia" record, including her cover of Howard Jones' "No One Is To Blame" on acoustic guitar. The results are refreshing and confirm Sage's status as a musical visionary.

Even though she now has five full-length albums to her name, LP (aka Laura Pergolizzi) may be best known for writing hit songs for others such as Cher, Rita Ora, Rihanna, Christina Aguilera and Greyson Chance. That shouldn't diminish LP's ability to perform her own songs, and it doesn't, as you can hear on her newest disc "Heart to Mouth" (Vagrant/BMG), featuring the standout numbers "Die for Your Love," "Girls Go Wild" and "Hey Nice to Know Ya."

EPs are even more popular than they were in the 1980s. Both Ria Mae and Anne Steele have new EPs that don't take long to listen to. Juno-nominated Canadian singer-songwriter Ria Mae is at her best when she aims for the dance-floor, as she does on "Not Your Type" on her eight-song EP "Stars" (Sony Music). But the Tegan Quin duet on "It's You" also has its charms. Steele, who made her name in the cabaret world, continues to put some distance between herself and that scene, as you can hear on the modern pop-oriented seven-song EP "Made Out of Stars" (annesteele.com). Steele also has her sights set on the dance-floor on noteworthy songs "Love Can Take Us There" and "Obsessed."

While you're at it, be sure to keep in mind new releases such as "The Griot" (Vizztone) by lesbian blues goddess Gaye Adegbalola, "Rhythm of the Rain" (ameliawhite.com) by Amelia White (featuring songs co-written with Lori McKenna and Anne McCue), "The Next Line" (bridgetboyle.com), "Trust and the High Wire" (myshkinwarbler.com) and "Home" (Amityville Records) by Sarah Stop (on cassette, no less!).
Comments on Facebook