Ben Platt sings from the heart
Tuesday Sep 3, 2019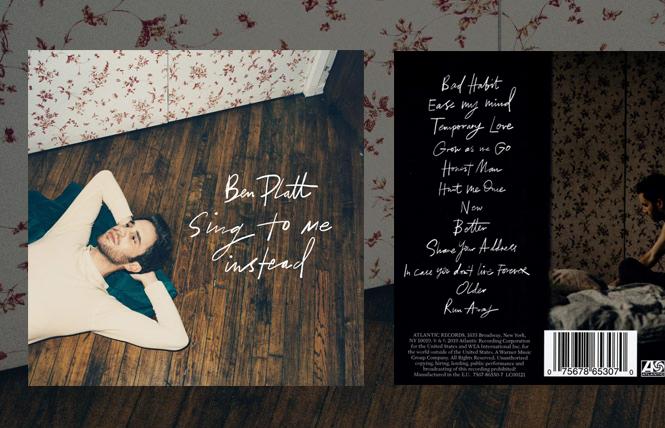 Ben Platt may wind up becoming the gay Barbara Streisand, meaning a multiplatform superstar. He is one of only a handful of male Broadway musical stars this century to branch out into TV and movies, and with the release of his new CD "Sing to Me Instead," also to have a promising career as a singer. His talent extends to songwriting, having written or co-written every track on the CD. With a starring TV role as the ambitious Payton Hobart in Ryan Murphy's dark comic satire "The Politician" ready to debut Sept. 27 on Netflix, Platt is clearly on his way to becoming an entertainment juggernaut. He turns 26 that week.

Born in LA, the Jewish son of producer Mark Platt, he played the magic-loving Benji Applebaum in the popular "Pitch Perfect" movies. He played the role of Elder Cunningham in both the Chicago and Broadway productions of "The Book of Mormon," but he won breakout fame as the socially anxious teenage star of the musical "Dear Evan Hansen," which won him a Tony Award in 2017, a Grammy Award for the Original Broadway Cast Recording, and a Daytime Emmy Award for a cast performance of "You Will Be Found" on "The Today Show." He joined forces with Lin Manuel Miranda to craft a mash-up of "Hansen" songs benefitting the "March for Our Lives" anti-gun-violence movement. Moving into a new Manhattan apartment in 2017, he bought an "old, nondescript German piano," reacquainting himself on an instrument he learned as a child, to write songs and try to find a sound.

Signing with Atlantic Records, he didn't want to sing traditional Broadway show tunes or songs written by other composers. He challenged himself to create something original, inviting listeners "to learn more about who I am and get a glimpse into my heart." One of the album's videos, "Ease My Mind," caused a stir with its romantic storyline between Platt and out gay actor Charlie Carver. Magazines trumpeted it as Platt's coming-out story. But Platt came out to his parents at age 12, and has been candid about his sexuality for years. While his lyrics use male pronouns and focus on his relationships with men, he doesn't want the gay angle to overshadow his music.

Most of the songs concern two past relationships. He confesses in the opening "Bad Habit," "Hate to say that I love you, hate to say that I need you, hate to say that I want you, but I do," even though the guy is not good for him. He doesn't want "Temporary Love," proclaiming, "We don't have to hide our love away, and both of us are gonna make mistakes, cause leaning on somebody's never easy. Now my heart is in your hands, please don't give it up, this is not a temporary love." "Honest Man" shows the difficulty of dating a closeted man, begging, "Why can't you take my hand, even if I'm not what you planned? But I'm a safe place to land, if you come out then I promise that I'll meet you halfway, cause I see every part of you."

Platt's sensitivity is center stage in "Hurt Me Once," about cutting ties once love has ended. "If you have to hurt me, hurt me once. If you have to end it, get it done." After the relationship has ended, he attempts to start again in "New." He's not good at pretending that he's happy to be alone in "Better." "Cause I lost part of me when I lost all of you. I don't wanna come crawling, but I catch myself falling." In "Share Your Address," he recalls the excitement of a burgeoning romance moving too fast. "I want a key to your house, I wanna pick up your clothes, I wanna know where you hide things, wanna be in your photos, wanna share your address."

Most of the songs are tender, melancholic ballads, with haunting but catchy melodies and simple instrumentation, usually piano or acoustic guitar. A few have gospel-like background vocals. The real focuses here are the poignant lyrics and Platt's vibrato voice cascading through several octaves. Platt claims Joni Mitchell, Carole King, and Stevie Wonder as formative influences, but the songs bear a strong resemblance to Sam Smith and Adele (one of his collaborators, Eg White, wrote some of her hit songs). Because Platt writes about rites of passages in all relationships, everyone, regardless of orientation and gender, can appreciate the doubt, heartbreak, regret, and exhilaration he references. Time listening to "Sing to Me Instead" is well rewarded.
Comments on Facebook