Courtships aboard the Quarterdeck
Tuesday Aug 13, 2019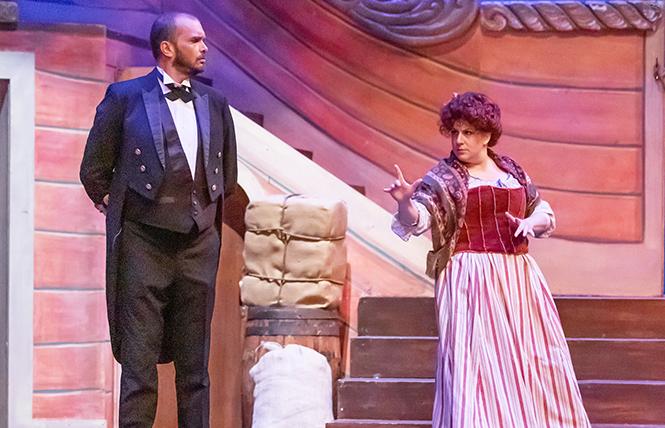 "H.M.S. Pinafore" sailed into Walnut Creek earlier this month, beginning a run of four weekend dockings in the Bay Area. San Francisco's famous Lamplighters Music Theatre raises the mainsail on Gilbert & Sullivan's perennial favorite every four years or so, and friends and fans can rest assured: the "saucy ship" is still a beauty.
In typical fashion, the Company maintains tradition while keeping things fresh and engaging. Stage Director Ellen Brooks and veteran Conductor/Music Director Baker Peeples are steering Lamplighters' newbies and seasoned troupers in a glowing production of the beloved classic, with extra attention paid to historical accuracy. Costume Designer Judy Jackson and Costumer Nika Cassaro create a richly detailed vintage wardrobe with the expert help of Hair/Wig Designer Kerry Rider-Kuhn. Everyone looks just right aboard the colorful Quarterdeck by Set Designer Peter Crompton.
The roles of Josephine Corcoran and Ralph (say Rafe) Rackstraw (the requisite pair of star-crossed young lovers) are double-cast; in current Lamplighters practice, single performers fill the other roles and character parts. It makes good sense because Sullivan's impassioned melodies make some strenuous demands on the soprano and tenor leads.
On opening night at the Lesher Center in Walnut Creek, tenor Jackson Beaman made his Lamplighters debut as Able Seaman Ralph, with his voice already showing signs of strain. He looked shipshape from start to finish, however, and paired attractively with bright-toned and plucky soprano Jennifer Mitchell as the Captain's haughty daughter Josephine.
As per the G&S playbook, their amorous confusion clears in time for the final curtain. In "H.M.S. Pinafore" the deus ex machina is embodied by the "plump and pleasing person" Little Buttercup. Hardly plump but pleasing anyway, Sonia Gariaeff has been with the Lamplighters since 2003, and it shows in her assured and amusing Mrs. Cripps (Little Buttercup). She also gets to sing one of the operetta's most memorable tunes.
Michael Grammer as Captain Corcoran, Josephine's father and Commander of the Pinafore (until Buttercup's shocking finale reveal!), made his Lamplighters debut earlier this year in hilarious comedy drag. He's in historically true naval drag this time, and it suits him well. Handsome and a bit more serious than routine portrayals, Grammer makes a sympathetic impression.
As England chooses Boris Johnson and the surreal threat of a no-deal Brexit, W.S. Gilbert's skewering of the class system and its pompous privilege proves timeless. The Rt. Hon. Sir Joseph Porter, K.C.B. (First Lord of the Admiralty) remains one of the best portraits ever of an inept British peer.
Sir Joseph gleefully admits, "I thought so little, they rewarded me, by making me the Ruler of the Queen's Navee!," and as Lamplighters' priceless comic actor F. Lawrence Ewing started "When I was a lad," a ripple of delighted appreciation filled the theatre.
Gilbert's creaky plot devices are endearingly familiar, too. Absurd characters and situations abound, and the librettist uses them shamelessly to steal laughs and tie up loose ends. Creepy Dick Deadeye (Able Seaman) is a classic example. Making trouble for his crewmates gives Deadeye a vague (and silly-funny) motivation to fill the Captain's head with suspicions. William Neely has been a Lamplighter for an amazing 41 years, and his smarmy portrayal is a model of G&S acting.
Mezzo-soprano Elana Cowen as flirty Hebe (Sir Joseph's First Cousin) is another fine example of the Company's mastery of Savoy style.
The Chorus of Sailors, Sisters, Cousins, and Aunts filled the Lesher Center with infectious enthusiasm, despite some subtle opening-night hesitation. Self-conscious pacing relaxed as the evening went on, and all traces of nervousness surely disappeared after the show traveled on to Mountain View Center for the Performing Arts. Baker Peeples guided the full orchestra with customary understanding. The richness of sound he elicits is always a special treat.
Next port for "H.M.S. Pinafore" is in San Francisco, the Blue Shield of California Theater at Yerba Buena Center for the Arts. Two performances on Sat., Aug 17 (afternoon and evening), and a matinee on Sun., Aug. 18, will feature Ellen Leslie and Patrick Hagen, the double-cast Ralph and Josephine (matinees). The run concludes Aug. 24 & 25 at Bankhead Theater, Livermore. www.lamplighters.org
Comments on Facebook