Discovery of lost time: 'Tarare'
Tuesday Aug 13, 2019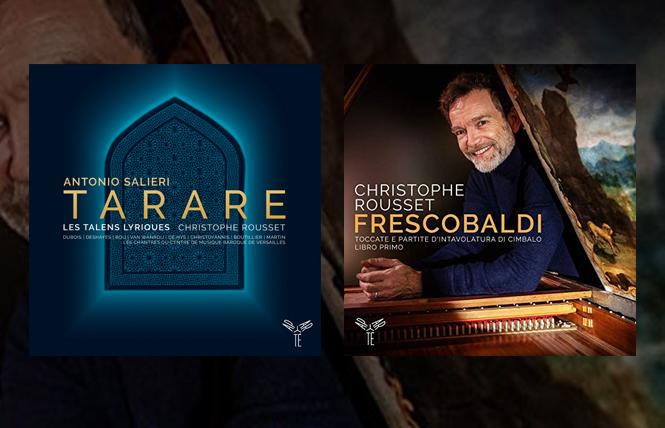 It's a fool's errand, when it's not Peter Sellars', to update the fascinations of 18th-century opera — clashes between Christians and Muslims, say — as if they have something to tell us about the pickle of globalization we're all in today. Yet often enough, they do.
It's all-too-obvious how Antonio Salieri's 1787 opera "Tarare" could tickle the fancy of a politically inclined present-day director, only beginning with the fact that it is set in the kingdom of the sultan of the Strait of Hormuz. The sultan, Atar, so closely parallels Trump in his narcissism, inflated sense of self-importance, obsession with dominating women and generally running his kingdom like a crook, it's just as well that we get our first recording of "Tarare" (Aparte) audio-only, drawn from a live concert performance.
Milos Forman's infamous tarring of Salieri in his equal-opportunity-slur biopic "Amadeus" made a mountain out of a molehill of history and helped perpetuate Salieri's nearly total subsequent eclipse by Mozart. But, like the Commendatore in Mozart's supreme "comic drama" (his words) "Don Giovanni," Salieri is now coming back for what is rightfully his.
No one has done more for Salieri's return than out, tireless early-music wizard Christophe Rousset, who only a few years back made a recording of Salieri's "La Grotta di Trofonio" that demonstrated it warranted consideration alongside "Giovanni." In a New Yorker column built around the new "Tarare," Alex Ross wrote, "Above all, [Salieri's] music is worth hearing. Mozart was a greater composer, but not immeasurably greater."
Rousset's avidity for reviving lost-to-time 18th-century opera repertoire has been a constant over his quarter-century-plus career. Along with some one-offs, he has dedicated himself to the repertoire of Jean-Philippe Rameau, including the operas, and of the hugely influential if sexually uncategorizable Jean-Baptiste Lully, whose very-little-known opera "Iris" Rousset and company put in the can this summer. Since the Italian "La Grotta," Rousset has turned his attention to Salieri's French operas, beginning with last year's release of "Les Horaces," a flop at its stage premiere, but whose virtues Rousset has made audible.
"Tarare" is a better opera, and it can't hurt its chances onstage that it is, delectably, about the overthrow of a despot. Its libretto, by Pierre Beaumarchais, of the revolutionary Figaro trilogy French plays, is heavily larded not only with familiar opera conventions of disguise, mistaken identity and the awkward collisions of class mores, but also with more than a whiff of class-friction, abolitionist sentiment and a critique of right rule.
The despot is Atar, whose penchant for calling slaves, people of color and anyone of lesser stature "savages" and "animals" adumbrates the standard Trump rally. Tarare is a soldier whom Atar sends into battle because the soldier is showing him up. The sultan is informed that this "demon" who threatens his legitimacy is "a strong spirit, a sensitive and generous heart that is easily moved, and never subject to anger: such a man is most dangerous!"
Atar has his Epsteinian eye on Astasie, Tarare's beloved, whom he whisks off to his harem and renames Izra. If you're familiar with 18th-century librettos, the rest you know: love wins, and Tarare prevails as the people's chosen king.
The score is full of invention and challenges to musical cliches. The opening Prologue is not about royal glory, but rather, the power of Nature over wind and fire. Its effects prefigure Haydn and climate crisis. You can hear, too, more than inklings of Beethoven's "Fidelio" in the introduction to Tarare's Act II aria, "De quel nouveau malheur," decrying the darkness that surrounds him after being sent into exile.
In a world overrun with top-class early-music ensembles, Rousset's Les Talens Lyriques holds sway over the others. Instrumental brilliance and tightness of ensemble match, on historical instruments, those of the Berlin Philharmonic. Most of the central Act III is dance music, and the suavity, grace and versatility of Rousset's direction mean the music on its own does dance. Amidst a raging dispute between the Asians and the Europeans (Islam and the West?) Calpigi, Tarare's sidekick, gets off the wicked line, "It's like those celebrations in France, where all is well, so long as people dance."
Chorus and vocal soloists sing with precision and elan. What distinguishes Les Talens Lyriques' work is Rousset's ability to get them to fully express opera's outsized situations and emotions while also, light-fingeredly, sending them up.
Last year Rousset recorded Louis Couperin solo-harpsichord music on a historical instrument that was eye-watering in its intimate interaction between player and instrument. He's just done the same for a set of solo works by Girolamo Frescobaldi (Aparte) on a 1615 harpsichord he owns. Where he drew out the pungency of the Couperin, he unearths the gnarly and moving in Frescobaldi, whose music is too-often written off as bland.
Comments on Facebook