Late summer musical evenings
Friday Aug 2, 2019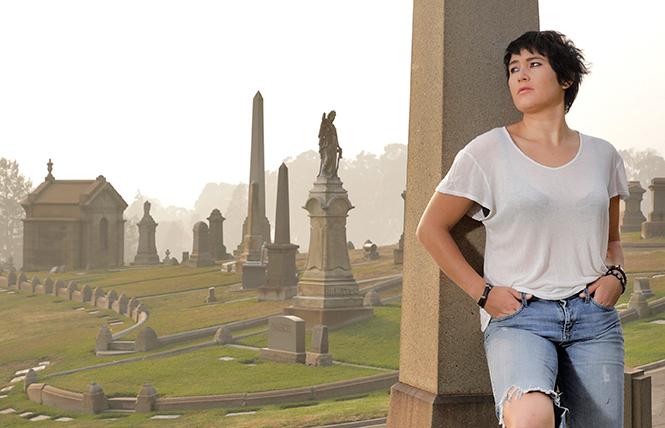 San Franciscans tired of foggy summer nights know a trip to the East Bay (or South) can be just the ticket to a balmy evening or an SPF 30 afternoon. For music-lovers and especially opera fans, crossing the county line in August looks extra-inviting this year. Musical performances run the gamut from radical visions to cheeringly traditional. It's something for everyone — but if you can't stand the heat, there is still plenty of action back in town.

West Edge Opera, the brilliant and excitingly unpredictable Berkeley-based organization led by General Director Mark Streshinsky and Musical Director Jonathan Khuner, presents three productions for Summer Festival 2019, Aug. 3-18. A cynical take on 20th-century morality, a bold and timely look at an early music masterpiece, and the West Coast Premiere of an opera based on a celebrated film each receive three performances in repertory at The Bridge Yard in Oakland, near the East Bay landing of the Bay Bridge.

The huge, completely renovated industrial building was used in the 1930s as a repair facility for rail cars. Known for unusual venues, West Edge still manages to find easily accessible sites. Drivers take the Grand Ave. exit from the Bay Bridge, and there is ample parking. A chartered BART Shuttle runs regularly from the West Oakland Station. The convivial festival pavilion is back for outside dining.

From the time of Germany's so-called Weimar Renaissance, Kurt Weill and Bertholt Brecht's "Threepenny Opera" opens the season Saturday, Aug. 3. Elkhanah Pulitzer directs her seventh show for West Edge Opera. Her stunning productions of Thomas Ades' "Powder Her Face" and Luca Francesconi's deeply disturbing "Quartett" are permanently etched in memory.

Brecht and Weill's "opera for beggars" satirizes conventional opera and operetta, but contains many famous tunes of its own. Performing in English with surtitles, hunky tenor Derek Chester, as anti-hero MacHeath (yes, Mack the Knife), makes his WEO debut. Soprano Maya Kherani returns to play sweet Polly Peachum. We noted her appearance in the World Premiere of composer Laura Kaminsky's "Today It Rains" at Opera Parallele in March.

Everybody's favorite character actor-singer at San Francisco Opera, mezzo-soprano Catherine Cook is dream-cast as Mrs. Peachum. Portraying Lucy Brown, soprano Erin O'Meally delighted Bay Area audiences as a feminist Mabel in Lamplighters Music Theatre's 2018 production of "The Pirates of Penzance." Jonathan Spencer was the Pirate King in that same production. In "Threepenny Opera" he is Tiger Brown. Mezzo-soprano Sarah Coit tackles the role of Jenny Diver, made famous by Kurt Weill's legendary wife Lotte Lenya.

Christoph Willibald Gluck's "Orfeo & Euridice" opens next, on Aug. 4. Director and choreographer KJ Dahlaw proposes a "Queer Orfeo" that promises gender equality, featuring an all-female and non-binary cast and creative team. When Gluck first approached the enduring myth, 18th-century opera needed fresh invention, and the composer provided a beautifully simple combination of text, music, and dance. Many historians think he reinvented opera. Director Dahlaw and conductor Christine Brandes are "reframing the Orfeo myth through a queer lens" to create "a new story, emerging out of the bones of an ancient one."
Final opera in the lineup, Missy Mazzoli and Royce Vavrek's treatment of a film by Lars von Trier, "Breaking the Waves" opens Aug. 10. Soprano Sara LeMesh as the central character Bess is establishing a fine reputation as a specialist in new and modern music. Hearing her sing spectacularly difficult music in a festival concert for Bard Music West, I was impressed at her sure ability to sustain a lustrous tone. WEO Music Director Jonathan Khuner conducts. www.westedgeopera.org

Internationally recognized and locally beloved Lamplighters Music Theatre presents Gilbert & Sullivan's classic "HMS Pinafore" Aug. 3-25 in Walnut Creek, Mountain View, San Francisco, and Livermore. Arguably the most famous operetta by the fabled partnership, "Pinafore" sails the ocean blue, awash with hilarious characters, including "dear little Buttercup," the requisite star-crossed lovers, some pompous naval officers, and a crew of endearing salty dogs, singing some of Sullivan's most famous tunes and Gilbert's wittiest lyrics.

Every Lamplighters show features colorful period sets and gorgeously detailed costumes. New men's costumes complete a historically accurate vision for the new production. Ellen Brooks directs, and Resident Music Director Baker Peeples conducts the full orchestra. It's the musical equivalent of a carefree summer beach read. www.lamplighters.org/pinafore

Merola Opera Program 2019 presents the world premiere of a first-ever commission by San Francisco composer Jake Heggie and librettist Gene Scheer. "If I Were You" was workshopped in January, and has been double-cast from this year's crop of talented Merolini. Performances at Herbst Theatre in the War Memorial and Performing Arts Center feature the Pearl Cast Aug. 1 & 4 and the Emerald Cast Aug. 3 & 6 (the colors in the Merola logo).

The 62nd season closes with the Merola Grand Finale and Reception at the War Memorial Opera House Saturday, Aug. 17. Conducted by George Manahan and directed by 2019 Merola Apprentice Stage Director Greg Eldridge, the evening is a can't-miss celebration of some of the opera world's most promising young singers. www.merola.org
Comments on Facebook