Swapping souls
Thursday Jul 25, 2019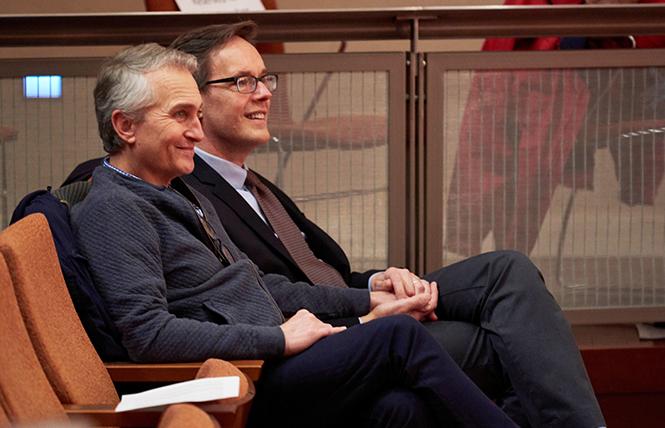 Merola Opera Program announced a first-ever commission in celebration of its 60th anniversary season in 2017. An opera by San Francisco composer Jake Heggie and frequent collaborator librettist Gene Scheer, based on "Si j'etais vous" by French-American novelist Julien Green, is scheduled for a world premiere this summer.

"If I Were You" is up and ready to go. Workshopped in January, double-cast from this year's crop of talented Merolini, and set for a run at Herbst Theatre in the War Memorial and Performing Arts Center August 1-6, the production features as the centerpiece of Merola's exciting 2019 Summer Festival.

As a testament to the value of the prestigious Merola Program and the thriving opera community of Northern California, which includes world-class talent that comes here, oftentimes to stay, "If I Were You" is also a distinctively San Francisco treat. Composer Jake Heggie lives with husband Curt Branom (a veteran performer in "Beach Blanket Babylon") in Noe Valley. His acclaimed operas have electrified the mainstage at the San Francisco Opera with such major successes as "Dead Man Walking," "Moby-Dick," and most recently, "It's a Wonderful Life."

Librettist, songwriter and an accomplished composer as well, Gene Scheer has worked in partnership with Heggie on "Moby-Dick" and "It's a Wonderful Life." Together they have co-written some 50 songs and five operas. Their "For a Look or a Touch," a moving story about how little it took to be arrested and killed for being gay in Nazi Germany, is based on true stories told in the documentary "Paragraph 175" and the journal of Manfred Lewin, from the Holocaust Memorial Museum in Washington, DC. The Seattle Men's Chorus performed the world premiere of "For a Look or a Touch" in 2011. The San Francisco Gay Men's Chorus performed it at Davies Symphony Hall in 2015, and recorded it on "Passion: Songs of Love and Life."

Heggie and Scheer also wrote the chamber opera '"Three Decembers," based on an unpublished play by Terrence McNally, which takes place in the month of December in the years 1986, 1996 and 2006. An important character in the drama is gay and lives in San Francisco with his partner, who is dealing with AIDS.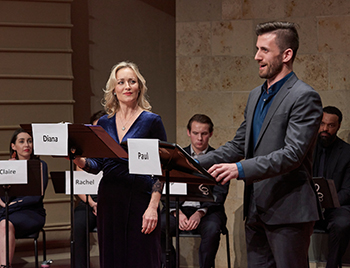 The SF nexus continues with two key professionals engaged for the premiere of "If I Were You." Conductor Nicole Paiement, founder and Artistic Director of Opera Parallele, San Francisco's marvel of adventurous programming, adds refinement and musical insight to every project she leads. Her treatment of Heggie's charming one-act "At the Statue of Venus," with a libretto by Terrence McNally, at SFJAZZ Center was elegant proof of her sensitivity to composers' intentions. She also memorably conducted the premiere of the re-orchestration of Terence Blanchard's "Champion," the powerful re-telling of boxer Emile Griffith's tragic life as a tortured gay man, in collaboration with SFJAZZ.

Director Keturah Stickann's cut-to-the chase imagining of Claude Debussy's symbolist "Pelleas and Melisande" for West Edge Opera last summer thrilled audiences with her choice of passionate emotion and action over impressionist ambiguity. As movement director and choreographer of San Francisco Opera's production of Heggie and Scheer's "Moby-Dick," her excellent physical game-plan made a visceral impact. She showed the same precision and inventiveness when she returned to SFO to add entertaining vintage choreography to "It's a Wonderful Life."

Gene Scheer's handling of Julien Green's novel distills the haunted author's conflict between opposing forces of spiritual quest and fleshly passion into an intimate love story, shaken by the very human need for identity and security.

A young dissatisfied man strikes a deal with Brittomara, a shape-shifting devil, who offers the power to transfer his soul into other people's bodies. As he moves recklessly from person to person in search of a better identity, the promise of deep and meaningful love compels him to return to his original body. Will he live an immortal but solitary existence as someone else, or face death if he chooses love in his own persona? It is an existential question suitable for French philosophy or cinema verite, but Scheer lightens the mood with moments of humor, and Heggie cannot help but write accessible music: think Samuel Barber in the 21st century.

Heggie is also well-known for his love of singers, and it manifests in his understanding of their individual vocal abilities. Writing an opera for a cast of young singers seems a perfect match with new Merola Program participants, and the composer admits he jumped at the opportunity.

Two alternating casts, dubbed Pearl and Emerald (for the colors in the Merola logo), will bring "If I Were You" to life in four performances on Aug. 1, 3, 4 & 6 in the beautifully renovated Herbst Theatre. The Merola Grand Finale follows on Aug. 17 at the War Memorial Opera House with a varied program of arias and ensembles. Talented Merolini are poised in the wings, ready to take the opera world by storm.

For some interesting videos, try "Creating If I Were You - Merola Opera Program" on YouTube. For more information or to order tickets, visit http://merola.org or call the San Francisco Opera Box Office at (415) 864-3330.
Comments on Facebook