Relevant reissues
Tuesday Jul 9, 2019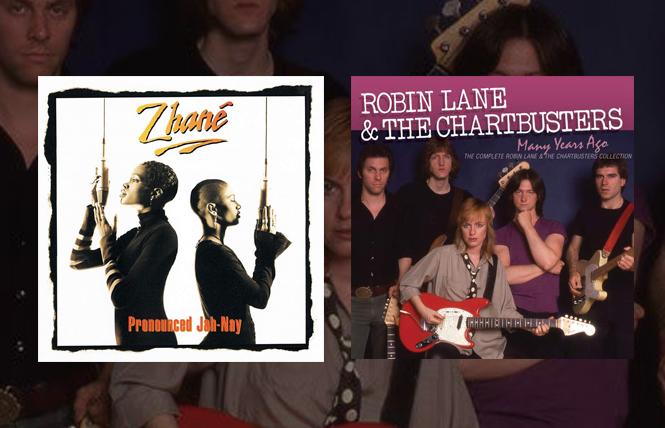 The early-to-mid-1990s was a good time to be a female R&B artist. Just ask the members of TLC, SWV and En Vogue, or solo acts Mary J. Blige, Brandy, Deborah Cox and Toni Braxton. The female duo known as Zhané, whose moniker was a combo of their first names Renée Neufville and Jean Norris, had a hit with their debut disc "Pronounced Jah-Nay" (Motown/UMe), newly reissued in a double-LP vinyl set. The pair's biggest hit, the funky, fresh "Hey Mr. DJ," kicks off the record and reappears in a remixed version. Even though the album is 25 years old, songs "Changes," "Off My Mind" and "For a Reason" are timeless.

Bands in the Boston music scene of the early 1980s experienced firsthand the kind of major-label feeding frenzy that would come to Seattle and Chicago in the 90s. Bands Til Tuesday, Face to Face, Jonzun Crew, Berlin Airlift, Jon Butcher Axis, Nervous Eaters, Rubber Rodeo and Human Sexual Response were all snapped up by record labels. Robin Lane & The Chartbusters had a similar experience, with Warner Bros. releasing the band's self-titled debut album in 1980, followed by "Imitation Life" in 1981. Those albums contained the regional hit songs "When Things Go Wrong" and "Solid Rock." The triple-disc compilation "Many Years Ago: The Complete Robin Lane & The Chartbusters Collection" (Blixa Sounds) celebrates Lane as a bandleader and solo act in an enlightening musical history lesson.

Members of grunge pioneers Green River would go on to form influential Seattle bands Mudhoney, Pearl Jam, Temple of the Dog and Mother Love Bone. Now in expanded reissues, Green River's 1986 EP "Dry as a Bone" and 1988 "Rehab Doll" (Sub Pop) are showcases for the band's blending of punk and heavy metal, laying the groundwork for the grunge revolution to come.

The SF-based record label 415 Records was home to an impressive array of musical acts during the 80s, including Romeo Void, Translator and groundbreaking queer band Until December, and benefited from a partnership with Columbia Records. "In a Chamber" (Columbia), the debut album from the label's Wire Train, has been reissued and expanded. Combining jangle pop with modern rock, the band was a perfect fit for burgeoning college-rock radio. The best of the band's releases, the album featured standout tunes "Chamber of Hellos" and "I'll Do You." Among the six bonus tracks, you'll find a cover of Neil Young's "Mr. Soul."

It's surprising how few Tom Petty & The Heartbreakers compilations were released. The excellent 38-track "The Best of Everything: The Definitive Career Spanning Hits Collection 1976-2016" (Geffen), featuring solo work and songs by Petty's first band Mudcrutch, begs two questions. Why not arrange the songs chronologically? Early songs "American Girl" and "Breakdown" established Petty and the H's before the breakthrough of 1979's "Damn the Torpedoes." They deserve to be front and center. Also, why not toss in a couple of Petty's Traveling Wilburys contributions?
Comments on Facebook