Updating 'Orlando'
Tuesday Jun 18, 2019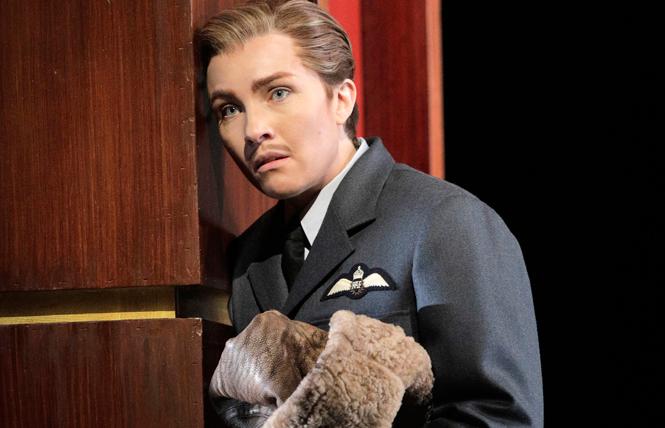 British director Harry Fehr made his San Francisco Opera/American Opera debut last week with an ingenious staging of Handel's compelling 18th-century opera-seria "Orlando." The second installment in SFO's highly contrasted summer line-up of three updates the composer's adventurous score to a 20th-century setting and adds psychological insight for 21st-century listeners.

Artists also making SFO debuts have revived Fehr's original Scottish Opera production. Yannis Thavoris' sleekly functional production design, Tim van't Hof's re-creation of Anna Watson's strong lighting, and Andrzej Goulding's highly effective projections help define the director's inventive blueprint and make better sense of a fairly murky libretto.

A dream cast of five singers, all making role debuts, includes some established SFO favorites, a charming American Opera debutante, and a rocketing rising-star. English conductor Christopher Moulds, in his SFO debut, contributes to the accompanying continuo, and leads a strong and lush sounding orchestra.

The recipe for success turns out to have excited a little more on paper than in action, but an intrigued and attentive opening matinee audience still responded with an appreciative ovation and enthusiastic praise for Harry Fehr's cleverness. His update moves the action from shadowy baroque groves to a brilliantly lit military hospital in WWII (the last "good war"), and replaces the magic of sorcerer Zoroastro with the modern wonders of Dr. Zoroastro's 1940s medicine.

Young warrior Orlando is now a legendary RAF pilot suffering post-traumatic stress disorder who is sinking into madness from anger and jealousy at the loss of his former lover Angelica. She has fallen for Medoro, another young man in recovery.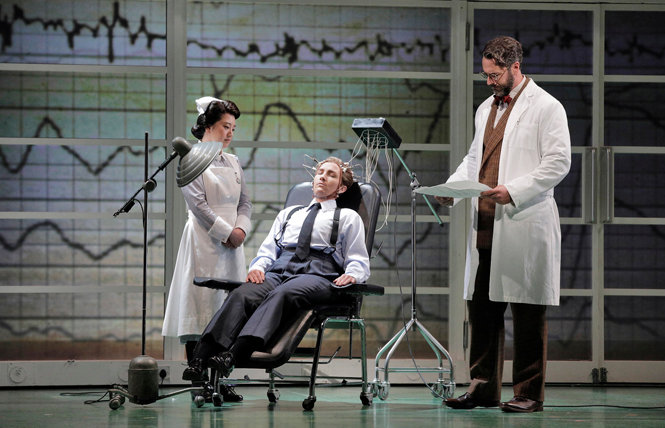 Shepherdess Dorinda has changed to a bright but naive ward nurse with a huge crush on Medoro. Her conflicted (and amusing) attitude about love and relationships offers needed comic relief when the lovers in the central triangle become overstressed.

Substituting electroshock therapy administered by physician's aides for the original libretto's magical potion (supplied by the eagle of Jupiter!), Zoroastro finally restores Orlando to sanity. The complicated preceding plot twists and turns are more plausible, but even with helpful supertitles, Fehr's intelligent vision is sometimes confusing.

Conductor Moulds doesn't help clarify much with a rather unvaried approach to accompaniment. The big rounded sound of modern instruments can be attractive in baroque repertoire, especially in the theatrical splendor of Handel, but Moulds creates a wash of sound that muffles some of the singers and frequently slows dramatic tension.

Mezzo-soprano Sasha Cooke, known for her wonderfully rich and expressive voice, is surprisingly miscast as Orlando. We know she can fill the auditorium with beautiful sound, but the conductor often swamped her big arias in monochromatic dullness, and while she acts the part with customary conviction, much of her marvelous range was obscured. It is a good and sympathetic portrayal, but disappointing to fans expecting another vocal triumph.

The triumph belonged to young countertenor Aryeh Nussbaum Cohen as Medoro. The second-year Adler Fellow is on the fast track to stardom after many notable successes in 2019, which included a knockout appearance with Philharmonia Baroque Orchestra in another Handel masterpiece, "Saul." Ready from the start for the mainstage of SFO, Nussbaum Cohen proved perfect in diction and tone for the role of likeable Medoro, caught between his admiration for Orlando's heroism and a genuine love for Angelica. His biggest strength lies in the sheer beauty of his voice, and he can back it with power and emotion.

Soprano Heidi Stober added Angelica to her long list of SFO roles with her bright-edged sound and convincing acting skills. She navigated the difficult writing confidently, and made a believable partner for Nussbaum Cohen's Medoro.

Bass-baritone Christian Van Horn was an impressive Zoroastro, a little stressed at the top, but warmly resonant in his big pronouncements.

It might have been better for Sasha Cooke and Aryeh Nussbaum Cohen to switch roles, but there was no need picturing anyone else in the part of Nurse Dorinda. Pert and endearing Austrian soprano Christina Gansch made her role and American Opera debuts with remarkable poise and delightfully fresh voice. She is more than welcome to return to SFO, hopefully in a Mozart opera.

Handel created a remarkably forward-thinking score for "Orlando." Harry Fehr has transcended the restrictive conventions of opera-seria to make it dramatically viable for today.

"Orlando" continues in repertory through June 27. www.sfopera.org
Comments on Facebook