Angels, birds, Barber
Tuesday May 21, 2019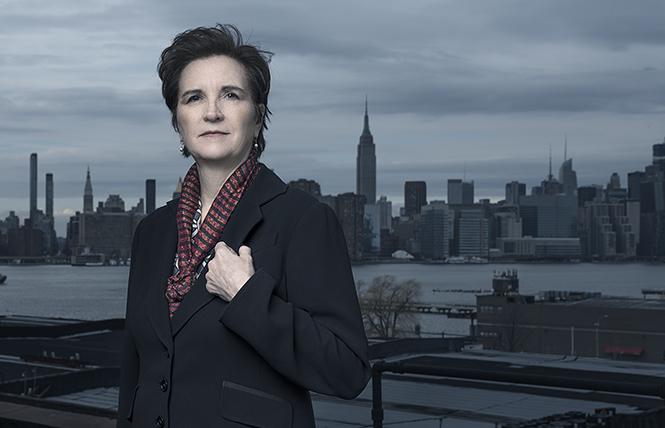 We've been listening obsessively to the new Patricia Barber release "Higher" (ArtistShare). The out lesbian jazz pianist Barber is one of our favorite recording artists (composer, singer, musician) because she is so very much her own woman. She croons seated at her instrument like, say, Diana Krall. She has real jazz piano chops like, say, Fred Hersch. But there is no one who writes and sounds remotely like her.

"Higher" begins with an art-song cycle, "Angels, Birds and I," then moves into her takes on some classics of the American songbook. Barber wants to prove that jazz, an art-form born and raised in America, can produce a song cycle as good, as vibrant, as its European cousin, the classical art-song.

In her invocations to her muse, Barber implores her listeners to "Surrender" to the music — "Let the world spin, I have dreamed of this" — promising "a melody tying you to the fact, the harmony will entreaty" us to give in to our reveries.

"Pallid Angel" is her love song to a woman — "I lean it to kiss my pallid angel, and her cobalt head" — while "Albatross," bluesy, in 5/4 time, is about involvements with men (her albatrosses?). "My husband cuts a figure,/his eyes look best in a pair of RayBans./Pure Ivy League, he's an impressive man.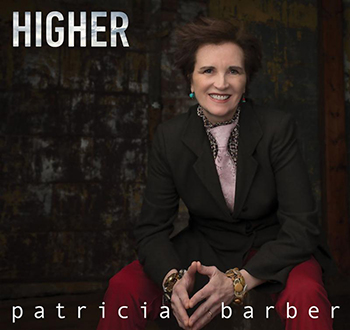 "My lover the other,/he's the outdoor type./He likes to hunt and to fish./How could I fall for an Australian at all?"

Hubby is apparently a Type A personality. "He travels the world first-class./Worldwide chaos, crime, and climate change cannot deter that Range Rover.

"My lover the other, on the other hand,/more like a bird than a man./Bedroom eyes, a beak, three toes and webbed feet.

"My husband the sovereign suburban overlord,/Lexus LX, but his queen is bored."

Determinedly down-tempo, the album segues into classic jazz. Barber brings her singular touch to "Early Autumn" (words: Johnny Mercer, Ralph Burns; music: Woody Herman), "In Your Own Sweet Way" (music: Dave Brubeck), and "Secret Love" (words: Paul Francis Webster; music: Sammy Fain).

"Higher" closes with a reprise of "The Opera Song" from "Angels, Birds and I." "In my next life, I long to be the prima donna with the sterling C." In the song-cycle, Barber sings the lyrics herself. But the album ends with a version in which lyric soprano Katherine Werbiansky lets loose. The difference between Barber's smoky, jazz-inflected delivery and a classically trained voice in full flight is instructive. Each leads to its own strengths.

Backing musicians Patrick Mulcahy, bass; Jon Deitemyer, drums; Neal Alger, acoustic guitar; and Jim Gailloreto, tenor saxophone, all contribute excellence to the disc.

New music forever

Out There was in the house last Friday night when three giants of new music, composer-musicians Laurie Anderson, Terry Riley and John Zorn, appeared together in performance at The Chapel in San Francisco. What was basically an improvisational free jazz set found Anderson performing on electric viola, Riley on synthesizer, piano and diverse instruments, and Zorn on saxophone. You could say it was inspired new music from A-Z.

Their sound together was thick, propulsive, dark, at times droning. Zorn's famous postmodern horn sounded at times like Ornette Coleman, sometimes like Bird, a few times like the horns outside on Valencia. Riley's rhythmic and melodic ideas, always sprightly and spirited, seemed to be leading the trio. Anderson's electronically enhanced strings were deep and definitely in the mix, but it was odd to be so near to her (OT was close to the stage in the standing-room crowd) and not hear her distinctive voice. Because, after all, "language is a virus from outer space,/and hearing your voice is better than seeing your face."

The trio of legendary musicians played four shows of one-hour sets over two evenings. OT attended the first set, 7 p.m. on Friday night. When we emerged from the venue when it was over, it was still light out.

Also opening our thirsty ears for aural refreshment this past week, found in our beloved public library: Kronos Quartet, "Sunrise of the Planetary Dream Collector, Music of Terry Riley," including "One Earth, One People, One Love" from "Sun Rings" (2002) (Nonesuch, 2015).

Stravinsky, "The Rite of Spring, Concerto for Two Pianos," Marc-Andre Hamelin, Leif Ove Andsnes, a new way to hear that monumental work (Hyperion, 2018).

Aphex Twin, "Syro" (Warp, 2014), classic electronica.

Finally, NorCal Public Media presents a 10-episode series of concerts filmed at Berkeley's storied music venue the Freight & Salvage. Beginning this month, "Live from the Freight & Salvage" will air on KRCB-TV Channel 22 on the third Saturday of every month, from 8-9 p.m. The series features a diverse selection of musical genres and performances including Bettye LaVette, 2018 Grammy winner Ladysmith Black Mambazo, Ukrainian world-music quartet DakhaBrakha, Americana powerhouse trio Red Molly, Windham Hill artists Will Ackerman, Barbara Higbie and Alex DeGrassi, Perla Batalla, plus local favorites the T Sisters, the Blues Broads and more. Info: www.livefromfs.org.
Comments on Facebook