Orchestral maneuvers
Tuesday Feb 26, 2019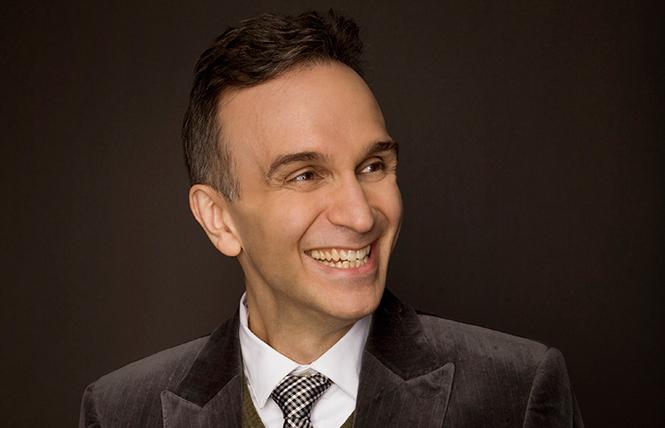 Musicians of the San Francisco Symphony and notable guest artists have made February at Davies Hall a month of special events. Music Director Michael Tilson Thomas and the orchestra leave for a final national tour together in March, but this month they collaborated on an impressive world premiere SFS commission, Steve Mackey's "Portals, Scenes and Celebrations," and MTT's old friend Gil Shaham was on hand to give a penetrating account of Prokofiev's Violin Concerto No. 1.
Shaham and SFS concertmaster Alexander Barantschik joined in a violin duet by Baroque composer Jean-Marie Leclair for an encore. The brilliant guest star let "Sasha" essay the main melody while he played second fiddle as MTT stood by, beaming. Collegial spirit has always been a hallmark of their artistry.
Shaham has toured with the orchestra before. For the upcoming tour, German violin virtuoso Christian Tetzlaff travels to Seattle; Kansas City, MO; Washington, D.C.; Boston; and Chicago. American violinist Alexander Kerr joins the caravan later to finish the trip in Champaign, IL; Lincoln, NE; and Ames, IA. He plays Mendelssohn's Violin Concerto in E minor.
February began with the welcome return of Conductor Laureate Herbert Blomstedt in his annual visit to DSH. Many newer orchestra members have only worked with him during homecomings, and only older audiences remember his decade as SFS music director, 1985-95. His legacy endures.
Everyone recognizes the wisdom and understanding of his musical mastery. At 91, he personifies tradition and time-honored classical practice. Renowned for his Bruckner and Romantic composers, he is also skilled with 20th-century Scandinavian writers. Above all others, he excels with Beethoven. In the Symphony No. 6, "Pastoral," the old lion had the SFS playing like the Concertgebouw or Staatskapelle Dresden. Audience response was overwhelming. Younger musicians actually looked a bit amazed at the thunderous ovation, but no one was surprised by the faultless grace of the performance.
Gil Shaham and MTT followed the next week with the infrequently heard Prokofiev Concerto and Steve Mackey's tour de force "Portals, Scenes and Celebrations," cram-packed with kinetic orchestral energy and catchy tunes. The title says it all, and the work packs a powerful punch at just 15 mins. The colorful score, composed in honor of MTT, could have been a big hit on the national tour.
Mendelssohn and Bach warmed DSH next, as conductor and pianist Sir Andras Schiff returned to perform and conduct three works by J.S. Bach: Keyboard Concertos No. 3 in D Major, No. 4 in A Major, and the Orchestral Suite No. 3. The internationally acclaimed pianist also conducted the first SFS performances of Mendelssohn's uplifting "Lobgesang" ("Song of Praise"), often referred to as the composer's Symphony No. 2. The "Symphony-Cantata" requires a full orchestra with organ, vocal soloists and chorus. Reminiscent of Beethoven's Ninth Symphony, the text of "Lobgesang" is less inspired but satisfying, mostly due to the composer's winning melodies.
Performances featured soprano Jennifer Mitchell and tenor Michael Jankosky in their SFS debuts, mezzo-soprano Margaret (Peg) Lisi, and Ragnar Bohlin's well-prepared SFS Chorus. It was a long program, but no one appeared impatient or uninvolved. Schiff's assurance moved the music along with a nice balance of gravitas and light.
Striking red-and-gold lanterns celebrating Chinese New Year, adorning the windows of DSH, were still up recently for conductor Manfred Honeck's concert of Schumann and Johann Strauss. The lights have lent a festive touch to the hall that nicely suited the rich program. Honeck substituted for an injured Daniel Harding, originally scheduled to conduct German pianist Lars Vogt in Robert Schumann's lyrical Piano Concerto and a sampling of shorter Austrian musical delights.
Honeck was off his game, and the orchestra suffered occasionally from imperfect pitch, but Vogt was fine in the Schumann, and hearing Von Suppe's sumptuous Overture to "Poet and Peasant" as a concert-starter was irresistible fun.
February ends and March begins with DSH hosting two weeks of the wildly popular "Film with Live Orchestra" series. "La La Land" (2/27 & 28) and Steven Spielberg's wonderful sci-fi feature "Close Encounters of the Third Kind" (3/1 & 2) are good choices for the deluxe orchestral treatment.
March 7-9, conductor Francois-Xavier Roth and pianist Cedric Tiberghien (SFS debut) present great Romantic composers, with Robert Schumann's portrait of tortured youth, "Manfred" Overture; Liszt's fiery First Piano Concerto; and Brahms' Symphony No. 2, sort of his own "Pastoral."
Pre-Tour performances March 14-17 give a taste of selections scheduled for the national concert tour: Ravel's charming "Le Tombeau de Couperin," Mozart's Violin Concerto No. 3, and the gloriously romantic Sibelius Symphony No. 2. Christian Tetzlaff and MTT make a dynamic duo. US cities, take note.
www.sfsymphony.org
Comments on Facebook