2018: the year at San Francisco Opera
Tuesday Jan 1, 2019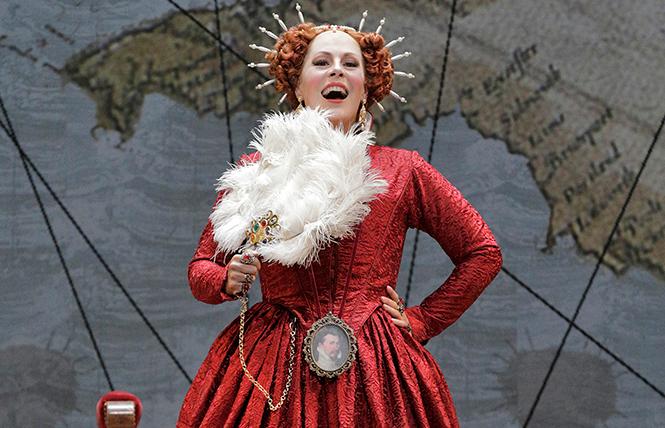 2018 was busy at the San Francisco Opera. Not really surprising, since it was the first season fully programmed (with one exception) by the administration of general director Matthew Shilvock. Last summer's revival of Francesca Zambello's prescient "American Ring" cycle had barely departed before five productions, all new to the War Memorial Opera House, started opening back-to-back in September.

Special events included a free opening week "Opera in the Park" concert and a matinee featuring opera legend Placido Domingo in October. The "King of Opera" is a beloved SFO veteran, and his appearance was a memorable standing-room-only lovefest.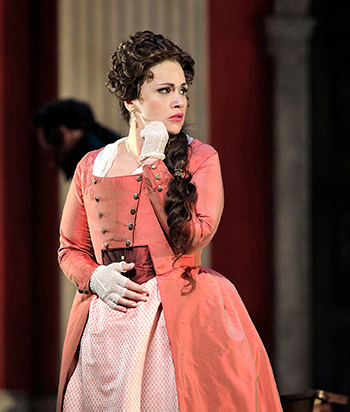 Domingo wasn't the only visiting royalty. Donizetti's bel canto masterpiece "Roberto Devereux" was second in the fall roster. Focusing on Queen Elizabeth I's obsession with the Earl of Essex, soprano Sondra Radvanovsky roamed the stage like a gyroscope in a magnificent portrayal of a woman betrayed. Her presence was anchored by rich-voiced mezzo-soprano Jamie Barton as her friend and rival, the Duchess of Nottingham. Director Stephen Lawless staged the drama as a historical pageant in a theater resembling London's Globe.

Argentinian tenor Jose Cura has developed another career in recent years as a director and designer. The traditional pairing of Mascagni's "Cavalleria Rusticana" and Leoncavallo's "Pagliacci" fired his imagination. He re-staged both, blending them into one plot, set in the Italian barrio of Buenos Aires. Director Jose Maria Condemi guided his vision in a revival for SFO.

The concept worked, even if the stitches sometimes showed, and it was an exciting season-opener. Conductor Daniele Callegari, making his SFO debut, took his time at first, but soon raised the temperature to demonstrate the power of verismo. Tenor Marco Berti, as scary clown Canio, returned to SFO and validated the Company's confidence in a realistically tortured performance. His "Vesti la giubba," the first million-selling record in history, was unaffectedly touching.

Third in the lineup, Puccini's verismo hit "Tosca" got a handsome new production, built to last. Glamorous Italian soprano Carmen Giannattasio made her high-profile SFO and role debut as the title diva. "Tosca" has stormed the stage of the War Memorial Opera House in over 30 productions since the first opening night of the auditorium in 1932. Giannattasio joined the fabled ranks of such SFO singers as Renata Tebaldi, Leontyne Price, and recently deceased Montserrat Caballe.

Director Tim Albery's new-to-SFO staging of "Arabella," last of the operas in which Richard Strauss partnered with Hugo von Hofmannsthal, was tenderly romantic. With the support of conductor Marc Albrecht, also making his SFO debut, he paid meticulous attention to the potentially bewildering dialogue in the far-fetched plot.

Suspension of disbelief grew easier as Albrecht caressed Strauss' melodic score and Albery sobered up some of the silliness. Framed by production designer Tobias Hoheisel's elegant monochromatic set, the characters had deeper credibility. Company regulars soprano Ellie Dehn in the title role, soprano Heidi Stober as her naïve sister Zdenka, and baritone Richard Mulligan as gruff and soulful Mandryka were all appealing. Swedish tenor Daniel Johansson, in his Company and role debut, made a fine impression as ardent Matteo.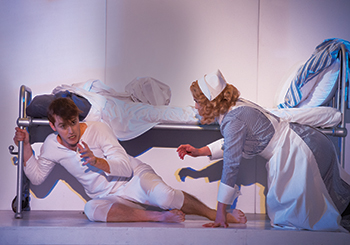 As Arabella and Zdenka's parents, mezzo-soprano Michaela Martens was delightfully fussy as the Countess, and baritone Richard Paul Fink was the lovable miscreant Count. They shared a jolly sincerity that wouldn't have been out of place in Jane Austen.

The final production was also a great lead-in to the holidays. The West Coast premiere of composer Jake Heggie and librettist Gene Scheer's "It's a Wonderful Life" opened mid-November in a smartly revised edition. Co-commissioned by SFO, Houston Grand Opera, and Indiana University's Jacobs School of Music, the nostalgic Christmas card of a show has been cleverly distilled from Frank Capra's classic and re-packed with musical treats.

The new version relies on Heggie's catchy tunes to make its point, "No one is a failure who has friends," but it is an opera, after all, and Patrick Summers (a frequent Heggie collaborator) shaped the SFO orchestra into a bright and perky Broadway band.

Sentimental and sometimes beautifully lyrical, the score bounced to a happy ending with the company joining the audience in ""Auld Lang Syne." Tenor William Burden was earnest as stand-up hero George Bailey, and Canadian baritone Joshua Hopkins in his SFO debut was likeable as brother Harry. Tenor Keith Jameson debuted impressively as sweetly simple Uncle Billy.

Baritone Rod Gilfrey's portrayal of George's nemesis, bitter old Mr. Potter, was convincing. Another Canadian making her SFO debut, soprano Andriana Churchman was charming as George's wife Mary.

As Clara (Clarence in the movie), the angel eager to earn her wings, South African soprano Golda Shultz made her SFO and role debut with cute sincerity and a terrific voice. If you're looking for a guardian angel, Shultz's Clara would make a very huggable protector.

We will preview the 2019 side of the season soon. Matthew Shilvock has a taste for Baroque opera, and Handel's marvelous "Orlando" is on the summer schedule.
Comments on Facebook