Enjoy new music for the new year in a wide range of genres from LGBT artists young and older, including Fredo Viola, Tret Fure, Jay Thomas, Another Sky and Alex The Astronaut.
Viewing 1 thru 12 of 2089 Stories
From dazzling debuts (Izzy Heltai, Katie Pruitt) to familiar faces (Bob Mould, Indigo Girls), in 2020, musicians produced a treasure trove of awesome audibles.
Despite the absence of live concerts, LGBT musicians around the country have managed to release new music. Here is the first part of two Best of 2020 music mentions, including a few who came out of their musical closets.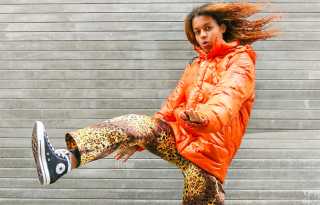 You can hear the inspiration of the spoken word scene in the songs on Happy Birthday (Merge) by D.C.'s Sneaks (aka Eva Moolchan). Ace of Cups, Yelle and other women-led bands' new music are reviewed.
'The Meaning of Mariah Carey' is The New York Times best-seller of the life and career of a truly influential artist and entertainer, the autobiography of one of the most talented, hardworking, compelling, witty, and transcendent African-American artists.
Whether you're safely home alone, or socially distanced with family or friends, this is a most unusual holiday. So, for Christmas week, Eve and Day, enjoy a most unusual holiday music playlist.
After a few years away from music, singer-musician Colton Ford has returned with new songs and new perspectives on art, life and yes, politics.
Holiday-themed music, choral and dance concerts continue, albeit in virtual formats, including San Francisco Ballet, San Francisco Symphony, Chanticleer, Kitka, Cal Performances, San Francisco Bach Choir, and more.
Have you been looking forward to the 2020 winter holidays, either as the giver of gifts or the recipient? If so, you can't go wrong with some of these very Mary, I mean merry, titles from Elton John, Little Richard and new bands like Dust Bowl Faeries.
The San Francisco Gay Men's Chorus isn't letting the pandemic spoil their Christmas holiday. The chorus' annual Christmas Eve concert, '(At) Home for the Holidays,' will go on this year as a virtual event with guest-star performers.
Smooth jazz superstar Dave Koz has a new album and a fresh take on the holidays with a one-night 'Greatest Hits of Christmas ' concert online.
Katya Smirnoff-Skyy, our favorite local exiled Russian opera diva, takes to the online airwaves in a holiday-themed concert that'll make the Yuletide extra-gay.
The tinsel-strewn variety show has long been a staple of December entertainment. Taylor Mac revives his 'Holiday Sauce' at the Curran, and New Conservatory Theatre Center's 'Queer Variety' show should bring some holiday cheer.
Viewing 1 thru 12 of 2089 Stories