Frameline documentaries explore LGBTQ Life
Tuesday Sep 8, 2020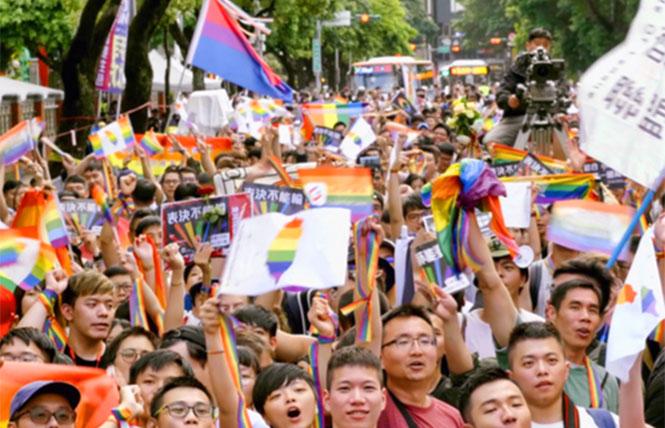 Like everything else during the Coronavirus pandemic, Frameline, the San Francisco International LGBTQ+ Film Festival, has moved online. Documentary shorts and features have always been a major part of the menu, and Frameline 44 is no exception. Throughout the festival, a diverse cross section of short and feature length documentaries representing every color, sexual persuasion and gender identity will be shown. All films will be screened virtually. Here are some of the films.

Taiwan Equals Love
Sophia Yen offers this fascinating documentary on the fight for marriage equality in Taiwan, the first country in Asia to legalize same sex marriage. The director focuses her film on three couples who illustrate why it is so important for same sex couples to have the same rights as heterosexual couples. For Mindy, marriage to Jovi means that Mindy can become a stay at home mom to her daughter. The situation is more dire for Hsiang and Tien-Ming. Hsiang is dealing with health issues and is worried about being dispossessed due to Taiwan's inheritance laws. And for Gu and Shinchi, marriage means that Gu, who was born in Macau, can stay in Taiwan and find a job. Without marriage, they would not be able to stay together. In Mandarin with English subtitles. September 19, 1:30pm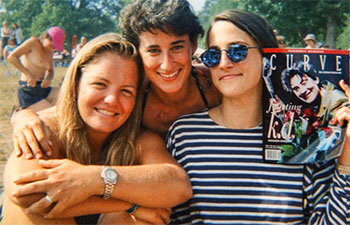 Ahead of the Curve
Founded in San Francisco in 1990 as Deneuve and renamed Curve in 1996, this quarterly magazine made history for its unapologetic celebration of lesbian culture. But in 2019 it was rumored that the magazine might go out of print, which left founder Franco Stevens asking whether or not a lesbian magazine was still needed for lesbian visibility. In Ahead of the Curve, director Jen Rainin and co-director Rivkah Beth Medow document Stevens' journey and question whether or not a print magazine can remain relevant in this digital age. Included is archival footage and interviews with celebrity lesbians like Jewelle Gomez and Lea DeLaria. Throughout the film the legacy of Curve is honored and celebrated. September 20, 1pm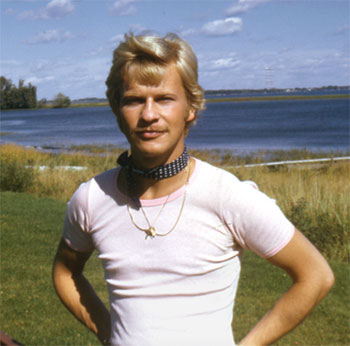 Killing Patient Zero
This riveting film looks back upon the hedonistic lifestyle that gay men enjoyed in the 70s, and the AIDS holocaust which followed. The primary focus of the film is Gaetan Dugas, a Canadian flight attendant who was dubbed "Patient Zero". He was said to be the man who brought AIDS to the USA, a myth that was perpetuated in Randy Shilts' book And the Band Played On, a history of the AIDS epidemic. The film, which also takes a hard look at Shilts, features interviews with Dugas' friends and with scientists who uncovered the first AIDS cases. Killing Patient Zero ultimately remembers a community that was devastated not only by a virus, but by society's penchant for playing the blame game. September 20, 4pm
Pier Kids
This thought provoking work focuses on the homeless queer and trans youth, almost all of them people of color, who claimed the Hudson Piers in the West Village neighborhood of New York City and made it their home. Director Elegance Bratton, himself a former pier kid, spent five years honing his camera of a segment of the LGBTQ community that has been largely forgotten by the larger community. The film focuses on their difficult lives, which includes visits to relatives who do not understand them. All these kids want is a safe place they can call their own as they struggle to survive their daily lives and take part in drag balls. The film also shines a light on neighborhood residents who sunbathe or take pictures in the waterfront park, seemingly oblivious to the kids. Viewers of the film won't be so oblivious as these kids are impossible to ignore. September 21, 7:30pm

Transhood
This film questions what it's like to be a trans youth in the age of Snapchat, the Trump presidency, the Pulse nightclub shooting and bathroom bills, attempts to deny trans people access to the public restrooms which match their gender identity. Produced for HBO, this documentary explores the lives of four transgender youth who are coming of age in a treacherous political landscape at a time when technology is readily available to them. According to Frameline's program, the film includes disturbing news footage and a discussion of self-harm. September 25, 3:30pm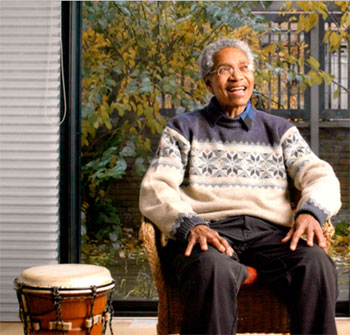 Keyboard Fantasies: The Beverly Glenn Copeland Story
In 1986 Glenn Copeland recorded a cassette which combined folk-electronic music with his classically trained voice. He only sold two dozen copies, but three decades later the album was rediscovered, which led to sold-out live performances around the world. Glenn's story begins in the early 1960s, when he was the only Black classical music student at McGill Music Academy. Now, at age 74, Glenn, who once lived as a lesbian, is out as a transgender man and is looked up to as a queer elder and a musical inspiration. September 25, 6:30pm

Up Close & Personal
A collection of documentary shorts which includes the story of a trans Indigenous punk musician, recollections of a generation lost to AIDS, a tribute to Brazilian gay artist Gui Taccetti, scenic lesbian road trips, and more. September 26, 11am
Cured
In 1973, the American Psychiatric Association removed homosexuality from its list of mental illnesses. Suddenly millions of gay people were "cured" of their affliction. This film recalls the courageous gay and lesbian activists, from both within and outside of the psychiatric field, who fought the medical establishment and brought about this historic moment, one of the community's first victories. September 27, 1pm

Unapologetic
A look at the BLM movement in Chicago, seen through the eyes of aspiring social worker Janae and artist/rapper/activist Bella, Unapologetic shows activism against difficult odds in the aftermath of the 2012 police killing of 22 year old Rekia Boyd and the 2019 election of Chicago's first out Black lesbian mayor, Lori Lightfoot. The film features interviews and footage of protests. September 27, 2pm

To purchase tickets and to gain access to Frameline's virtual screening room, please visit: www.frameline.org

Help keep the Bay Area Reporter going in these tough times. To support local, independent, LGBTQ journalism, consider becoming a BAR member.



Comments on Facebook