Online Extra: Castro Theatre mixes classic & contemporary
Tuesday Mar 3, 2020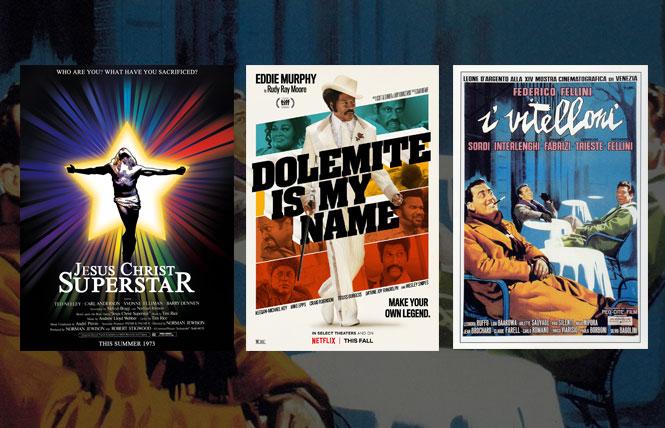 After the fireworks of the political season, the Castro Theatre offers a refreshing change of pace: a mix of contemporary and classic cinema, including tributes to Judy Garland and Kirk Douglas, who just left us at the exalted age of 103.
"Jesus Christ Superstar" Andrew Lloyd Webber and Tim Rice's rock opera is about the last week in the life of Christ, as told from the point of view of Judas. Shooting on location in Israel, director Norman Jewison ("Fiddler on the Roof") takes a novel approach to the thematic fireworks, each role perfectly realized by Ted Neeley, Carl Anderson, Yvonne Elliman, and Barry Dennen. (3/5)
"Dolemite Is My Name" Eddie Murphy portrays real-life legend Rudy Ray Moore, the comedy and rap pioneer who challenged naysayers with a funny, obscene, kung-fu fighting alter ego, Dolemite, and became a 1970s Blaxploitation phenomenon. In dramatizing Moore's stranger-than-fiction story, writers Scott Alexander & Larry Karaszewski ("Ed Wood") and director Craig Brewer ("Hustle & Flow") make the film just as bold, brash, and ultimately hard-to-resist as its subject.
"Bowfinger" Steve Martin and Eddie Murphy appear in this smart satire about Hollywood's least successful director, Bobby Bowfinger (Martin), and his efforts to get Hollywood star Kit Ramsey (Murphy) in his ultra-low-budget film. With an ingenious scheme and the aid of Kit's eager, nerdy brother Jiff (also Murphy), an ambitious and sexy wannabe (Heather Graham) and an aging diva (Christine Baranski), Bowfinger sets out to trick Kit into the performance of a lifetime. Written by Martin and directed by Frank Oz ("Little Shop of Horrors"). (both 3/6)
"Fellini 100: Homage to Federico Fellini" Presented by the Istituto Italiano Cultura SF, director Annamaria Di Giorgio; under the auspices of Consul General of Italy Lorenzo Ortona; and organized by Cinema Italia San Francisco as its 10th program. The one-day marathon with four films selected by program director Amelia Antonucci is part of the Federico Fellini 100 Tour, a series of centennial tributes to Fellini (1920-93) traveling to major museums and film institutions worldwide, coordinated by Paola Ruggiero and Camilla Cormanni of Luce Cinecittà. All films have been digitally restored by Luce Cinecittà, Cineteca di Bologna and Cineteca Nazionale. All films are in Italian with English subtitles.
"La Strada" Giulietta Masina is a young woman who joins a strongman street entertainer on the road and soon discovers her calling as a clown. 1957 Oscar for Best Foreign Language Film.
"Juliet of the Spirits" This Italian-French fantasy comedy-drama is about the visions, memories, and mysticism of a middle-aged woman that help her to find the strength to leave her philandering husband, starring Giulietta Masina. Golden Globe Award for Best Foreign Language Film in 1966.
"Amarcord" A carnivalesque portrait of rural Italy during the Mussolini era. The most personal film from Fellini sends up his youth, and turns daily life into a circus of social rituals, youthful desires, fantasies and political subterfuge, all set to Nina Rota's classic, nostalgia-tinged score. 1975 Oscar for Best Foreign Language Film.
"La Magia di Fellini Party" (8:30-10:30 p.m.) Fellini once declared, "Life is a combination of magic and pasta." Accordingly, this party will include three different kinds of pasta prepared by the Italian restaurants C'Era Una Volta, Poesia and Italian Homemade, along with a giant cake made by Emporio Rulli, Gió gelato, Italian wines, and some magic. On the walls of the mezzanine, the Italian Cultural Institute presents a special preview of the exhibition "Food in Federico Fellini's Drawings." Featured are 19 drawings from the famous "Libro dei sogni," the diary of dreams that Fellini kept for about 30 years, presently exhibited in the Rimini City Museum. The exhibition is produced thanks to the Culture Department of Emilia-Romagna Region, Cinematheque of the Rimini Town Council and Casa Artusi.
"I Vitelloni" Five young men dream of success as they drift lazily through life in a small Italian village. The film compassionately details a year following a group of small-town layabouts struggling to find meaning in their lives. (all 5, 3/7)
"Out of the Past" Private dick Jeff Bailey (Robert Mitchum) obtains what appears to be a profitable gig from disreputable high-roller Whit Sterling (Kirk Douglas): locate and return his mistress (Jane Greer), who skipped out with $40 grand of his money. Finding her in Mexico, Bailey falls for her, but his scheme to create new lives for them results in dramatic betrayals. Director Jacques Tourneur ("Cat People") creates a memorable masterwork, a candidate for the best noir ever made.
"Gunfight at the O.K Corral" The director John Sturges, who coined the expression "A man's got to do what a man's got to do," dramatizes the legendary 1881 showdown between Wyatt Earp, "Doc" Holliday and the Clanton Gang, while depicting the bond between the lawman (Burt Lancaster) and the dentist-turned-gunfighter (Kirk Douglas). In perhaps the classic take on the tale, Sturges inspires two of the more complex performances ever given by the Lancaster/Douglas duo, with sublime back-up from Rhonda Fleming, John Ireland, Jo Van Fleet, Dennis Hopper, and Lee Van Cleef. (both 3/8)
"1917" Director Sam Mendes and cinematographer Roger Deakins lay bare the horrors of war in this single-shot masterpiece. It's April 5, 1917, as two British soldiers are ordered to deliver a message across the battlefield to prevent their countrymen from advancing into a German battlefield trap. Filming as if one continuous take, the filmmakers illustrate the ability of modern warfare to obliterate the most cherished values of our civilization. George MacKay ("Captain Fantastic") and Dean-Charles Chapman ("Game of Thrones") star. (3/9-11)
"I Could Go On Singing" In her final screen appearance, Judy Garland stars as an American singer who comes to London and seeks out an old flame (Dirk Bogarde) and the now-teenage son she left in his care. Ronald Neame ("The Prime of Miss Jean Brodie") directs Garland at the height of her interpretive power, and the title tune is by the venerable duo of Harold Arlen and E.Y. ("Yip") Harburg. Jack Klugman co-stars.
"Judy" The fourth feature from British director Rupert Goold (screenplay by Tom Edge) has Renee Zellweger (with a great supporting cast: Jessie Buckley, Finn Wittrock, Rufus Sewell, and Michael Gambon) taking on the last year of Garland's life as she lands in London to headline a five-week sold-out run at The Talk of the Town.
While a 12-year-old Judy may have been abused by handlers, hangers-on and especially big studio executives, that was nothing compared to the battering the 40-something diva receives from management, musicians, friends and adoring fans. All the while charming the hell out of everyone on stage and backstage, she manages to set out on a whirlwind courtship with her soon-to-be-fifth husband, Mickey Deans.
As she belts out some of Garland's best-loved songs, Zellweger demonstrates her thorough grasp of the qualities that made Judy not only one of the greatest entertainers of the 20th Century, but also a very special icon to millions of gay men worldwide. (both 3/12)
"The Crying Game" Irish-born director Neil Jordan delivers his masterpiece, a 1992 thriller-romance that gets its strength from an insider's view of the "Irish Troubles" and demonstrates how a revolutionary group like the Irish Republican Army (IRA) can lose its way while descending into something worse that gangster-style violence. The film depends on the audience discovering for themselves some key questions about the motivations and identity of several key characters. Stephen Rea, Miranda Richardson, Forest Whitaker, Jim Broadbent, Adrian Dunbar, and most specially, Jaye Davidson star. Director Jordan received an Oscar for his screenplay. The film debuted on the eve of what proved to be successful talks to end 30 years of sectarian violence.
"Miller's Crossing" Early (1990) Coen Brothers thriller that's densely plotted and is particularly notable for its "A" ensemble, including gay character actor J.E. Freeman, Steve Buscemi ("Parting Glances"), John Turturro, Albert Finney, and Marcia Gay Harden, with a cameo for Francis McDormand. (both 3/17)
"Vertigo" In Alfred Hitchcock's most perplexing masterwork, a brilliant, tortured James Stewart is Scotty, a retired San Francisco police detective whose fear of heights comes over him at the worst possible moments in the story. With Kim Novak as the mysterious object of Scotty's obsessions. The Bay Area, especially Nob Hill, has never been more deftly captured: the city is a character, beautiful and unknowable. Rated R, in a restored 70mm print. (3/19-21)
"Paths of Glory" Stanley Kubrick concocts a shattering drama on the cruel price of war, based on actual events from the WWI French trenches. Three ordinary soldiers are arbitrarily chosen to be executed after a battle goes horribly wrong. With Kirk Douglas, Adolph Menjou and Richard Anderson.
"Lonely Are the Brave" Kirk Douglas once referred to this modern-day Western as his favorite film. Douglas is a rugged man who takes a stand against the modern world along with a horse he prefers to human company. Midway through the film Douglas' Jack Burns defines himself to a woman who thought she could civilize him. "I didn't want a house. I didn't want all those pots and pans. I didn't want anything but you. It's God's own blessing I didn't get you."
Jerri Bonds: "Why?"
Jack Burns: 'Cause I'm a loner clear down deep to my guts. Know what a loner is? He's a born cripple. He's a cripple because the only person he can live with is himself. It's his life, the way he wants to live. It's all for him. A guy like that, he'd kill a woman like you. Because he couldn't love you, not the way you are loved."
A timely look at a way of life that is still roiling the Far West. (both 3/22)
"The Conformist" There was a time when no serious film student could escape the gravitational pull of this 1970 psyche/sexual thriller about a man who desires a respectable place in Italian Fascist society. It's controversial for its scenes of mass murder and sexual ambiguity. If you like "The Conformist" you might want to search out other titles from Italian director Bernardo Bertolucci, such as 2002's "The Dreamers." (3/23)
"Long Strange Trip: The Untold Story of The Grateful Dead" A rare glimpse at the Bay Area's fabulous underground rock band. (3/24)
"The Warriors" Veteran director Walter Hill gives us a riveting tour of the New York subway system with the agile camerawork of Andrew Laszlo enhanced by a vibrant color scheme. Michael Beck leads a mixed-race street gang through the subway maze from the Bronx to Coney Island. The guys are running for their lives, escaping a gang meltdown when a rival leader was assassinated.
The filmmakers make deft use of soul radio, where a beautiful female DJ announces the movements of gang members through the subway system as if they were preparations for D-Day. The film pointed the way to big changes in urban gang culture, as well as in African American pop-music forms like hip-hop and rap. (3/27)
"Lust for Life" Kirk Douglas shines as troubled, moody Dutch painter Vincent Van Gogh. Director Vincente Minnelli takes us chillingly close to an artist who has fascinated generations of art-lovers. With Anthony Quinn, Lionel Jeffries and Everett Sloane.
"Spartacus" Kirk Douglas is a rebel slave in a film that gay film historian Vito Russo noted for its covert sexual scene between Tony Curtis and Laurence Olivier. Douglas is credited with using his growing clout as a movie star to end the notorious Hollywood Black List. (both 3/29)
"The Conversation" A new print allows us to appreciate Francis Ford Coppola's pioneering drama about electronic phone taps, starring Gene Hackman as an electronics expert with a dark secret. With John Cazale, Allen Garfield, Frederic Forrest and Cindy Williams.
"The Rain People" Francis Ford Coppola kicked off this road movie at his and my Alma Mater, Long Island's Hofstra University. With James Caan, Robert Duvall and Shirley Knight.
"Rumble Fish" Coppola pulls off an artistic coup with this B&W classic starring Matt Dillon as a troubled kid who becomes infatuated with his older brother (Mickey Rourke) in a strange riverfront city where only the fish take on colors. Based on the cult novel by S.E. Hinton. With Diane Lane, Vincent Spano and Dennis Hopper. (all 3, 3/31-4/1)
Comments on Facebook