Ciao, Fellini!
Tuesday Jan 14, 2020
"The cinema is very much like the circus," Federico Fellini once said. "In fact, if it didn't exist, I might well have become a circus director. I close my eyes and the festival begins." A lauded Italian filmmaker with a background in cartooning, a love of the seamy side of traveling side-shows and an unparalleled aptitude for the theatrical, Fellini was a pivotal figure in the international art-cinema scene that caught fire in the mid-1950s, and a progenitor of meta-cinema (movies about movies). He thrived in the golden age of the auteur with explicitly autobiographical material. But one might question the meaning of autobiography when it comes to a born fabricator who constantly reinvented himself and had no boundary between his real life and the fiction he put on screen. Influenced by the post-WWII Neorealist movement, he was a sought-after "prince of screenwriters," collaborating with Roberto Rossellini, among others, before turning to directing and adopting a personal style characterized by lavishly staged fantasies. A ringmaster of surreal memories and dreams and not one to shy away from excess, he adored spectacle and the parade of humanity frequently on display in movies that could sport enormous casts, and 50 or more sequences and locations.

"He was one of a kind," says film scholar Russell Merritt. "You knew you were in the presence of a commanding personality. Nothing and no one was as flamboyant as he was. He was a master of comic images who loved the grotesque and found beauty in the bizarre."

Cineastes may find it difficult to believe, but there's a whole generation that has never seen or even heard of "La Dolce Vita" or "8 ½." That may change, courtesy of "Federico Fellini at 100," an extensive centennial series at BAMPFA that opens this week and runs through May 21.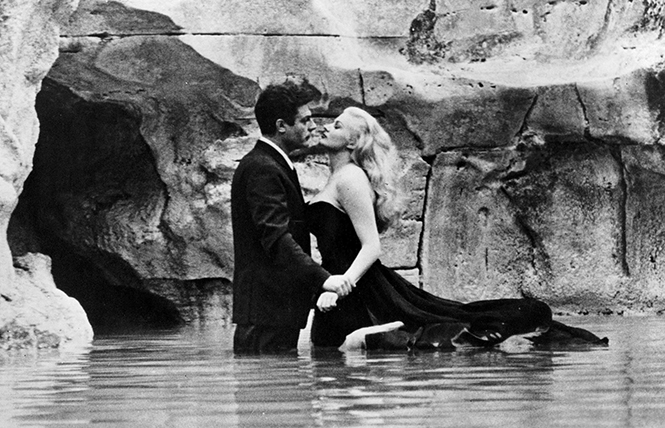 Marcello Mastroianni plays the ambitious journalist on a picaresque adventure in search of himself on the streets of Rome in "La Dolce Vita" (1960), a now-dated satire of a decadent, tabloid-ridden, celebrity-worshiping city Fellini called "the Babylon of my dreams." Famous for an opening sequence featuring a helicopter flying over the city with a Jesus statue suspended from it, the film also introduced the word "paparazzi" into the lexicon and the sight of the voluptuous, blonder-than-blond bombshell Anita Ekberg wading into the Trevi Fountain in a strapless gown. It was considered so scandalous, it was labeled blasphemous and condemned by the Catholic Church, an institution whose authoritarian repression served as both foil and springboard for creative resistance throughout Fellini's career. The Madonna/whore dichotomy and the bevy of women eagerly catering to the needs of his male protagonists, which plague the adolescent, frankly irritating depictions of women in his movies sprang from the same soil.

"His films are a small-town boy's dream of the big city," Orson Welles reportedly scoffed. "He shows dangerous signs of being a superlative artist with little to say." The terror of having nothing to say is central to "8 ½," a 1963 masterpiece that examines the nature of artistic creation, a recurring theme for Fellini. In this memory palace of a movie, his alter ego, Mastroianni in his greatest role, is a director in crisis reviewing his past and amorous conquests. In the midst of a chaotic production on the verge of imminent disaster, he has visions of the ideal woman, personified by a luminous Claudia Cardinale, who perceives the void at his core.

Fellini would reveal his fetish for eccentrics, freaks and pathos in his maiden voyage as director (co-credited with Alberto Lattuada), "Variety Lights" (1950), which followed a down-on-their-luck troupe of vaudevillians. In an act of art imitating life, he cast Giulietta Masina, to whom he would be married for 50 years, as the wife of an unfaithful impresario with delusions of grandeur. Masina later wore the face of a sad clown in the poignant, fable-like "La Strada" (1954), where she played a young girl sold by her mother to an abusive carnival strongman. The film, particularly its barren, poetic landscapes, made Fellini's reputation in the U.S.; however, it has its detractors, notably historian David Thomson, who dismissed it as a trite "picture of a circus brute that encouraged Anthony Quinn to think there was splendor in overacting."

Twenty years later came "Amarcord," a revisionist, fantastical ode to his youth. The title, in Italian, is an anagram for "I remember." It's another confessional plunge, this time in color, into tales of his sex-obsessed boyhood and coming-of-age in an enclave based on the coastal seaside town of Rimini, where he grew up during the mid-1930s in the shadow of Italian Fascism. "Now I can't distinguish what really happened from what I made up," he conceded. "I'm a liar, but an honest one."

"Fellini is no longer part of the retrospective scene that has benefitted other directors," observes Merritt, who will conduct several complementary lecture/screening programs in the coming months. They'll include a discussion of Rossellini's "Open City" (1945), with the magnificent Anna Magnani in a stark, frightening portrait of daily life under Fascism, co-written by Fellini; and "The White Sheik" (1952), a farce about a pair of provincial newlyweds that's thought to be his solo directing debut. Nino Rota, who became his go-to composer, provided the score. "We haven't seen these films in quite a while, and though the idea of a shared experience of Fellini has passed, I'd like audiences to understand what was exciting about him in his time, an era when films really mattered."

Merritt's lectures/screenings run Jan. 29-March 25. The April 1 screening of "Amarcord" will be accompanied by a lecture from David Thomson. For info, check www.bampfa.org
Comments on Facebook